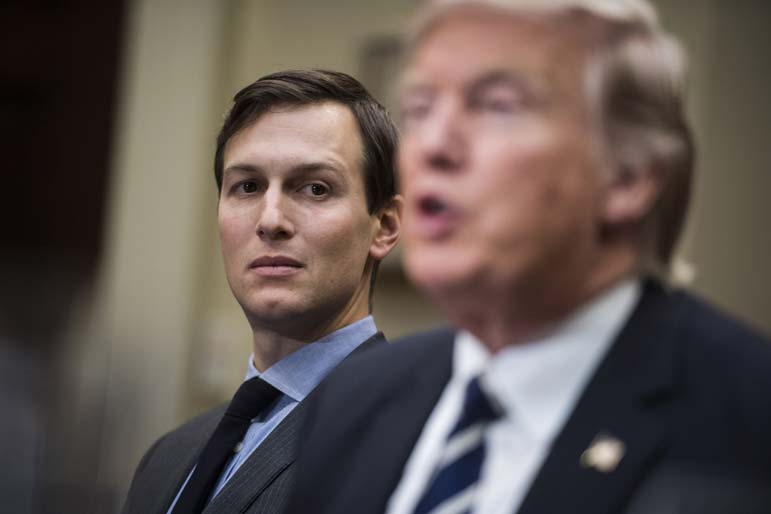 Jared Kushner, President Donald Trump's son-in-law and a senior White House adviser, is traveling to the Middle East this week in pursuit of a peace deal between the Israelis and the Palestinians, a White House official confirmed Sunday night.

Kushner will meet with Israeli Prime Minister Benjamin Netayahu in Jerusalem and with Palestinian President Mahmoud Abbas in Ramallah as a Trump envoy, along with Jason Greenblatt, an assistant to Trump and special representative for international negotiations.

The visit comes one month after Trump's maiden trip to the region, during which he met with Israeli and Palestinian officials and committed to working to bring both sides together in a lasting peace agreement. The Wall Street Journal first reported news of Kushner and Greenblatt's trip.

Greenblatt was scheduled to arrive in the Middle East on Monday, with Kushner arriving Wednesday for the conversations with Israeli and Palestinian leaders, according to the White House official, who detailed the trip on the condition of anonymity.
The official sought to temper expectations, saying that Kushner and Greenblatt are hoping to "continue conversations" with both sides but noting that an accord almost certainly would require ongoing discussions.

"It is important to remember that forging a historic peace agreement will take time and to the extent that there is progress, there are likely to be many visits by both Mr. Kushner and Mr. Greenblatt, sometimes together and sometimes separately, to the region and possibly many trips by Israeli and Palestinian negotiators to Washington, D.C., or other locations as they pursue substantive talks," the White House official said.

Kushner's trip to the Middle East is perhaps the clearest sign yet that the expanding Russia investigation led by special counsel Robert Mueller has not resulted in a downsizing of his far-reaching policy portfolio, nor has it given Trump pause about deploying him as his representative overseas.

The Washington Post reported last week that Mueller is investigating Kushner's business dealings as part of his investigation of Russia's interference in the 2016 presidential election. Kushner has said through his private attorney that he will cooperate with all inquiries, including the Mueller probe and a pair of congressional committee investigations.
Kushner and Greenblatt helped orchestrate Trump's May 22-23 visit to Jerusalem, where he met with Netayahu, and to Bethlehem in the West Bank, where he met with Abbas. Kushner also played a leading role in planning Trump's visit to Saudi Arabia, where he addressed a rare summit of the leaders of about 50 Muslim nations, and called for a united front against terrorism and extremism.

Trump has deputized Kushner and Greenblatt with leading the U.S. efforts at Middle East peace. The White House official stressed that both presidential advisers are respectful of the interagency process and working with the State Department, led by Secretary Rex Tillerson, and the National Security Council, led by national security adviser H.R. McMaster.

"President Trump has made it clear that working toward achieving a lasting peace agreement between the Israelis and Palestinians is a top priority for him," the White House official said. "He strongly believes that peace is possible."
Previously:

• 04/26/17: An unambiguous pledge from Trump
• 03/01/17: In speech to Congress, Trump aims to steady presidency after tumultuous start
• 02/13/17: As Flynn falls under growing pressure over Russia contacts, Trump remains silent
• 02/06/17: Team Trump finally organizes as prez heads to long weekend at Mar-a-Lago
• 11/17/16: Trump chooses unusual setup; Will govern by seeking counsel from concentric spheres of influence
• 08/15/16: Millennial voters see 2016 as bad joke
• 07/19/16: Trump's campaign is a resurrection - and second chance - for Dole alumni
• 06/14/16: Trump expands proposed ban on Muslim, Mideast immigrants
• 06/06/16: How Bernie Sanders missed his chance to beat Hillary Clinton
• 05/16/16: Inside the GOP effort to draft an independent candidate to derail Trump
• 05/05/16: As Trump takes the GOP's reins
• 04/18/16: While the GOP worries about convention chaos, Trump pushes for 'showbiz' feel
• 04/11/16: These 200 people could decide whether Donald Trump gets the GOP nomination
• 03/23/16: Trump's wide-ranging stands defy much of GOP's doctrine
• 03/22/16:Trump questions U.S. role in the world
• 03/08/16: Seeing Trump as vulnerable, GOP elites -- at goverrnors' retreat -- plot slow-bleed strategy
• 03/02/16: Jerry Falwell Jr.'s Trump endorsement draws objections from his late father's confidant
• 02/29/16: Why Rubio will soon start cheering on Trump
• 02/24/16: Nevada caucuses are Trump's to lose --- and he still could
• 02/08/16: Debate seems to halt momentum of 'Rubio bot'
• 02/03/16: In New Hampshire, GOP governors take aim at a resurgent Marco Rubio
• 02/02/16: The inside story of how Ted Cruz won Iowa
• 01/28/16: Trump's boycott of debate: Big mistake or crafty move?