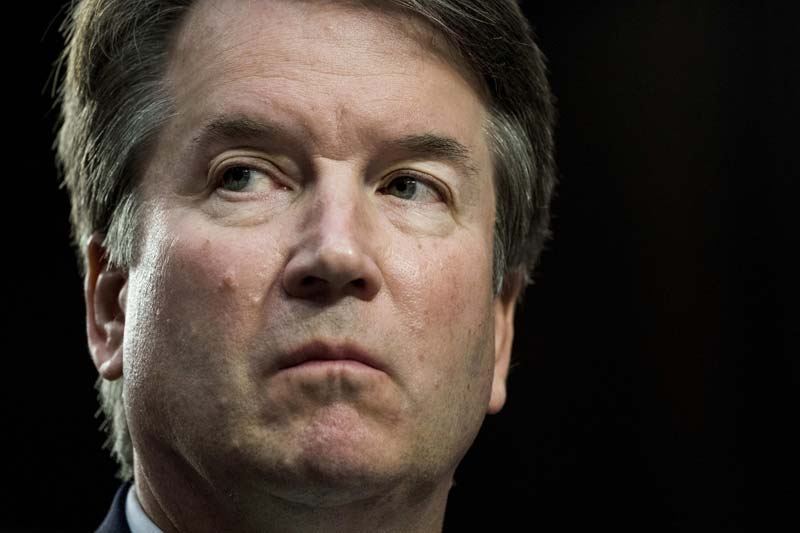 WASHINGTON - Sen. Elizabeth Warren and Facebook co-founder Chris Hughes have been dominating the antitrust debate in Silicon Valley with their proposals to break up Big Tech. But Supreme Court Justice Brett Kavanaugh's surprise decision to rule against Apple could open the floodgates for new antitrust action against Silicon Valley giants.
Kavanaugh sided with the liberal justices and wrote the majority opinion in a 5-4 decision allowing consumers to press forward with a lawsuit alleging Apple acted as a monopoly.
Though the ruling focused on one lawsuit against Apple, it could make it possible for consumers to bring similar actions against other technology marketplaces such as Amazon, Google and Microsoft.
Kim-Mai Cutler, a partner at Initialized Capital, noted on social media that Kavanaugh's decision came as the industry was still reeling from the calls to break up Facebook.
Tough antitrust enforcement is traditionally associated with liberals, and progressive Democrats have largely dominated the discussion about whether greater antitrust action is needed to limit the power of tech companies. But Kavanaugh's vote shows the current Supreme Court may not treat antitrust issues along traditional political lines.
Noah Feldman, a professor of law at Harvard University and former clerk to U.S. Supreme Court Justice David Souter, wrote that the tech industry should take note of Kavanaugh's shot at Apple because it shows the Supreme Court is more open to antitrust litigation.
Feldman writes in a Bloomberg News commentary, "if you are trying to calculate the overall risk of major successful antitrust suits against big tech companies, Kavanaugh's vote should change your priors. It's new information of potential value."
Kavanaugh's decision underscores that the growing scrutiny of the tech industry's power and influence isn't limited to one side of the political spectrum. Last year, President Trump said his administration was "looking at" Amazon, Facebook and Google for antitrust violations.
At a recent hearing, Sen. Ted Cruz, R-Texas, proposed antitrust action as a way conservatives could remedy alleged anti-conservative bias at the technology companies.
In a divided Washington, cracking down on the tech industry is emerging as a rare area of consensus. Democrats signaled their support for the ruling.
"The broader feeling in Washington is that tech has to be held accountable," Rep. Ro Khanna, a Democrat whose district includes a slice of Silicon Valley, told my colleagues Tony and Reed. He said the court reached the right conclusion in ruling against Apple.
Kavanaugh has a history of rulings that indicated his position on the bench would be problematic for Silicon Valley.
In May 2017, Kavanaugh argued that Obama-era net neutrality rules - which many Silicon Valley tech companies supported - violate internet service providers' First Amendment rights. He also defended the National Security Agency's bulk collection of phone records in an opinion following former government contractor Edward Snowden's revelations of government surveillance, which set off an icy period with Siilicon Valley. He wrote that "the Government's metadata collection program is entirely consistent with the Fourth Amendment."
Kavanaugh's seat on the Supreme Court has been a source of contention in Silicon Valley since his confirmation hearings.
Facebook employees expressed outrage that Joel Kaplan, Facebook's head of global policy and a longtime friend of Kavanaugh's, supported him and appeared at his hearing. The employees viewed the appearance as a signal of how the top executives were handling the #MeToo movement and Trump-era politics.
Kaplan later apologized for his appearance, saying it was a mistake for him to attend the hearing without consulting other Facebook executives.