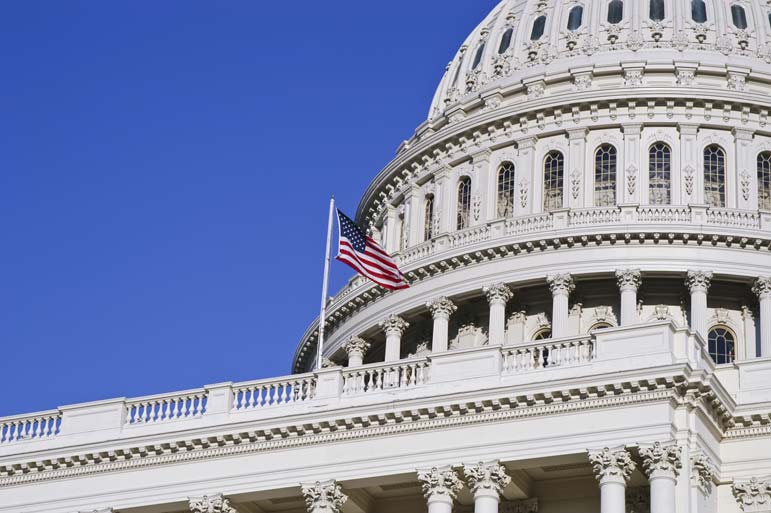 WASHINGTON - An incipient push to reverse some of the $1.3 trillion in 2018 spending that Congress pushed through last month might already be dead, given early opposition from two key Republican senators who said Monday that they were unlikely to support the move.
Aides to President Donald Trump are working with House Majority Leader Kevin McCarthy, R-Calif., to craft a "rescission" bill that would take advantage of special legislative procedures to roll back tens of billions of dollars in federal appropriations.
While the omnibus spending bill that passed last month was the product of a compromise between Republicans and Democrats, largely due to Senate rules requiring a three-fifths majority votes, the Trump administration could send up a package of cuts that could pass the Senate on a simple majority vote under procedures set out in the 1974 statute governing the federal budget process.
But it is not at all clear that a rescission bill could get a simple majority in the Senate, with Republicans holding a slight 51-49 majority and Democrats inclined to oppose cuts to the deal they already negotiated and passed.
Two Republican "cardinals" - powerful lawmakers who chair Senate Appropriations subcommittees - said Monday that they were perplexed by the talk of a rescission bill just weeks after the passage of the omnibus.
"I'd obviously have to look at what's in it, but I do not understand reopening a hard negotiation on a budget package that has just been completed," said Sen. Susan Collins, R-Maine, who chairs the subcommittee on transportation, housing and urban development, and related agencies. "To me, the administration would be better advised to focus on this coming fiscal year. We're just starting up the hearings in the Appropriations Committee, and that would be a far better approach."
Asked Monday if appropriators were throwing cold water on the notion of pursuing rescissions, Sen. Lisa Murkowski, R-Alaska, said, "Well, this one is."
"Just off the top, my initial response is no," said Murkowski, who chairs the subcommittee on interior, environment and related agencies. "You know, we worked hard. It's not a perfect package. Nothing is. But as individual appropriators, I know we all worked hard on our accounts and tried to get the priorities that we could."
Opposition from Collins and Murkowski - as well as the indefinite absence of Sen. John McCain, R-Ariz. - would mean that Republicans would be unable to muscle through a rescission bill on their own. GOP leaders would need to peel off several Democrats, and while some red-state Democrats seeking re-election this year might be compelled to vote with Trump, they would also come under considerable pressure to stick with the deal that they had already voted for.
The package under consideration by the White House, according to Republican aides familiar with the discussions, could range from $30 billion to as much as $60 billion - representing anywhere from 2 to 4 percent of the $1.3 trillion spent in the omnibus.
Not all Republican appropriators are opposed to the notion of rolling back spending: Sen. John Kennedy, R-La., who opposed the omnibus last month, said he was all for it: "The bill, to me, was an embarrassment."
But even senior GOP senators greeted the notion of a rescission bill warily Monday.
Sen. Richard C. Shelby, R-Ala., who is the most senior Republican on the Appropriations Committee and is expected to be confirmed as its chairman in the coming days following the resignation of Sen. Thad Cochran, R-Miss., said he has not had any discussions with the White House about the bill.
"I would like to see the particulars," he said. "It might be something serious. It might be something debatable. It might go nowhere. But I don't know. I haven't seen anything."
Shelby said that pursuing rescissions could make it difficult to come to the necessary bipartisan compromise needed to craft spending legislation for fiscal 2019, which starts on Oct. 1: "If we cut a deal with somebody, we want to honor it, okay?"
In one example of what could ensure if Republicans were to push through the rescissions bill using the special procedures, Democrats could withhold cooperation on future legislation unless Republicans agree to reverse the move. But GOP leaders, especially in the House, are looking to provide an outlet for conservative anger over the spending bill - a sentiment that has been fueled by Trump himself, who declared "I will never sign another bill like this again" on March 23 after delivering a last-minute veto threat before ultimately signing the bill.
Sen. John Thune, R-S.D., the No. 3 GOP leader, said a rescission bill "would probably be a tough vote" for some Republicans.
"I think there are a lot of our members who feel like we litigated these issues over the last couple of years. We came up with budget numbers and everybody agreed to 'em," he said. "And so I don't know how it would play out."
Previously:
• 02/06/18 Why congressional GOP is more optimistic after roller-coaster year
• 02/02/18 Trump wants his immigration framework debated in Senate, in bid to overcome GOP divisions
• 02/01/18 'We've got a story to tell,' Pence tells Republicans, urging them to tell it
• 11/27/17 Congress confronts jam-packed December with shutdown deadline looming
• 09/18/17 In the House, an early spate of GOP retirements means the party won't haCongress confronts jam-packed December with shutdown deadline loomingve incumbents on the ballot in several closely divided districts
• 07/28/17 House passes bill to boost defense, fund border wall
• 07/26/17 Republicans defend Sessions against attacks and warn that a move against Mueller could lead to a lawmaker revolt
• 07/18/17: House GOP unveils budget plan that attaches major spending cuts to coming tax reform bill
• 06/19/17: Today: Tougher immigration policies face first major legislative test in Trump era
• 06/17/17: A Watch out, Pelosi: Top GOP super PAC sets its 2018 strategy
• 06/13/17: A draft resolution of impeachment includes some intergenerational copying-and-pasting.
• 06/23/16: Why House Republicans aren't giving in to Dems' demands for a gun vote
• 06/16/16: Marco Rubio says he will reconsider leaving Senate
• 06/07/16: The biggest question in Florida politics: 'Is Rubio running or what?'
• 05/13/16: Ryan is torn between his conservative principles and his institutional responsibility, with his future as a national leader hanging in the balance
• 05/10/16: Is Paul Ryan in danger of being 'Cantored'?
• 03/09/16: How Trump is ruining Paul Ryan's speakership
• 02/09/16: Memo to Paul Ryan: Obama shouldn't get a pass
• 01/29/16: How Ted Cruz earned one of the few Capitol Hill endorsements that matters to conservatives
• 12/09/15: Leadership worries that many House GOP members are voting 'no' on tough bills while hoping they pass
• 12/07/15: House Freedom Caucus looking to flex its new muscle in 2016 races