Jewish World Review April 14, 2004 / 24 Nissan, 5764

Dennis Prager
Bob Kerrey clarifies the liberal view of blacks and women

http://www.jewishworldreview.com | This is how Bob Kerrey, a member of the 9-11 Commission and former Democratic senator from Nebraska, opened his questioning of Condoleezza Rice before the Commission last week:

"Thank you, Dr. Rice. Let me say at the beginning I'm very impressed, and indeed I'd go as far as to say moved by your story, the story of your life and what you've accomplished. It's quite extraordinary."

It is widely believed in universities and in the media that conservatives are more likely than liberals to be racist and sexist. I have long believed that the opposite is true, that most Democratic politicians and most liberal activists, at the very least, do not regard black people as they do all others and, at worst, believe that blacks are inferior. I am similarly convinced that many men who most rail against sexism and advocate feminism hold women in lower esteem.

It is almost inconceivable that Sen. Kerrey would have said anything analogous to any other American (with the possible exception of one from Mexico or Puerto Rico) — a Japanese, a Jew, a Pole, a German, a Uruguayan — no matter how impressive their rags to power story.

Here's possible proof. Take the example of another minority individual who rose from worse circumstances than Condoleezza Rice to be the head of American foreign policy — Dr. Henry Kissinger, secretary of state under President Richard Nixon. His Jewish parents fled Nazi Germany for their lives and brought their teenage son, Henry, to America. In addition to having to adjust to an entirely different culture, a new language and the loss of nearly all the property his family owned, Henry Kissinger grew up aware that many if not all of his Jewish relatives and friends back in Germany were being murdered.

Yet, one cannot imagine a senator beginning a hearing with Henry Kissinger noting how impressed he was with Mr. Kissinger's life story. Why not? Because many liberals and most Democratic leaders do not take blacks and women as seriously as they take whites and men. Blacks and women are regarded more as symbols — of American and male oppression — than as real people. Also, whereas a white liberal regards a white male as an individual, the white liberal is more likely to regard blacks and women as groups rather than as individuals. And, of course, they are seen as indispensable votes.

In their hearts, many Americans on the left do regard blacks as somewhat inferior, meaning, in other words, that they harbor racist views. That is the only explanation for the nearly universal leftist belief that all whites are racist, a libel that your child has probably been taught at college in some diversity or racial sensitivity seminar.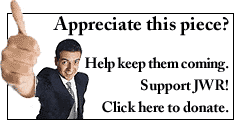 When a white liberal says or writes this, we presume he is including himself. Unless he is saying "all whites except me" are racist — a claim so megalomaniacal that the claimant risks dismissal as a crackpot — he obviously means that this includes himself. And in this he is right. One reason that so many liberals believe that all whites are racist is that they are projecting their racism onto all other whites.

It is probable that belief in black inferiority, or at least in black differentness, also helps to explain white liberal support for the lowering of standards for blacks, i.e., affirmative action and quotas. Conservatives believe that no changing of standards is necessary in order for blacks to succeed.

Likewise, one reason many liberal leaders support the feminist agenda and detect sexism wherever possible is that they know their own record and attitudes vis-a-vis women. As is often the case, two of the leading supporters of women's rights — former President Bill Clinton and Sen. Ted Kennedy — are known for their mistreatment of women. The same holds true for Hugh Hefner — the leading displayer of naked women in history, a man who believes that the primary purpose of a woman is to function as a man's (sexual) playmate — is a major supporter of feminism and feminist organizations. On the other hand, many of the leading Republican national politicians — such as Sen. Orrin Hatch and the two Presidents Bush — are noted for their respectful treatment of the women in their lives.

For all these reasons, Sen. Bob Kerrey, liberal, decided to comment publicly only about Condoleezza Rice's personal story. Like many people of his political persuasion and in his political party, he saw her as an extraordinary black and female well before he saw her as an extraordinary individual.
Every weekday JewishWorldReview.com publishes what many in Washington and in the media consider "must reading." Sign up for the daily JWR update. It's free. Just click here.

JWR contributor Dennis Prager hosts a national daily radio show based in Los Angeles. He the author of, most recently, "Happiness is a Serious Problem". Click here to comment on this column.

04/05/04: Why no Christian suicide bombers? — and other thoughts on Islamic terror
03/30/04: What does 'Judeo-Christian' mean?
03/09/04: Who supports same-sex marriage?
03/02/04: Frisco and the Islamists: Fighting the same enemy
02/24/04: Why young women are exposing themselves, Part Two
02/17/04: Why young women are exposing themselves: Part One
02/10/04: Probing the Massachusetts justices' minds
02/03/04: My minute with President Bush
01/27/04: On public cursing and other public sins
01/24/04: $#^% Republicans
01/13/04: A column about my last column
01/06/04: JIMMY CARTER: 'COMPASSION FOR MORDOR'
09/09/03: The Dems' counter-revolution
08/12/03: What makes a liberal?
08/05/03: A grand victory at the Grand Canyon
07/29/03: Vanessa Bryant deserves admiration, not contempt
07/22/03: Tony, you're killing us: Inside a Leftist brain
07/15/03: Would you rather your teenager smoke or cheat?
07/01/03: Liberal damage to black America is enormous
06/24/03: Unlike any other arrogance
06/18/03: More innocents die when we don't have capital punishment
06/10/03: Only a Palestinian civil war will bring peace
06/03/03: The legal system is now our enemy
05/28/03: Monkeys and atheists
05/20/03: Women pretending to be men
05/13/03: My week at Stanford
05/06/03: Burn families, barbecue chickens: why some can't tell the difference
04/25/03: Much talent, little wisdom
04/15/03: America the good
04/08/03: Dear Germany: Have you learned anything?
04/01/03: Saddam offered professorship at U.S. college
03/25/03: Grieve for Rachel Corrie's parents, but spare us the hagiography
03/18/03: Blame the Jews?
03/11/03: The Lone Ranger rides again
03/04/03: Dan and Saddam
02/26/03: Which will the world's future be: Muslim, European or American?
02/18/03: When have millions of Europeans ever been wrong?
02/11/03: Don't waste your money on an expensive college
02/04/03: What the world would like the president to say
01/28/03: How memories paralyze: Why Jews and blacks vote Democrat, cont'd
01/21/03: Why Jews and blacks vote Democrat
01/14/03: Why the Arab world hates America --- time to myth-bust
01/07/03: Conservatives have talk radio; liberals have everything else
12/31/02: If you believe that people are basically good . . .
12/17/02: Lott, Clinton, and the problem of the career politician
12/10/02: The healthiest and longest living generation of humans since the 900-year-olds of Genesis are being scared silly
12/04/02: Morally neutral reporting is dishonest reporting
11/26/02: Understand Nigeria and you understand the Islamic threat
11/19/02: James Bond meets his most fanatical foe yet -- anti-smokers
11/12/02: Conservatives need to be more compassionate on divorce
11/05/02: Of course, the great majority of Muslims are peaceful -- so what?
10/29/02: Nice guys finish first: Thoughts on the World Series
10/24/02: A Jew defends evangelical Christians
10/16/02: Bigot laureate well represents New Jersey
10/11/02: Why the Creator must always be higher than the Angels
10/02/02: Loudmouth "stars" are remaining surprisingly quiet about Israel
09/25/02: Bob Greene is a good man
09/11/02: 9-11 made America better
09/04/02: What I learned at the Minneapolis Metrodome about liberals and homosexuality
08/28/02: Teach our college co-eds about Islam --- but teach them the truth
08/22/02: LET THEM EAT PEANUTS!
08/14/02: How the nuclear family became "controversial"
08/07/02: Every generation is tested by great evil
07/31/02: Those who curse the Jews and those who bless them . . .
07/24/02: Children should talk to strangers
07/17/02: Why my son's best friend is black
07/11/02: Why Hesham Hadayet may be scarier than al Qaeda
07/03/02: "Pro-Israel lobby" is not why America supports Israel
06/26/02: Why does the Left support the "Palestinians"?
06/19/02: The commencement address I would give
06/12/02: Why do adult children live with their parents? Because they actually like them
06/05/02: The stripper and the Christian school: Thoughts on what a Christian school should do when a parent is a stripper and on who the biggest sinner here is
05/31/02: Don't worry, New York, you are safe from a terrorist threat
05/15/02: A proud member of the world's two most hated peoples
05/10/02: What Israelis are saying
05/06/02: Thank Heaven for moral violence
04/29/02: Give back the Nobel Peace Prize: A letter to Elie Wiesel
04/22/02: Why so many students cheat
04/12/02: Is it 1938 again for the Jews?
04/05/02: It's the values, stupid
01/31/02: Smoke and lose your son
10/30/01: Why Arab/Muslim anti-Semites are worse than the Nazis
© 2002, Creators Syndicate