Jewish World Review March 3, 2004 / 10 Adar, 5764

Jeff Elder
History of pockets? Lint me your ears; more
http://www.jewishworldreview.com | Q: Who invented pockets and when did they become a normal part of clothing? - Shannon Allen, Charlotte, N.C.
A: Shannon, the answer can be traced to something we always want to have in our pockets.
No, not Chapstick! (Although I am lip balm-dependent, especially in the winter.)
To trace the history of pockets, you have to "follow the money," to quote an old journalism saying that often helps to explain human behavior.
In Europe, common people began to exchange coins for goods and services toward the end of the Middle Ages. By the 13th century, many kings, princes, dukes, bishops and free cities minted their own coins.
So people needed someplace to carry their coins. The first pockets were small purses hung on one's belt. You might've seen these in Robin Hood books and movies or Renaissance costumes.
But pockets on the outside of one's clothes were easy to pick, or swipe altogether. One slice with a knife could cut the drawstrings and your money was gone.
So people started hanging their pocket-purses inside their pants. This made it tough for criminals to get at their money. It also made it difficult for the rightful owners to get at the money. To buy something you'd virtually have to drop your trousers and moon the entire marketplace.
So many people made a simple slit that enabled them to reach through their clothes and into their purses, which were still pouches hung around their waists.
But saddling yourself up with the purse before you put on your clothes was a hassle. And in the late 1700s, tailors and family seamstresses began to sew pockets right into trousers and dresses.
Our thanks to clothing historian Anna Sheehan of central Oregon for her excellent scholarship and charming writing about pockets, which made this column possible.
And about 100 years after pockets as we know them found their way into clothes, C.D. Fleet, a physician from Lynchburg, Va., invented something some of us find indispensable. Something we always must have in our pockets.
It resembled a small wickless candle, and he sold it wrapped in tin foil.
But the history of Chapstick is a whole different story. And y'all don't want to hear about that.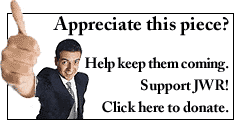 QUICK QUIZ
On 16
1. What actor, who will turn 16 in April, is perhaps best known for his role in "The Sixth Sense"?
2. What Canadian singer and songwriter was signed by the head of Arista Records when she was 16?
3. The hit song "Sixteen Candles" reached the No. 2 spot on the American charts in 1959. Who sang it?
4. Who pitched for the Cincinnati Reds in 1944, two months before his 16th birthday?
5. What dogged rapper will be 16 for another two weeks or so?
—
ANSWERS
1. Haley Joel Osment
2. Avril Lavigne
3. The Crests
4. Joe Nuxhall
5. Bow Wow
Appreciate this column? Why not sign-up for the daily JWR update. It's free. Just click here.


Jeff Elder is a columnist for The Charlotte Observer. Comment or try to stump him by clicking here. If you send him a great question, he'll send you a Glad You Asked T-shirt.


02/25/04: Quiznos' surreal new pitchman; "XYZ …"; more
02/19/04: Zambonis; Why does popcorn pop?; Why do we drive on the right side of the road, while the British drive on the left?; more
02/11/04: The weirdest questions I was ever asked — and answers
02/05/04: Lightning CAN strike twice; how people got their last names; more
01/22/04: Joke history: The Romans had Top X lists; refreezing raw meat
01/15/04: Rick Springfield's still moot; the wettest land area on Earth; more
01/06/04: The reason behind the coin ridges; where 'baby corn' comes from; more
12/29/03: Can the colorblind see rainbows?; What causes moles? What's the difference between moles and freckles?
12/22/03: It's all lunch to me
12/04/03: The sad poem in a romantic comedy; Why do some coins, like quarters and dimes, have ridges?; more
11/25/03: Diner lingo; How do chickens know what size eggs to lay?; a computer input device is called a mouse, what is the plural?; more
11/19/03: Did Betsy Ross sew the first official American flag?; Do the 9 numbers in our Social Security number have special meaning? Will they run out of numbers or have to re-issue them?; more
11/11/03: How to be a Nielsen rater; Why did Charles Schulz name his comic strip "Peanuts"?; Was Chef Boy-ar-dee a real person?; Why are Georgetown University teams called the Hoyas?
11/05/03: Decoding the laws of buoyancy; What actually happens when you crack your knuckles?; origin of the expression "three sheets to the wind
10/30/03: Buttoning on the 'correct' side; when you breathe on your hand it feels warm, but when you blow on your hand it feels cool?; Why do dogs eat (and enjoy eating) dirt?; more
10/23/03: 'American Pie' explained; Why are tennis balls seamed like baseballs?; more
10/14/03: Origins of comic strips and hush puppies; a college football quiz; dogs that don't bark
09/24/03: Why do snooze alarms go off every 9 minutes?
09/17/03: Glad You Asked: Fun with college football
09/09/03: What's so great about Wiffle Ball?
09/03/03: What kinda wine goes best with heartache?; What did people do before alarm clocks were invented?; which has more caffeine: coffee or tea?
08/26/03: These inventors were just toying with us
08/12/03: Why do wheels appear to turn backward on film?; showdown over high noon
08/07/03: Wood'n you know it? Money doesn't grow on trees; all we are is dust in the wind
08/05/03: Where have you gone, Calvin, Opus and Cow?; fine feathered friend pecking on itself
07/31/03: How a dashing hero became a notorious traitor
07/29/03: Little red caboose rolling outta sight; From my 'I'll be a monkey's uncle' file
07/24/03: Road scholar: A lesson on asphalt; when identical twins marry
07/23/03: The sweet science of Life Savers' sparks; how do Pop Rocks work? ripping newspaper
© , The Charlotte Observer Knight Ridder/Tribune Information Services.