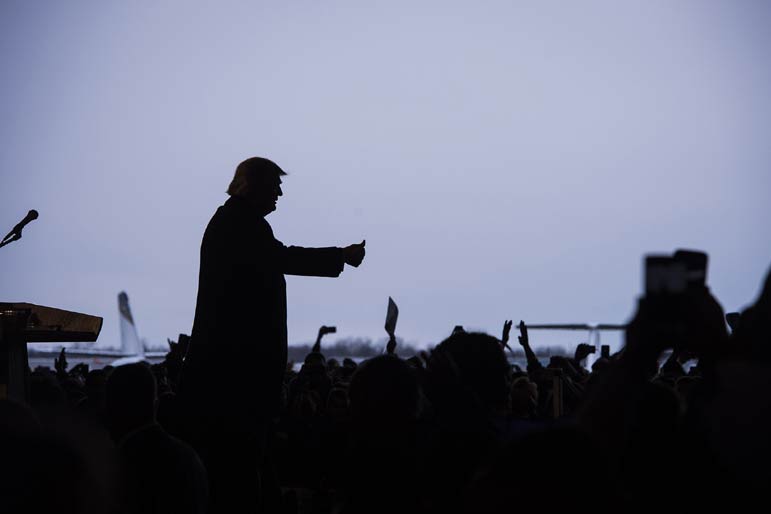 "In the small hours of one morning," Fanny Stevenson recalled, "I was awakened by cries of horror from Louis"- the author Robert Louis Stevenson. Thinking he was having a nightmare, she woke him up. "Why did you wake me?" he said angrily. "I was dreaming a fine bogey tale."
Thus was born "The Strange Case of Dr. Jekyll and Mr. Hyde," one of those stories that hardly anyone ever reads but everyone knows. Read it. You may find it helps you cope with the Time of Trump.
Coping isn't easy. For those of us who are fascinated to see history in the making, the past two weeks have almost been too much. We have been drinking out of a historical firehose. Each day produces enough news for a week. At this rate, human years will be to Trump years what dog years are to human years. Anyone who can program a virtual reality headset to simulate Hillary Clinton's presidency will make a fortune. Even Republicans will need two days a week of what would have been so utterly boring, to recuperate from what has turned out to be so overexciting.
The most disorientating thing is that, just as you are all set to loathe something the president has done, he turns around and does something you rather like. After I had written this column last week, the president signed an executive order on refugees and immigrants that was hastily drafted, messily executed, and disastrously received. Groan.
Just days later, Trump announced his nominee to take the place of the late Justice Antonin Scalia on the Supreme Court: Neil Gorsuch, a judge so impeccably conservative that as a schoolboy he quoted Henry Kissinger and read William F. Buckley Jr., the ineffable nemesis of 1960s liberalism. The same people who had been surfing Canadian immigration websites were suddenly cracking open bottles of Trump vodka.
So will the real Donald Trump please stand up?
For about half of Stevenson's "Jekyll and Hyde," the narrator labors under the misapprehension that he is dealing with two people: his urbane friend Henry Jekyll and the ogre Edward Hyde. The equivalent delusion today is the argument that there are two different sets of tweets: those written by Trump's staff and those written by Trump himself.
Only gradually does the reader of Stevenson come to realize that Jekyll and Hyde are one and the same man. For the ghastly truth, as Jekyll himself writes in his confession, is "that man is not truly one, but truly two. . . . All human beings . . . are commingled out of good and evil."
The Trump presidency seems set to reenact "Jekyll and Hyde" on a weekly basis. Of course, Trump's metamorphoses are the result not of biochemistry but of a very familiar political process - the one whereby a new administration changes from Dr. Campaign into Mr. Government. This is always a bit messy.
Yet I can think of no other presidency that has begun with a campaign propagandist being elevated above the chairman of the Joint Chiefs of Staff in the hierarchy of the national security council. As if his boss's bad days were not enough, the brilliant but inflammatory Stephen K. Bannon seems intent on encouraging his Mr. Hyde persona. "The media should be embarrassed and humiliated and keep its mouth shut and just listen for a while," Trump's chief strategist said in an interview last week. "I want you to quote this," he went on. "The media here is the opposition party."
Like Trump, Bannon has a restless, combative energy. He is the one who wrote much of Trump's stridently protectionist inaugural. He is the one who has set the blistering pace of these first two weeks, a pace calculated to prove to Middle America that Trump will deliver on every one of his campaign pledges before the snow melts.
Bannon also has a genius for provocation. As chairman of Breitbart News, he learned exactly how to delight the populists of the heartland and to infuriate the liberals of the coasts. He was probably hugging himself with glee last week as rioting leftists at Berkeley shut down a speech by the latest enfant terrible to be exported from the United Kingdom to the United States, Milo Yiannopoulos.
This confrontational style is about to be applied to foreign policy. First up is Iran, with their ballistic missile tests. China will likely be next. Will Dr. Jekyll be content with exerting economic pressure? Or will Mr. Hyde insist on gunboats?
In the book, Hyde is violent by nature, running over little girls and beating up old men. But the strength of the bully lies in only picking on the weak. Donald Trump has a great talent for detecting weakness in his rivals. We shall soon see if Iran and China are the next weaklings he rolls over.
If so, he may quite easily make America look great again. If not, prepare for another "fine bogey tale."