Jewish World Review Feb. 17, 2004 / 25 Shevat, 5764

Joanne Jacobs
Under the skin; don't call them 'gifties'; a piece of sheepskin; parent participation — or else
http://www.NewsAndOpinion.com | At San Jose's Piedmont Hills High School, biotechnology students tested their own DNA for a genetic marker that originated in central China or Taiwan. Seventeen students share a common ancestry  -- but not a common race. Check out the caption on the photo:
Piedmont Hills High students who share a common ancestor include, from left, Simon Bao (Chinese and Vietnamese), Beth Gomes (white), Aaron Saini (Indian), Austin Buckner (African-American and Japanese), Michael Huynh (Chinese and Vietnamese) and Andrew Tran (Vietnamese).
Students began to question the racial and ethnic categories they've been taught to recognize.
Junior Aaron Saini, whose family comes from northern India, was surprised to learn that he has more in common genetically with classmate Christine Gonzalez, who is half Mexican and half European, than with Sefali Patel, whose heritage is also northern Indian.
After the lab experiment, junior Michael Huynh walked outside the classroom and saw a friend, who is Indian, in a different light.
"He was just standing there in the hallway, and I was just looking at him and thinking, `Wow. He may look different, but there's no real separation between us,' " the 16-year-old said.
Very cool.
Don't Call Them 'Gifties'
At a Chicago middle school, eighth graders in the gifted class didn't like the T-shirt design selected by vote, so they ordered an alternate design and added their nickname, "gifties," to the shirt. That label got them in trouble with the principal, reports the Chicago Tribune. Now parents are suing.
(Principal Chris) Kotis told them that no one could wear that shirt because it was not the "official" one and that there would be "serious consequences" if anyone did, the suit said.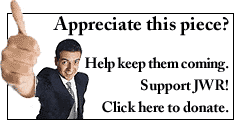 The students came up with a petition supporting their T-shirt, the suit said. But Kotis insisted that he was concerned about their "safety" if they wore the shirt to school, the suit said.
On April 1, all 27 8th graders in the gifted program wore the shirt to school, the suit said.
It's unclear what the serious consequences amounted to -- they were "confined" for a day? -- but the lawsuit is asking that the incident not appear on students' records. I'd think the principal would want to forget about it too.
A Piece of Sheepskin
The high school diploma doesn't mean anything, says the American Diploma Project, which was launched by a consortium of education reform groups.
The diploma has lost its value because what it takes to earn one is disconnected from what it takes for graduates to compete successfully beyond high school — either in the classroom or in the workplace.
Despite all the complaints that graduation requirements are too tough, the project calls for raising the bar, writes Jay Mathews in the Washington Post.
The new state high school graduation tests are often at only an eighth or ninth grade level, and they do little to change the fact that 28 percent of high school graduates going to college take remedial English or math courses when they start their freshman years.
Even though more than 70 percent of our high school grads attend college, fewer than half of them get a four-year degree, and that record is even poorer for African Americans and Hispanics.
Young people going straight to the workforce need the same academic skills as classmates who go on to college.
The report offers conclusions on what students are going to need to survive in the workplace or in college from more than 300 faculty members from two- and four-year institutions, front-line managers and high school educators. One surprising part of the report for a technologically ignorant poly sci major like me were the examples of workplace tasks a high school graduate confronts these days. Here is an assignment for a machine operator apprentice at the Eastman Chemical Company:
"Ask the apprentice to mix a solution (#1) of 5 g Peters fertilizer and 50 g distilled water. Determine the percent concentration-by-weight of this solution. The basic formula is weight of the solute divided by the combined weight of the solute and solvent equals percent concentration-by-weight ...Calculate the density of this solution (#1). [The basic formula is] divide the weight by the volume to determine the density in gm/ml. Ask the apprentice to make a solution (#2) using 10 g of Peters and 50 g of distilled water. Determine the percent concentration-by-weight. Ask the apprentice: Why is the concentration-by-weight of solution (#2) not double the concentration-by-weight of solution (#1) since the solute is doubled? Ask the apprentice to use this formula to explain: C = x/x + V and 2x/2x + V ? 2(x/x + V)"
Employers must spend more to teach new hires basic reading and math skills. Or hire in India.
Parent Participation -- Or Else
Parents who repeatedly miss teacher conferences could face fines or jail time under a proposed South Carolina law. The State writes:
A parent who ignores the subpoena can be held in contempt and ordered to attend a parental responsibility program, shadow the student, pay a fine of up to $500 or go to jail for up to 30 days for each violation.
The bill also would raise the mandatory attendance age to 18. I don't think either idea is realistic.
Every weekday JewishWorldReview.com publishes what many in Washington and in the media consider "must reading." Sign up for the daily JWR update. It's free. Just click here.


JWR contributor Joanne Jacobs, a former Knight-Ridder columnist and San Jose Mercury News editorial writer, blogs daily at ReadJacobs.com. She is currently finishing a book, Start-Up High, about a San Jose charter school. Comment by clicking here.
02/09/04:The Limits of Discovery Learning; science lite; not just a buzzword; fish, unfried
02/02/04: Flight from excellence; the look that screams; show them the money
01/26/04: It's the Parents, Stupid
01/20/04: High School Blahs, Naked Math, Boys in Trouble
12/22/03: Saving the teacher, skipping a grade, paying for AP tests, laptops don't boost scores
12/15/03: Missing Columbine; tuned out; kindergarten kamikazes; Suffer the Little Children; ungot greats; dangerous rhymes
12/08/03: Desensitizing students to f-word; Like a Rock; Unmannered; Cool Christians on Campus
11/24/03: Integrating lunch; peewee athletes; The Promise
11/17/03: School Principals Gone Wild; School vs. Bloggers; A Is For Absent
11/10/03: Feeling history; no-sided history; passing on a record; winning respect; bright flight
11/03/03: Super Pay for Super Teachers?; 'Failing' Teachers; Dissect the Bunny; Yuck
10/27/03: Parent, teachers, parents as teachers; cramming in education; out of control
10/21/03: Go, Samaritan; 2 + 2 = ?; Majoring in Middle-class Status
10/14/03: To Gag a Mockingbird; saying 'hate' is hate speech; protest school
10/08/03: No Homework Overload; Self-centered Social Studies; The Boy Code; Codswallop; College 101: Don't Jump Out of Your Bunk Bed
09/29/03: Flunking mom; classroom classics; ritalin gag rule; lousy children
09/22/03: Order, disorder
09/08/03: No Child Left Behind: A Primer
08/29/03: The Decline and Fall of Social Studies
08/18/03: F is for valedictorian
08/14/03: Start-up success
08/11/03: Subliterate Superintendent
08/04/03: Alternative High School
07/28/03: Out of the System
07/21/03: Too Snobby for Shop
07/14/03: Be very afraid
07/09/03: Know-nothing nonsense
06/30/03: Affirmative action reactions
06/23/03: Overdressed Students, Underdressed Teachers, Dressed-down Exams
06/16/03: Paper 'Is-ness,' Excluding Awards, New Racial Consciousness and Politics
06/09/03: Racist math, red tape for charters, potty reading
06/02/03: Teacher Pay, Illiteracy , No Republicans Allowed
05/27/03: Research papers, athletics, reading
05/19/03: Soft America, plagiarism, Minutemen and Jets
05/12/03: Demographics, nerves, valedictorian, vouchers
05/05/03: Gender Bias, Banned Words, Helen of Troy
04/28/03: Tests, home-schooling, self-esteem
04/25/03: Lessons, American Pride, Iraqi Schools
04/14/03: Iraqi Textbooks and the English language
03/31/03:Teachers, hugging, text messaging
04/07/03: War talk at school
03/24/03: Watching the war
03/10/03: Classroom chaos
03/03/03: Teaching tales
02/24/03: Segregation stories
02/18/03: Writing Essays, America, Beyond Bert and Ernie
02/13/03: Size matters
02/10/03: Parental homework, cheaters and memoirs
02/03/03: Diplomas, academics, preschools and Ritalin
01/27/03: Head Start, Social Studies, Marx, Africa and Math
01/22/03: Teachers as targets
01/13/03: Big Bully's Feelings
01/06/03: School of 60's Whining and Communal Destruction
12/23/02: Teaching in
12/16/02: Chocolate city?
12/10/02: Mandatory Victimhood --- and when cleaning up a school is 'racist'
11/25/02: Multi-colored math, sensitive science
11/20/02: How to leave no child behind
11/18/02: The tummy track
11/11/02: Dysfunctional documents?
11/04/02: Why go to college? Why test schools?
10/28/02: Pride goeth before an F
10/21/02: Diversity adversity
10/14/02: Bad hat day
10/07/02: Inflated sense of worth
09/30/02: The Royal road to knowledge
09/24/02: Sierra's Club
09/20/02: Stupidity Watch
09/03/02: First, win the war
08/26/02: Out of their field, out of their minds?
08/20/02: Fun with failure

© 2003, Joanne Jacobs