Jewish World Review Sept. 22, 2003 / 25 Elul, 5763

Joanne Jacobs
Order, disorder
http://www.NewsAndOpinion.com | At the KIPP charter middle school in Washington, D.C., the school year starts with a summer session devoted to teaching students how to pay attention, remain quiet and "assign" themselves to do the right thing.
Establishing an orderly, respectful, learning-centered culture is job one. Jay Mathews reports in the Washington Post:
"Eyes tracking on me," Johnson said. "There is something really important I am going to teach you today. It is called 'Ready on 5.' " For the first of what would likely be thousands of times, the new Kippsters heard a teacher say: "Ready on 5, 4, 3, 2, 1." Johnson explained that by the end of the countdown, they were expected to be in the ready position: "eyes forward, hands together, elbows on desk."
And there was more. "Do not get out of your seat at all unless I give you permission," she said. "Work silently." She directed them to a chart on the wall showing the proper signals for various desires -- thumb up for a comment, all fingers up for a question, one finger up for a new pencil and a fist up for permission to go to the bathroom. The students worked on memorizing the school credo: "If there is a problem, we look for a solution. If there is a better way, we find it. If a teammate needs help, we give. If we need help, we ask."
. . . In Little's math class, the fifth graders heard an explanation of the signs around the school saying "ASSIGN YOURSELF." "It means," Little said, "just in case you forget, do the right thing without being told. You are in middle school now. You are about to be an adult. Adults do things without being told. I am an adult. I am teaching you now, and Ms. Schaeffler didn't tell me, 'Ms. Little, you should be in teaching now.' "
By contrast, many schools are so disorderly and dangerous that even the good kids can't learn.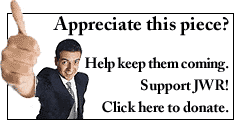 Disorder scares students, says a New York University study.
"Disorderliness is the secondary school's version of 'broken windows,' a visible sign that no one cares," say Tod Mijanovich, M.P.A., and Beth Weitzman, Ph.D., of the university's Robert F. Wagner Graduate School of Public Service. "It serves to signal to students a lack of consistent adult concern and oversight that can leave them feeling unsafe."
One third of public school students -- urban and suburban -- said their classmates get away with anything. Only 18 percent of private school students said classmates were out of control.
When nine-year-old Daquan Wilson goes to recess, lunch or the bathroom, his bodyguard goes with him. Daquan was attacked in June by three bullies; they served a two-day suspension. At the start of the school year, the principal assigned a lunchroom aide to protect Daquan from the two bullies who still attend his Philadelphia-area elementary school.
Discipline has disappeared in British secondary schools, writes teacher James Mcleod in Prospect magazine.
. . . a pupil who had been excluded for two days wandered into my classroom and in full view of the class made rude gestures at me; I was referred to as "a thing" by a 13-year-old girl; another pupil told me to "shut my f---ing mouth"; there were many instances of students telling me to shut up, go away and mind my own business; a 15-year-old boy became so enraged after being asked to stay five minutes into break that he went to the back of the room and broke the lock on the double doors, shouting, "Just let me out of this f----ing room! For f----'s sake let me out!"
School officials blame bad parents and "culture." Young, poorly trained teachers don't help either.
The NUT (National Union of Teachers) recently endorsed a call for "bouncers" who could "come in if a child became uncontrollable, to take them out to calm down." This already happens in France, where many schools have "discipline managers" who are called to remove students from class.
When principals set clear expectations and enforce rules -- the "broken windows" theory once again -- students calm down and start learning.
Also from England comes this terrible story: After reporting a friend's father had molested her, a 13-year-old at a "good" school was bullied for months by the ex-friend's vengeful older sister and her followers. The school did nothing to protect the victim, her father complains. The bullies won: The victim transferred to a private school.
Broken Pipeline
Only 70 percent of high school students earn a diploma , concludes a Manhattan Institute study. Fewer than half who graduate are minimally qualified for a four-year college. That is, they've taken a college-prep sequence of classes and they have basic literacy skills. The numbers are far worse for black and Hispanic students; barely half earn a diploma.
One implication of the study is that virtually all students who are minimally college ready -- diploma, college-prep classes and basic literacy skills -- go on to college. Blacks, who make up 9 percent of college-ready 18-year-olds, make up 11 percent of freshmen; Hispanics, also 9 percent of the college-ready pool, are 7 percent of the entering class.
More financial aid and affirmative action policies won't budge the numbers, the study concludes. Better academic preparation would enable more students to enroll in four-year colleges -- and maybe even to earn a degree.
Hey, Big Spender
The U.S. ranks at the top worldwide in school spending -- but student achievement is just average.
"There are countries which don't get the bang for the bucks, and the U.S. is one of them," said Barry McGaw, education director for the Paris-based Organization for Economic Cooperation and Development, which produced the annual review of industrialized nations.
The United States spent $10,240 per student from elementary school through college in 2000, according to the report. The average was $6,361 among more than 25 nations.
Australia, Finland, Ireland, Korea and the United Kingdom combine high performance and moderate spending.
Raeidng, Frsit and Lsat
Weird. Rlleay wreid.
Every weekday JewishWorldReview.com publishes what many in Washington and in the media consider "must reading." Sign up for the daily JWR update. It's free. Just click here.


JWR contributor Joanne Jacobs, a former Knight-Ridder columnist and San Jose Mercury News editorial writer, blogs daily at ReadJacobs.com. She is currently finishing a book, Start-Up High, about a San Jose charter school. Comment by clicking here.
09/08/03: No Child Left Behind: A Primer
08/29/03: The Decline and Fall of Social Studies
08/18/03: F is for valedictorian
08/14/03: Start-up success
08/11/03: Subliterate Superintendent
08/04/03: Alternative High School
07/28/03: Out of the System
07/21/03: Too Snobby for Shop
07/14/03: Be very afraid
07/09/03: Know-nothing nonsense
06/30/03: Affirmative action reactions
06/23/03: Overdressed Students, Underdressed Teachers, Dressed-down Exams
06/16/03: Paper 'Is-ness,' Excluding Awards, New Racial Consciousness and Politics
06/09/03: Racist math, red tape for charters, potty reading
06/02/03: Teacher Pay, Illiteracy , No Republicans Allowed
05/27/03: Research papers, athletics, reading
05/19/03: Soft America, plagiarism, Minutemen and Jets
05/12/03: Demographics, nerves, valedictorian, vouchers
05/05/03: Gender Bias, Banned Words, Helen of Troy
04/28/03: Tests, home-schooling, self-esteem
04/25/03: Lessons, American Pride, Iraqi Schools
04/14/03: Iraqi Textbooks and the English language
03/31/03:Teachers, hugging, text messaging
04/07/03: War talk at school
03/24/03: Watching the war
03/10/03: Classroom chaos
03/03/03: Teaching tales
02/24/03: Segregation stories
02/18/03: Writing Essays, America, Beyond Bert and Ernie
02/13/03: Size matters
02/10/03: Parental homework, cheaters and memoirs
02/03/03: Diplomas, academics, preschools and Ritalin
01/27/03: Head Start, Social Studies, Marx, Africa and Math
01/22/03: Teachers as targets
01/13/03: Big Bully's Feelings
01/06/03: School of 60's Whining and Communal Destruction
12/23/02: Teaching in
12/16/02: Chocolate city?
12/10/02: Mandatory Victimhood --- and when cleaning up a school is 'racist'
11/25/02: Multi-colored math, sensitive science
11/20/02: How to leave no child behind
11/18/02: The tummy track
11/11/02: Dysfunctional documents?
11/04/02: Why go to college? Why test schools?
10/28/02: Pride goeth before an F
10/21/02: Diversity adversity
10/14/02: Bad hat day
10/07/02: Inflated sense of worth
09/30/02: The Royal road to knowledge
09/24/02: Sierra's Club
09/20/02: Stupidity Watch
09/03/02: First, win the war
08/26/02: Out of their field, out of their minds?
08/20/02: Fun with failure

© 2002, Joanne Jacobs