Jewish World Review

Jackson 'flash dance' benefits those seeking crackdown on indecency

http://www.jewishworldreview.com | (KRT) As a member of the Federal Communications Commission, Michael Copps is accustomed to irate messages from the public, expressing outrage over everything from radio "shock jocks" to steamy love scenes on the afternoon soaps.

But nothing compares to the record volume of grievances that poured in after Janet Jackson's one-second flash during the Super Bowl halftime show. By Friday, the FCC had received more than 200,000 e-mails - an outpouring that Copps said clearly indicates that Americans are "fed up" with what comes across the airwaves.

The fallout cost Jackson her spot on a list of presenters at Sunday's Grammy Awards on CBS, which also aired the Super Bowl.

By shocking millions of viewers tuned in for a night of wholesome sportsmanship, Jackson also unwittingly gave a huge boost to activists who have fought for years - usually with little success - for more rigid policing of radio and television.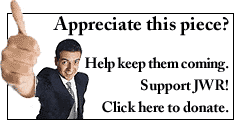 Public anger was evident even before the Super Bowl in full-page ads in newspapers across the nation by a group called the Parents and Grandparents Alliance.
"We're a group of mothers, fathers and grandparents who are outraged at all the filth, violence, sex, vulgarity and worse that children see and hear every day," the ad explained, urging readers to petition members of Congress to "demand they act."
Many of the conservative organizations fighting indecency in the nation's media are also embroiled in the push for a constitutional amendment banning gay marriage in wake of last week's ruling by the Massachusetts Supreme Judicial Court that gay couples are entitled to the same rights as heterosexual couples.
Jackson apologized for the halftime performance in a video-clip released last week. While she and Justin Timberlake struggled futilely to explain away what they called a "wardrobe malfunction," Lara Mahaney of the Public Television Council, an 800,000-member watchdog group, welcomed the national outrage.
"Hopefully we're seeing an opportunity to start climbing out of the moral sewer the entertainment industry has been leading us into," Mahaney said.
Jackson's performance generated a weeklong buzz on Capitol Hill as Democrats and Republicans denounced her behavior and embraced legislation to toughen FCC penalties against obscenity and indecent language on TV.
Rep. Randy Forbes, R-Va., was in a hospital room watching the Super Bowl with his seriously ill 79-year-old father when Timberlake ripped off part of Jackson's costume, exposing her breast, partially covered with a "nipple shield."
"I felt like they robbed us of a very special moment," Forbes said, calling the prime-time display "irresponsible and reprehensible."
The next morning, Forbes penned a letter of protest to CBS President Leslie Moonves. At least 50 fellow House members had co-signed the protest by late last week.
The congressional outrage gave a hefty dose of momentum to bipartisan legislation proposing a tenfold increase in FCC fines against broadcasters airing obscenities or offensive language, from $27,500 per violation to $275,000. A maximum penalty of $3 million would be imposed for repeated violations.
Rep. Joe Barton, R-Texas, said a range of other options, including fines on entertainers themselves, will likely surface in the weeks ahead. Barton is expected to become chairman of the House Energy and Commerce Committee, which oversees the broadcast industry, and will thus play a central role in toughening regulations and penalties.
"The country has reacted in a very outraged and concerned way," he said. "You don't have to be a religious fanatic to see that things have just gotten out of hand."
Repercussions from the halftime show echoed throughout the week as the FCC opened an investigation and the entertainment industry nervously sought to avoid a replay.
NBC quickly sanitized last week's episode of "ER" to remove a shot of an 80-year-old patient with an exposed breast. And ABC announced that it would use a five-second delay during the Academy Awards broadcast to protect against offensive language.
Civil libertarians, while largely condemning the Jackson-Timberlake show, warned that policy-makers must be careful to avoid trampling on constitutional guarantees to freedom of expression in their rush to purify the airwaves.
"There is potentially a danger," said Elliot Mincberg, vice president of People for the American Way, an advocacy group that successfully represented poet Sarah Jones after the FCC ruled that verses aired on a public radio station contained indecent language. The FCC ruling was later overturned.
Former House Majority Leader Dick Armey of Texas recalls the free-speech battle he provoked when he tried to withhold public funding for the National Endowment for the Arts in a confrontation over inflammatory exhibits.
"I was called a troglodyte and had to go look it up," he said. Armey predicted that the FCC is "going to hear censorship screamed and hollered" as it proceeds with its investigation of the Super Bowl performance.
Nevertheless, ever-increasing legions of citizens - from PTA members to religious leaders to lawmakers - believe broadcast consumers have reached the breaking point over what they hear on their car radios or watch in their living rooms. "Fed up" was a phrase used repeatedly last week in the Super Bowl's aftermath.
After the Super Bowl, Reps. Kay Granger, R-Texas, and Martin Frost, D-Texas, said they received numerous calls from constituents protesting sex, violence and graphic language on the airwaves.
"I've been concerned about the language used in radio and television over the years," said Frost, who once worked as a reporter before entering Congress. "As a former journalist, I'm not one who likes to see censorship by any means. But there has to be some level of decency."
Jackson's performance followed other infamous displays of celebrity behavior. Bono, the lead singer for the rock group U2, used the "f-word" during last year's Golden Globes broadcast. More recently, Madonna and Britney Spears shared a steamy, open-mouth kiss on television.
Some of the most explicit language airs on radio, where drive-time talk show hosts often engage in sexual banter with female callers and openly talk about body parts and sexual positions.
Just days before the Super Bowl, the FCC proposed a record $755,000 in fines against San Antonio, Texas-based Clear Channel Communications for indecent language aired on several of the companies' stations. The complaints centered on a program called "Bubba the Love Sponge."
Last year, the FCC levied fines of $357,000 against Infinity Broadcasting Operations over a program in which five couples agreed to engage in sex acts in public locations in New York City, including St. Patrick's Cathedral and a zoo. A "spotter" described their performances to the program hosts.
Despite the recent six-digit fines, critics of the FCC complain that the agency has done a woeful job in responding to complaints. And some of the sharpest criticism comes from within the FCC. Copps, who has emerged as a maverick since joining the five-member commission in June 2001, frequently faults his colleagues for not being more aggressive.
"I've been talking about this until I am blue in the face trying to get them to do more," he asserted, saying the commission has done "a gosh-awful lousy job" in enforcing the statutes. Copps, a former college professor and a one-time aide to Sen. Ernest Hollings, D-S.C., said the commission should go beyond fines and begin yanking broadcasters' licenses, forcing them off the air.
People have "been getting fed up for a long period of time," said the father of five, and he includes himself in that group.
"I turned on the TV to watch the Senate and happened to flip through an afternoon soap opera," he recalls. "I'll tell you, what was on there, I wouldn't want my kids to see."
Every weekday JewishWorldReview.com publishes what many in Washington and in the media consider "must reading." Sign up for the daily JWR update. It's free. Just click here.
Comment by clicking here.

© 2004, Fort Worth Star-Telegram Distributed by Knight Ridder/Tribune Information Services