Jewish World Review March 12, 2001/ 17 Adar 5761

Kathleen Parker

School shootings: It isn't so much the "R"-rated movies and video games ...

http://www.jewishworldreview.com --
"ANOTHER school shooting," said the airport lot attendant as he wearily punched my ticket. "Same ol', same ol'."

Thus I learned about the recent school shooting in Santee, Calif., which, wearily-wearily, isn't even the latest. Faster than you can say copy-cat, another student picked up a gun and shot a classmate in Williamsport, Pa.

The now-routineness of school shootings and the subsequent cynicism they provoke may provide some insight into the causes we so desperately seek as we wonder why children are killing children.

Conspicuously absent from the laundry list of usual suspects -- communications-media violence, inattentive parents, bullies, access to guns -- is the role of the media. Not the R-rated flicks or bloody adult-rated video games, though these surely contribute to the moral deterioration of a deranged mind.

Rather the media that can't stop talking about the latest tragedy, creating larger-than-life mythologies around the strange little megalomaniacs who solve personal problems with violence, today the quickest, sure-fire ticket to instant stardom.

The parking-lot attendant's ennui may be owing less to the repetition of tragedy than to the media saturation such tragedies inevitably provoke. Some spineless little slug murders his teachers or classmates, and he's not a spineless little slug any more. He's a victim in handcuffs on the cover of Time; a sad face on television, details at 6; a national figure and face. An Important Person. A star!

In the 24 to 36 hours after little what's-his-name allegedly killed two children and wounded 13 others at Santana High School, you couldn't escape him and his story. Suddenly we knew his name, his background, friends, family and teachers.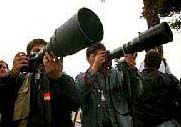 You, too, can be a star!
For two days at least, talk-show hosts led hand-wringing discussions about the whys and wherefores of violent children. Not one I caught, from evening talk to morning schlock, mentioned the possible role of their own excessive coverage in contributing to recent events and foretelling future ones.

Yet somewhere, you just know, some little loser with a chip on his shoulder is thinking: Hey, that could be me!

The narcissist wants nothing more than the attention we give him in return for his abomination. You want to feed and nurture a murderer compelled by self-obsession and faux self-esteem?

Offer him a television camera, bold type and prime time.

Of course I feel sorry for any 15-year-old so miserable that he effectively commits suicide, though my sympathies are diminished by the lives he takes with him. One can't help noting, too, that many children transcend personal miseries far more challenging and corrosive than those posed by classroom bullies.

In the context of narcissism, the mystery of children killing becomes less mysterious. That we have more such killers than we used to isn't so much about guns and bullies as it is about our Me-First culture, a convenient mechanism of which is news-media fame.

Chicago psychologist Barbara Lerner nailed it two years ago after the Columbine shootings: "We have more wanton schoolboy killers today because we have more narcissists," she said. "And the step from being a narcissist to a wanton killer is a short one, especially in adolescence."

Especially given the immediate rewards. When you're a nobody and want to be a somebody, nothing works like a .22 pistol and a compliant communications media.

Clearly we can't ignore the miniature thugs among us nor the stories they script with blood, but we can abridge them with contempt, and we should minimize their celebrity with inattention.

JWR contributor Kathleen Parker can be reached by clicking here.

02/26/01: Fathers fight paternity fraud
02/21/01: Clarence Thomas is a courageous patriot with guts to spare
02/16/01: Trapping dads
02/13/01: Oh, for the sweet strains of 'How can I help you?'
02/08/01: Age is mostly a function of attitude
01/31/01: No class
01/26/01: Let's listen to children of divorce
01/23/01: If we could read Jackson's mind during prayers for Clinton ...
01/18/01: Don't look for lesson in this tale
01/15/01: It's a dirty job, but somebody has to do it
01/08/01: Middle-school fanny slap or sexual assault? You decide
12/28/00: Doesn't take village to see through this
12/26/00: Guess who's whining about Bush's Cabinet of Diversity?
12/21/00: Kiss our coarse era goodbye
12/19/00: Ready to lay to rest the past and press onward
12/13/00: Court has Supreme authority
12/06/00: Legal relief: Attorneys in Florida court are welcome shift
12/04/00: When rules become flexible, children misbehave
11/29/00: Hard to forgive Dems' divisiveness
11/23/00: The answers aren't so complicated
11/21/00: The devil -- or is it really Nurse Ratchet? -- in Mr. Gore
11/16/00:In the end, the winner may be loser
11/13/00: Eliminate popular vote -- at least in Palm Beach County
11/07/00: Lesser of 2 evils? It's more like the lesser of 2 lies
11/02/00: Latest Jones' saga exposes a big irony
10/31/00: Hate-crime legislation and anti-Bush ad are flawed
10/26/00: Taking it to the streets
10/23/00: Headlines blur fiasco of family
10/13/00: Forget polls: Bush passes turtle test
10/06/00: Feminism: A cup that's half full?
10/04/00: Election-year reality check: Abortion is here to stay
09/29/00: For Gore and Hollywood, the mirror has two faces
09/26/00: Oprahfication of presidential political: It's all about feelings
09/19/00: It's not subliminal: Hypocrisy of moral outrage is obvious
09/15/00: So wear, oh wear, are we headed?
09/11/00: Do Steinem's wedding bells sound feminist death knells?
09/08/00: Grounded in her fears about flying
08/31/00: Dudettes that don't
08/29/00: AlGore wants to be his own man -- does he know who that is?
08/21/00: Dems manufacture emotions at convention
08/17/00: Hollywood divine? AlGore is miscast
08/08/00:Outreach: Good strategy and long-run policy
08/04/00: A sharp look back at the Vietnam War
08/01/00: Bush's choice of grown-up Cheney is a stroke of genius
07/24/00: Fired up and grossed out over stupid Canadians
07/20/00: Lack of judgment --- our critical flaw
07/18/00: 'Progress' for women often a step back
07/11/00: School essay watchdogs cannibalize our children
07/06/00: Youths fear marriage --- blame boomers
06/28/00: Eminem might just have a point
06/21/00: Bridging the day-care divide
06/15/00: N.Y. baby case ends up with multiracial scrambled eggs
05/31/00: The war only time wins
05/25/00: The opposite of sex
05/18/00: World War II gave us our true heroes
05/11/00: Boy Crazy! stacks deck against guys
05/09/00: Finding out where the boys are
05/05/00: A born Ms. Leader -- Barbie for prez
04/25/00: From here to paternity
04/14/00: Boys should be boys, not viewed as criminals in training
04/11/00: Oh, for a standard of what is socially, morally acceptable
04/06/00: Womyn's Contempt for Commitment --- and the bastards it creates
04/04/00: Sue-happy American society is out of control
03/30/00: Duct-taped baby serves as warning
03/28/00: Stay-home parents know that their kids need them
03/24/00: No 'Great Expectations' when schools shun the classics
03/21/00: It's common sense to restrict Internet usage in libraries
03/17/00: You want to be just a mom? For shame!
03/14/00: Colonoscopy: Important, but bad TV
03/10/00: I made a mistake about trigger-locks
03/08/00: After this school shooting, no easy target for our contempt
03/03/00: Car crash helps bridge our divide
02/28/00: Nasty politics? Americans like it down, dirty
02/14/00: College testing via Lego-building -- yeah, right
02/02/00: Bubba should spare us phony love theatrics
01/26/00: What sets off Those Who Speak for Women
01/13/00: Fools in love: Premarital counseling could help school kids
01/11/00: Who funds these studies!?
12/29/99: Grandparents' rights impinge on family autonomy
12/13/99: When did fathers become fair game?
12/09/99: Don't be stupid about at-risk kids
12/07/99: Pokemon is no substitute for a father
12/02/99: Blaming the victim --- men
11/30/99: Baby-killer's story has less-than-Precious ending
11/23/99: Pendulum swings back toward discipline, responsibility
11/18/99: Put the babies first in this mighty mess
11/11/99: Skip the applause for this baby news
11/09/99: Gore could benefit from a secret in Wolf's clothing
11/03/99: Who needs 'birds and bees' when we have MTV?
11/01/99: Women Can't Hear What Men Don't Say
10/26/99: Children's needs must take priority in divorce system
10/19/99: The deadbeat dad is less a scoundrel than an object of pity
10/15/99: Bullying boys ... and girls
10/12/99: Divorced dads ready to wage a revolution
10/04/99: A father's best gift? His presence
09/30/99: Sorry, guys, Faludi is no friend of yours
09/28/99: Science's new findings: Scary future for families
09/23/99: The great blurring of need and want
09/21/99:Focus on more than baby's first 3 years
09/16/99: Commentary from kids sheds no light on day-care debate
09/14/99: Fathers' group seeks to right inequities
09/09/99: Son now has a license to grow up
09/07/99: A slap in the face of domestic violence
09/01/99: No, ma'am: Legislation on manners misses the mark
08/26/99: For better boys, try a little tenderness
08/24/99:The ABC's of campaign questions
08/19/99: Male 'sluts'
08/11/99: Language doesn't excuse bad behavior
08/09/99: When justice delayed is still justice
08/03/99: Unemployment? Not in this profession
07/30/99: It's not about race -- it's about crack babies
07/22/99: Tragedy tells us what's important
07/19/99: Study denouncing fathers sends danger signals
07/15/99:'Happy marriage' belongs in the Dictionary of Oxymorons next to 'deliciously low-fat.'
07/11/99: 'Brother Man': An American demagogue in Paris
07/08/99: Only parents can fix broken families
07/06/99: America is home, sweet home
07/01/99: Tales out of Yuppiedom
06/28/99: Men aren't the only abusers
06/23/99: Is the entire country guzzling LSD punch?
06/20/99: The voice remains -- as always -- there beside me 06/16/99:Stating the obvious, a new growth industry
06/14/99: Calling for a cease-fire in the gender war
06/10/99: We owe children an apology

©1999, Tribune Media Services