Jewish World Review July 11, 2003/ 11 Tamuz, 5763

Jackie Mason & Raoul Felder
Trust First Impressions
http://www.jewishworldreview.com | We like to think of ourselves as enlightened people who try, especially in politics, not to judge people by our first impressions. Take President Carter ... please.

Our first impression of him was not good. Putting aside that we were not crazy about having a President whose first name was "Jimmy" (and still hope to have the rest of the world believe that the outhouse was not a fixture of American culture), when we first saw candidate Carter, he was wearing brown socks with a blue suit. "So what," we said, still prepared to be open-minded. We were hiring a President, not a tailor. And maybe he was colorblind, which would not effect his ability to be President except for matters of the budget, when he has to be able to tell the red ink from the black. And what happened? Our first impression was right. We ended up waiting on lines at the gas stations -- and we didn't even own a car.

Then came Clinton. When we saw him we felt that he was the kind of person who would give used car salesmen a bad name. Then he was elected. We understood that the business of the government was being conducted in the Oval Office, but did it have to be on the carpet of the Oval Office?

With Clinton, we tried to look at the positive side of things, and were prepared to be generous in our judgment. Adultery, so what? It takes ten minutes to commit adultery and he had the whole rest of the day to be President. And what finally happened? It turned out he did to the rest of the country what he was doing to his girl friends.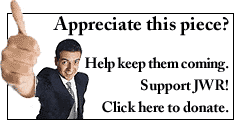 Andrew Cuomo first came to our attention when he married Robert F. Kennedy's daughter, Kerry.

Our first impression of the Kennedys was visceral and goes back two generations before Kerry. Old man Joe, Kerry's grandfather, founded the house of Kennedy by a political marriage with Rose Fitzgerald, daughter of Boston's mayor "Honey Fitz." Joe believed in "family" to such a degree that he openly had one family with Rose and another home with film star Gloria Swanson.

What soured us on Joe, though, were his political positions, not the ones in his bedroom. He became U.S. Ambassador to Great Britain in 1937 until he was forced to resign in 1940. His continued praise of Hitler and exhortations for us to drop our support for England in the early days of World War II became an international embarrassment.

Joe Kennedy was not just a Nazi lover, he was also a racist, as described by Frank Sinatra's valet, George Jacobs, in his new book, Mr. S

"He [Kennedy] referred to the august Louis B. Mayer as a 'kike junkman.' The Jewish jokes didn't stop. The worst one I can recall: 'What's the difference between a Jew and a pizza? The pizza doesn't cry on its way to the oven.'"

Jacobs, to whom he was talking, was a black man. But he was also Jewish, having been Bar Mitzvahed in Israel, which goes to show that Kennedy was dumb as well as bigoted.

When it came to Andrew Cuomo, what has been revealed in the last few days confirmed our original impression of him, which was not very favorable. In order to buy votes for the Clinton Administration, as Clinton's Secretary of Housing, this professed liberal dangled, then gave, then withheld, federal funds for New York housing. Can there really be anybody lower than a person who professes to be a liberal, concerned about the plight of poor people, and then, when in a position where he could really do some good for these unfortunate people, uses his power to further his own and his party's political ends.

We were also turned off when, trying to run for Governor of New York, he shoved his wife Kerry and even his children in the face of the voters at every opportunity. Little did we then know that this was the ultimate scam because, at the same time, their marriage was, in fact, a sham. She had a boyfriend, Cuomo was calling her every possible insulting name, and yet they sought to present themselves as a model -- the ultimate political couple to the voters of New York. Of course, he had a great role model in Clinton who, with Hillary, was the gold standard for political marriages. Their marriage had everything a marriage could want -- thievery, crookedness, adultery, violence, and phoney religiosity -- in short, a marriage made in heaven.

But Cuomo was also able to do something that even Tony Soprano would not do. Initially, he released reports that his wife betrayed him and then, in case anybody did not know how she betrayed him, explained that she was an adulterer. After having done all of this, like a man who kills his parents and complains he is an orphan, he then bemoaned the fact that their three children had to find out about it.

Worse yet, Kerry is apparently an amateur at the adultery game -- she should have taken lessons from her relatives. After her husband called her an adulteress, her boyfriend then said that he will stay with his wife, and wants no part of Kerry.

If a conservative did all of these things, he would be reviled as the lowest person who ever lived. Since Cuomo is a liberal, he is simply a chip off the old block.
Appreciate this duo's work? Why not sign-up for the daily JWR update. It's free. Just click here.

JWR contributors Jackie Mason and Raoul Felder need no introduction. Comment on this column by clicking here.

© 2003, Jackie Mason & Raul Felder. A version of this column appeared at The American Prowler.