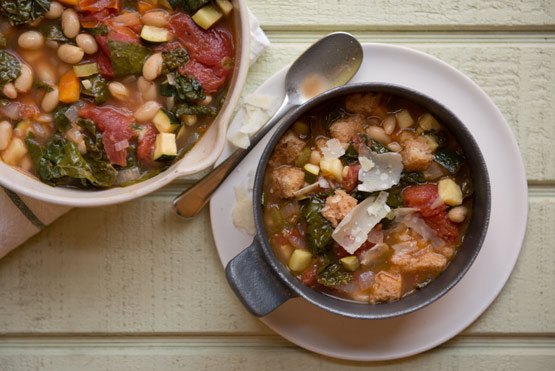 Fish and lemon --- well, of course. They are a natural pair, classic for a reason. But lemon isn't the only citrus that makes fish sparkle. Now, at the height of the citrus season, there is a wide and wonderful variety to explore with color, bright acidity and multidimensional flavor that can take your seafood dinner to another level.
The sauce for this dish brings together grapefruit and orange in an enticing and exciting way. I use red grapefruit for its color and gentle pucker, and a navel orange works perfectly along with it. But if cara caras are available, try that orange variety, which has a stunning pink hue and lovely sweet-tart balance.
Once you segment the citrus over a bowl and collect the juices, you use them to make a simple yet elegant pan sauce that takes all of 10 minutes. You just saute shallot in a bit of olive oil, add white wine and then a touch of honey and butter to give the sauce a silky richness and balance the tartness of the fruit to come.
All the while, the halibut (or whatever mild, white flaky fish you prefer) is roasting gently and evenly in the oven, a method that is one of the surest ways to get it done right and makes for a stress-free cooking experience. With grilling and pan-cooking, the fish cooks fast - blink and it could overcook - but those methods require you to flip the fillets, upping the chance that they will fall apart.
Roasting eliminates all of that: Place the fish in a preheated oven and cook it for 10 minutes per inch of thickness. It's as foolproof as it gets.
You finish the sauce by adding the citrus segments and juices along with sprinkle of fresh tarragon, for a fragrant hint of anise. Just shake the pan a couple of times as it all warms through - gently, to avoid breaking up the plump citrus segments. Then serve the sauce spooned over the fish, and relish the taste of the sun and surf in a whole new way.

RIBOLLITA
6 servings (makes about 12 cups)
Feel free to swap the type of bean, or substitute chopped broccoli, green beans or red pepper, for example. If you've got home-cooked beans to use instead of canned, the stew will be all the better for it.
In this recipe, for an extra measure of creamy richness, half of the beans are pureed before they are stirred into the pot. There is just enough whole-grain bread to thicken the dish and add heartiness without making it starchy or heavy, and a rainbow of vegetables is built in: carrots, celery, zucchini, tomatoes and ribbons of kale.
MAKE AHEAD: The ribollita can be made in advance, up to the point where the bread is added, and refrigerated for up to 4 days or frozen for up to 3 months. Add the bread after the stew has been reheated.
Ingredients:
• Two 15-ounce cans no-salt-added cannellini or navy beans, drained and rinsed (may substitute 3 cups home-cooked cannellini beans)
• 4 cups no-salt-added chicken or vegetable broth
• 1/4 cup olive oil
• 1 medium onion, cut into medium dice (1 cup)
• 1 medium carrot, scrubbed well, cut into medium dice (1/2 cup)
• 1 rib celery, cut into medium dice (1/2 cup)
• 3 cloves garlic, minced
• 1 medium zucchini, cut into medium dice (1 cup)
• One 28-ounce can whole peeled tomatoes, plus their juices, preferably no-salt-added
• 1 sprig rosemary
• 1 teaspoon kosher salt
• 1/4 teaspoon freshly ground black pepper
• Pinch to 1/4 teaspoon crushed red pepper flakes
• Leaves from 1 bunch (12 ounces) kale, any variety
• 1 cup cubed day-old or lightly toasted whole-grain Italian bread, crusts removed
• 1/3 cup freshly grated Parmigiano-Reggiano cheese, for serving
Steps
Combine the drained beans from 1 can with 1/2 cup of the broth in a food processor; puree until smooth.
Heat the oil in a large pot over medium heat. Once it shimmers, add the onion, carrot and celery; cook for about 8 minutes, stirring occasionally, until the vegetables are softened but not browned. Stir in the garlic and zucchini; cook for 1 minute.
Add the tomatoes one at a time, crushing them in the pot to break them up as you add them, then pour in their can juices. Add the bean-broth puree, the remaining can of drained beans, the remaining 3 1/2 cups of broth, the rosemary sprig, salt, black pepper and crushed red pepper flakes (to taste), stirring to combine. Increase the heat to medium-high; once the mixture starts to boil, reduce the heat to low; cook for 30 minutes, stirring occasionally.
Cut the kale leaves into ribbons or bite-size pieces. Discard the rosemary in the pot, then stir in the kale and increase the heat to medium-high; once the mixture returns to a boil, reduce the heat to low and cook for 15 minutes, stirring as needed.
(At this point, the stew can be cooled, covered and refrigerated or frozen.)
Add the bread cubes; cook for about 15 minutes or until they have mostly dissolved/broken down.
Serve hot, garnished with the cheese.
Nutrition | Per serving: 310 calories, 13 g protein, 45 g carbohydrates, 11 g fat, 2 g saturated fat, 0 mg cholesterol, 280 mg sodium, 14 g dietary fiber, 11 g sugar
Comment by clicking here.
Krieger's most recent cookbook is "Weeknight Wonders: Delicious Healthy Dinners in 30 Minutes or Less" (Houghton Mifflin Harcourt, 2013)