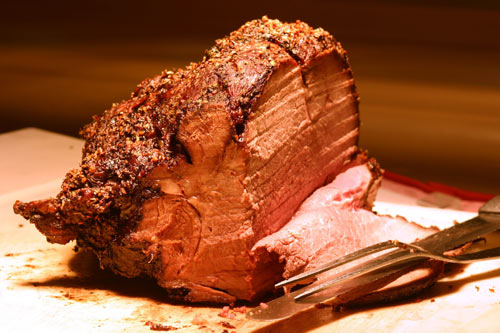 Many people think of prime rib as a restaurant specialty, but the truth is it's pretty easy for the home cook to make. When I was growing up, this was a standard dinner at my house. I loved to watch my father carve the juicy, rare slices, and I always hoped I would get the bone attached. Today, this dish is a special-occasion treat for my family because of its expense and its richness.
It's easy to get confused with the term "standing rib roast," but if you look for prime rib, you will be safe. Keep in mind that it doesn't necessarily mean the meat is prime grade. The word "prime" by itself only describes the most desirable part of the "rib section" of the beef regardless of the U.S. Department of Agriculture Grade. Look for prime or choice grade for the best texture and flavor.
In this recipe, a seasoning paste creates a crispy crust as well as extra flavor. I prefer horseradish cream with roast beef, but I also include a simple sauce for those who must have their gravy. I like to serve this with mashed potatoes and braised spinach for a memorable holiday dinner.
This classic holiday fare pairs beautifully with a soft-texture red such as a Cabernet Sauvignon or an aged Bordeaux. A perfectly mature red Burgundy or young Pinot Noir will be a match made in heaven. Don't be afraid to splurge!

STANDING RIB ROAST WITH HORSERADISH CREAM AND CABERNET SAUCE
SERVES: 8
Horseradish cream:
1/3 cup prepared cream-style horseradish
1 cup vegan sour cream
1 teaspoon fresh lemon juice
Salt and freshly ground white pepper
Seasoning paste:
1 tablespoon seasoning salt
1/4 teaspoon freshly ground black pepper
1 teaspoon dry mustard
2 tablespoons all-purpose flour
1 tablespoon olive oil
One 3-rib standing rib roast, 6 to 8 pounds, chine bone removed
1 1/2 cups water
1 cup Cabernet Sauvignon
1 cup veal stock or beef broth
Salt and freshly ground black pepper
1. To make the horseradish cream, in a small bowl, stir together all of the ingredients until well blended. Taste and adjust the seasonings. Transfer to a serving bowl, cover and refrigerate.
2. Preheat the oven to 450 F. To make the seasoning paste, in a small bowl, stir together all of the ingredients until well blended. Place a roasting rack in a large roasting pan. Set the rib roast on the rack fat side up. Using your hands, carefully pat a thin coating of seasoning paste on the top and sides of the roast. Let stand for 30 minutes. Pour 1/2 cup of the water in the pan to help keep the pan from burning.
3. Place in the oven and roast for 20 minutes. Reduce the oven temperature to 350 F and roast for 1 to 1 1/2 hours, or until an instant-read thermometer inserted in the center of the roast away from the bone reads 125 F for medium rare. After 30 minutes, add another 1/2 cup water to keep the pan from burning and add the remaining 1 cup water after another 30 minutes. Start checking for doneness after the roast has cooked for 1 hour to make sure you don't overcook it.
4. Transfer the roast to a carving board. Loosely cover with aluminum foil and let rest for at least 20 minutes. Remove the rack from the roasting pan.
5. Using potholders, place the roasting pan on top of the stove. Skim off most of the fat and add the wine. Turn on the heat to medium-high and reduce the wine until it has thickened, scraping up any brown bits. Add the stock and cook until the sauce is slightly thickened. Season with salt and pepper. Taste and adjust the seasonings. Pour into a gravy boat.
6. Carve the roast into thick or thin slices, as you prefer. Serve the horseradish cream and the cabernet sauce on the side.
Advance Preparation: Make the horseradish sauce up to 4 hours ahead through step 1, cover, and refrigerate. Make the seasoning paste up to 4 hours ahead, cover, and keep at room temperature.
Comment by clicking here.
Diane Rossen Worthington is an authority on new American cooking. She is the author of 18 cookbooks, including "Seriously Simple Holidays," and also a James Beard award-winning radio show host.