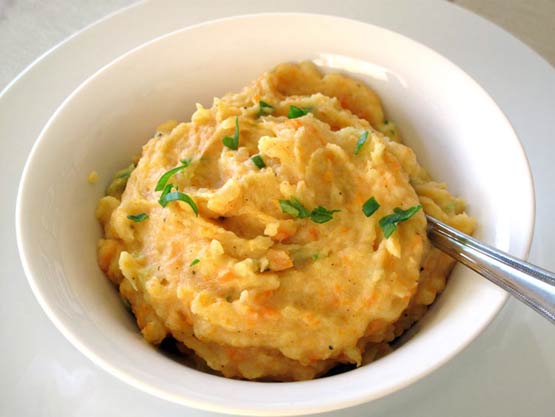 Although they're often a favorite side dish staple, sometimes mashed potatoes need a little inspiration.
Root vegetables make a perfect addition to potatoes, and I particularly like the sweet flavor of carrots in this recipe, but parsnips, rutabagas, turnips and celery root will work just as well.
Yukon Gold potatoes are a great choice because of their rich, creamy flavor. It's important to rinse the potatoes well to remove excess starch, which can make the mixture gluey.

CARROT SPIKED MASHED POTATOES
SERVES: 4
4 tablespoons unsalted butter

3 medium carrots (about 8 ounces) cut in half lengthwise, and sliced into1/4-inch-thick pieces

1 1/2 pounds Yukon Gold potatoes, peeled, quartered lengthwise, and cut crosswise into 1/4-inch-thick slices; rinsed well in cold water and drained

1/3 cup low-sodium vegetable broth

Kosher salt

2/3 cup half-and-half, warmed

3 tablespoons minced fresh chives or scallion greens

Ground black pepper
1. Melt butter in large saucepan over medium heat. When foaming subsides, add carrots and cook, stirring occasionally, until the butter is browned and the carrots are caramelized, 10 to 12 minutes. (If after 4 minutes the carrots have not started to brown, increase heat to medium-high.)
2. Add potatoes, broth and 3/4 teaspoon salt and stir to combine. Cook, covered, over low heat (broth should simmer gently; do not boil), stirring occasionally, until potatoes fall apart easily when poked with fork and most of the liquid has been absorbed, 25 to 30 minutes. (If liquid does not gently simmer after a few minutes, increase heat to medium-low.) Remove pan from heat; remove lid and allow steam to escape for 2 minutes.
3. Gently mash potatoes and carrots in saucepan with potato masher (do not mash vigorously). Gently fold in warm half-and-half and chives (or scallion greens). Season with salt and pepper to taste; serve immediately.
Comment by clicking here.