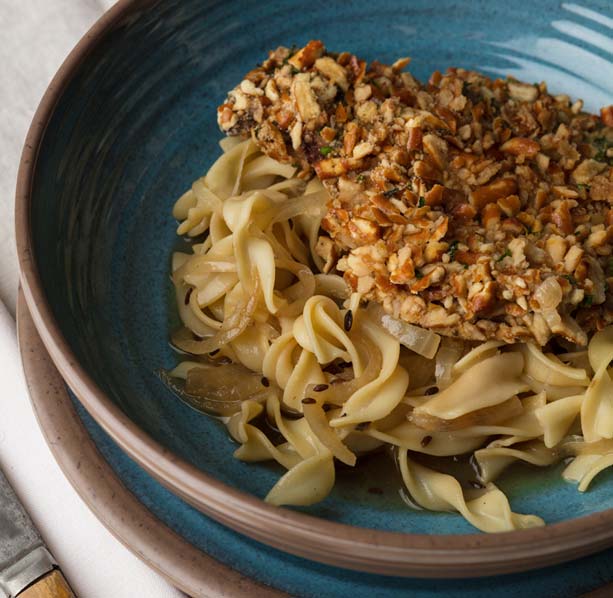 I appreciate any winter dish that offers big flavors in a relatively spare profile, and this one fits the bill.

A schnitzel is characterized by thin meat, a crunchy coating and pan-frying.

In this riff, you'll opt out of the last and bake instead - a choice that eliminates some fat but mostly helps its mustard-based, herby pretzel exterior stay in place.

No flour and egg steps here, which saves time and simplifies the typical schnitzel method.

While the meat is in the oven - beef, in this case - you'll boil the egg noodles, toast caraway seeds and saute an onion. Their happy union provides a soft and aromatic counterpoint.

PRETZEL-CRUSTED SCHNITZEL WITH CARAWAY ONION NOODLES
Serve with a green salad.
3 or 4 servings

Ingredients
• Leaves from 4 stems flat-leaf parsley
• Leaves from 3 stems thyme
• 6 ounces salted pretzel sticks or mini pretzels
• Kosher salt
• Freshly ground black pepper
• 1-pound piece center-cut or London Broil
• 1/4 cup Dijon mustard
• 6 ounces dried wide egg noodles
• 1 medium yellow onion
• 2 teaspoons caraway seed
• 2 tablespoons unsalted margarine
• 1/2 cup low-sodium beef broth
Steps
Preheat the oven to 375 degrees. Line a rimmed baking sheet with parchment paper or aluminum foil.
Finely chop the parsley and thyme leaves, placing them in a shallow container or plate. You should have about 3 tablespoons total.
Place the pretzels in a food processor and pulse until they're reduced to pebbly crumbs but are not powdery (or simply place in a quart-size zip-top bag and crush them). You should have about 1 1/2 cups. Add to the parsley and thyme leaves; season lightly with salt and pepper, then stir to incorporate.
Trim away any excess fat from the tenderloin. Cut the meat into 1/4-inch round slices, placing them at least an inch apart on a large piece of plastic wrap on the counter. Cover with another large piece of plastic wrap. Use a heavy pan or meat pounder to flatten the slices evenly thin (about half as thick as they were). Remove the top plastic wrap, then use a spoon to place a dollop of mustard on top of each flattened piece of beef. Use the back of the spoon to spread it evenly over each one.
Working with one at a time, transfer the pieces to the pretzel mixture, mustard sides down, and press gently so the crumbs adhere; transfer the pieces, crumbed sides down, to the baking sheet. Repeat the dollop-and-spread with the remaining mustard on the uncoated sides of the beef, then press handfuls of the remaining pretzel crumb mixture so the mustard is completely covered. Generously grease the top side of each piece of schnitzel with cooking oil spray. Bake (middle rack) for 12 to 15 minutes, until lightly golden brown. The meat should be cooked just through.
Meanwhile, bring a pot of water to a boil over medium-high heat. Add a generous pinch of salt, then the egg noodles. Cook according to the package directions (to al dente).
While the noodles are cooking, cut the onion in half, then into very thin slices.
Toast the caraway seed in a large nonstick saute pan or skillet over medium heat for a minute or two, just until fragrant. Transfer to a small plate.
Return the pan to medium heat. Add the margarine; once it has melted, stir in the onion. Cook for about 6 minutes, stirring often, until the onion has just softened. Add the broth, and season lightly with salt and pepper.
Drain the noodles and immediately add them to the pan along with the toasted caraway seed, stirring to incorporate.
Divide among individual wide, shallow bowls, including some of the broth. Top each portion with some schnitzel. Serve warm.
Nutrition | Per serving (based on 4): 560 calories, 36 g protein, 69 g carbohydrates, 16 g fat, 7 g saturated fat, 120 mg cholesterol, 770 mg sodium, 3 g dietary fiber, 2 g sugar