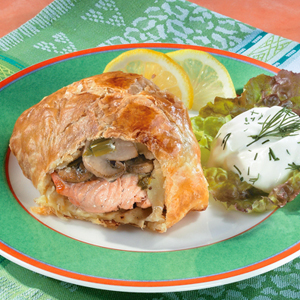 (MCT) Beef Wellington is named in honor of the Duke of Wellington winning the Battle of Waterloo in 1815. He probably would have considered Salmon Wellington some kind of French culinary conspiracy.

Actually, it makes a beautiful presentation for a dinner party. Here are two versions. Enjoy!

SALMON WELLINGTON
6 tablespoons butter
1 cup button mushrooms finely chopped in a food processor or by hand
3 leeks, washed and sliced
1 red onion, finely sliced
3 tablespoons chopped fresh tarragon
1/2 cup white wine
1 teaspoon kosher salt
1 teaspoon ground black pepper
2 puff pastry sheets, thawed
Flour
1 egg plus 2 teaspoons water
One 3-pound salmon fillet, skin removed
Dijon Whipped Cream (recipe follows)

Preheat the oven to 350 degrees. Melt the butter in a large skillet over medium heat. Add the mushrooms, leeks and red onion and saute until the mixture is soft, about 8 minutes.

Add the wine, raise the heat to high and bring to a boil. Let the liquid cook off, add the salt, pepper and tarragon, then remove from the heat and set aside. Let cool before using.

Combine egg and water to make egg wash. Unfold a pastry sheet and lay it on a lightly floured surface. Brush an edge with the egg wash and overlap the other sheet by 2 inches. Roll the pastry out until it's big enough to fold around the salmon.

Spoon the cooled leek mixture down the center of the pastry, place the salmon on top of the leeks and fold the pastry over the salmon. Egg wash the edges to seal and press well. Place the salmon parcel seam side down on a sheet pan.

Brush with egg wash and place in the oven for 30 to 40 minutes, until the pastry is puffed and golden brown. Remove from the oven and let sit for 15 minutes before slicing. Slice and serve with Dijon Whipped Cream. Serves 6.
ALTERNATIVE
4 sheets frozen puff pastry, thawed
Flour
8 6-ounce skinless salmon fillets
Kosher salt and freshly ground Black pepper to taste
2 tablespoons minced shallots
2 tablespoons chopped fresh tarragon
1 tablespoon chopped fresh dill
3 eggs, beaten
1/2 cup dry white wine
1/3 cup rice wine vinegar
1/2 cup heavy cream
1/2 tablespoon minced shallots
1/2 cup chilled butter, diced

Preheat oven to 425 degrees. Roll out each pastry sheet on a lightly floured surface to 12-inch squares. Cut each in half, and half again, to make 8 rectangles.
Put a salmon fillet in the center of each rectangle. Sprinkle with salt, pepper, a bit of shallot, tarragon and dill. Brush edges with the egg. Fold up to enclose the fillet and seal the edges. Place on baking sheet, seam side down.
Brush pastries with beaten egg (for glaze) and bake until the dough is golden brown, about 20 minutes. (Mine were a bit larger and took about 28 minutes.) Remove from the oven and let stand 10 minutes.
Meanwhile, boil the wine, vinegar, cream and remaining shallots in a heavy saucepan until reduced to about a third of a cup. Remove pan from heat.
Add butter a piece at a time, whisking until melted before adding the next piece. Whisk in remaining tarragon. Season with salt and pepper.
Cut pastries into thirds. Spoon sauce over and serve. Serves 8.

DIJON WHIPPED CREAM
1 cup heavy cream
1 1/2 tablespoons Dijon mustard
1/2 tablespoon chopped fresh tarragon and dill (combined)
1 teaspoon salt
1/2 teaspoon white pepper

Pour the cream into a chilled, stainless steel bowl and whisk until soft peaks begin to form. Add the mustard, tarragon, dill, salt and pepper and continue to whisk until stiff peaks form. Refrigerate until ready to use.
Comment by clicking here.