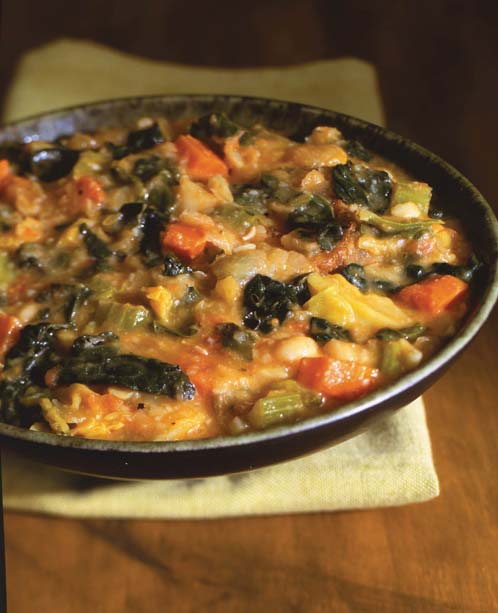 All of us are all watching our spending these days, so when you can make up a main course soup that is this delicious and inexpensive it is worth celebrating.
White beans, an array of garden vegetables and stale bread are the cornerstone ingredients in this peasant Tuscan vegetable soup. Stale bread is a staple in Tuscan cooking and a clever way to use up leftover bread. The soup requires at least a day in advance before it is ready to enjoy, so plan accordingly. It's the soup I yearn for when the weather turns cool.
Ribollita means "reboiled" in Italian, or "twice cooked." You can use either Tuscan bread that has no salt or a French baguette. If you don't have leftover bread, just toast the bread slices. The bread slices are added after the soup has cooked and then refrigerated overnight. The next day it is "reboiled" (actually simmered) and drizzled with a lovely, fruity extra-virgin olive and a sprinkling of aged Parmesan cheese just before serving.
The first time I ever tasted this make-ahead soup I was excited by the intense layers of vegetable flavor enriched by a rich white bean puree. I have made many versions of this classic soup, but all of them include either cavolo nero, a black Tuscan cabbage or kale (a satisfactory substitute). This is my favorite recipe for this comforting, vegetarian, one-dish meal. The poached egg is optional. All that is needed is a red wine like a chianti, super Tuscan red, Argentine malbec or a California zinfandel. Enjoy.
Tasty Tips

• Cooking time for beans can vary depending upon their age, so cook the beans longer if necessary.

• This can be made through Step 4 up to one day ahead, covered and refrigerated.

• For garnishing, use a very fruity olive oil to bring out the flavors of the soup.

• Try a grated pecorino cheese instead of the Parmesan.

• If you can find fresh basil add a few tablespoons to the soup as it cooks.

RIBOLLITA
Serves 8
1 pound dried cannellini beans
3 cloves garlic
5 fresh sage leaves
1/4 cup olive oil
Salt and freshly ground black pepper
2 onions, coarsely chopped
3 carrots, peeled and sliced
3 stalks celery, sliced
1 medium eggplant, peeled and chopped into 1/2-inch pieces
2 medium russet potatoes, peeled and thickly sliced
1/2 small savoy cabbage, cored and coarsely chopped
1 bunch red swiss chard, coarsely chopped
1 bunch cavolo nero or kale, coarsely chopped
1 can (14 1/2 ounce) crushed tomatoes
Kosher salt
Freshly ground pepper
12 day-old slices Tuscan or French bread, toasted, if necessary
8 large eggs, optional
1 tablespoon white vinegar, optional
Extra-virgin olive oil
Freshly grated Parmesan cheese
1. Cover the beans overnight with cold water and soak overnight. If you prefer to do a quick soak method, bring the beans and water to a boil and cook for 2 minutes, cover and let stand for 1 hour. Drain the soaked beans and set aside.
2. In a very large soup pot (8-quart casserole works well) combine the beans, 12 cups of water, garlic and sage. Bring to a simmer over medium-high-heat. Reduce the heat to low and simmer for about 1 1/2 to 2 hours or until the beans are tender. Cool. Remove 1 cup of beans and reserve. With a hand blender puree the beans in the cooking liquid. Remove to a large bowl and reserve.
3. In the same pot add 1/4 cup oil on medium heat. Add the onions and saute for about 12 minutes or until nicely softened and lightly browned. Add the carrots, celery, eggplant, potatoes, cabbage chard and kale. Toss all the vegetables to evenly coat them. Add the tomatoes, salt and pepper and cover, cooking about 20 more minutes or until the greens have wilted. (You can toss them a few times to encourage even cooking.)
4. Add the pureed beans and cook, covered, for another 40 minutes or until nicely thickened. Add the reserved beans and taste for seasoning. Add the bread slices and cook another 10 minutes or until the bread is soaked through. Cool and refrigerate.
5. When ready to serve the next day reheat on low heat for about 1/2 hour or until the soup is nicely thickened. Taste for seasoning. (Serve with or without a poached egg.)
6. For the poached eggs: Fill a large skillet 2/3 full of water and bring to a boil. Reduce the heat and add vinegar. Break each egg into a custard cup, and carefully drop the eggs in very gently; simmer for about 3 minutes or until desired degree of doneness. (I like my egg runny) Carefully remove eggs from pan using a slotted spoon.
7. To serve: Ladle the soup into soup bowls and place an optional egg in the center of each bowl. Drizzle on a few teaspoons of olive oil. Sprinkle with some Parmesan cheese and serve immediately.
Diane Rossen Worthington is an authority on new American cooking. She is the author of 18 cookbooks, including "Seriously Simple Holidays," and also a James Beard award-winning radio show host.