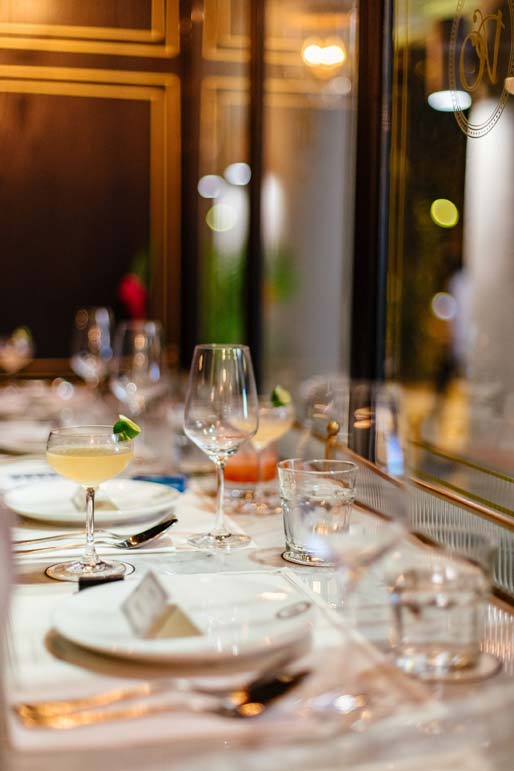 Rosh Hashanah is days away. Planning the menu, deciding which dishes may be prepared and frozen, and how many convenience items are going to be used should be done now. It helps to avoid last-minute frenzy and chaos in the kitchen.

Rosh Hashanah is one of my favorite holidays. Meals are steeped in tradition and symbolism. Sweet ingredients are abundant with the hope that the coming year will be filled with sweetness and happiness. Traditionally, sour or bitter foods are not served. For Ashkenazi Jews, the first foods to be eaten on Rosh Hashanah are apple wedges dipped in honey. Round challahs are the symbol of eternal life but in the recipe below, the bread is crusted with a variety of dried seeds and herbs, symbolizing Israel's Seven Species.

Briskets, kugels and cakes, all tend to be rich and heavy. For Sephardic Jews whose ancestors came from the Iberian Peninsula and Morocco, Rosh Hashanah meals emphasize fresh fruits and vegetables. In the Ashkanazi-Sephardic menu below, dishes include symbolic and traditional ingredients as well as fresh seasonal produce so that though calories are reduced, each dish is tempting and delicious. Tilapia in a spicy bell pepper sauce may take the place of gefilte fish, Fall vegetables enhance the flavor of chicken soup, carrots, a sweet vegetable make a crisp Moroccan salad and the Seven Vegetable Kugel is crammed with….seven vegetables! Buy or bake a honey cake but don't miss out on the Chocolate Chip Carrot Cake - no-one will guess the moist, sweet dessert is reduced calorie.

L'Shanah Tova . . . A Sweet and Happy New Year!
MENU
Apple and pear slices with honey
Seven Seed Crusted Challah
Tilapia in Bell Pepper Sauce
Autumn Chicken Soup with Chicken Knaidlach
Braised Stuffed Veal Breast
Moroccan Carrot Salad
Seven Vegetable Kugel
Adi's Tzimmes
Chocolate Chip Carrot Cake
Kumquat Compote

SEVEN SEED CRUSTED CHALLAH (PAREVE)
Makes 1 large loaf (15-18 slices)
Ida Glazer baked this fragrant challah from scratch for our Shabbes dinner in Tel Aviv. My food processor recipe is easier but the seeds, symbolizing Israel's Seven Species, give the same blend of delicate aromas. Substitute any seeds or dried herbs of your choice.
No time to bake? Pick up a round or braided challah from your market, brush the top with warm honey and sprinkle individual sections with different dried herb or seeds Bake in preheated 350F oven for 10 minutes.
1/2 cup tepid water (about 110F.)
2 tablespoons honey, warmed, divided
1 (1/4 ounce) envelope rapid rise dry yeast
2 3/4 - 3 cups all-purpose flour
1 teaspoon salt
3 eggs, beaten, or egg substitute, divided
1/4 cup vegetable oil
1/2 teaspoon each sesame seeds, poppy seeds, pumpkin seeds, black sesame, cumin seeds, sunflower seeds, caraway seeds
In a small bowl, mix the water with 1 tablespoon honey. Sprinkle the yeast over. Let stand at room temperature until foamy, 5-10 minutes.
Place 2 3/4 cups flour and salt in food processor bowl. Set aside about 2 tablespoons beaten egg or egg substitute. Add remaining egg and honey, the yeast mixture and the oil to the flour in the food processor. Process until mixture forms a ball, about 30 seconds.
Add a little more flour if needed. Turn onto a floured board. Knead for 2 minutes until smooth. Let rest for 10 minutes, then punch down. Press into a rectangle about 10 by 6-inches. Cut into 3 strips lengthwise. Pinch together at one end, then braid by bringing right strip over center, then left strip over center repeating until the end. Pinch edges together. Place on oiled baking sheet. Cover loosely with a light kitchen towel. Set in a warm place until doubled, about 1 1/2 hours. Brush with reserved egg. Sprinkle each braid section with a different seed. Bake in preheated 350F oven for 40 minutes or until golden brown and bottom sounds hollow when tapped with fingers. Cool on a wire rack.
Approx. nutrients per slice: calories - 112 protein - 3g carbohydrates - 17 fat - 4g cholesterol - 0mg sodium - 148mg

TILAPIA IN BELL PEPPER SAUCE (PAREVE)

8-10 appetizer portions
A spicy Hungarian inspired appetizer to serve instead of gefilte fish. Any other white fish, such as cod or haddock may be substituted.
2 tablespoons olive oil
1/2 cup fresh or frozen chopped onion
2 1/2 cups frozen sliced bell peppers
2 cans (14 - 1/2 ounce each) unsalted tomatoes
1 1/2 teaspoons minced garlic
Scant 1/8 teaspoon salt
Good pinch nutmeg
1/2 small mild chili pepper, chopped
1 tablespoon sweet Hungarian paprika
Salt and fresh ground pepper to taste
1 1/2 pounds tilapia fillets, each cut in half

Heat oil in a large skillet over medium heat. Add the onions and bell peppers. Saute, stirring often, until peppers are tender, about 5 minutes. Stir in tomatoes, garlic, chili pepper, and paprika. Cover and reduce heat. Simmer 10 minutes or until peppers are broken down. . Season with salt and pepper to taste. Place tilapia fillets in skillet, spooning sauce over. Cover. Cook over medium heat until fillets are opaque when flakes are separated with point of a knife, about 10-15 minutes. Serve hot or cold.

Approx. nutrients per serving: calories - 131 protein - 14g carbohydrates - 4g fat - 7g cholesterol - 41mg sodium - 43mg
AUTUMN CHICKEN SOUP (MEAT)
Serves 8-10



1 medium green zucchini
2 medium yellow zucchini
1 1/2 tablespoons vegetable oil
1 large scallion, thinly sliced
2 cups corn kernels, fresh or frozen
8 cherry tomatoes, quartered
8 cups low sodium chicken broth
1 cup finely shredded basil
1 teaspoon lemon pepper seasoning or to taste
Trim the zucchini and cut into chunks. Grate in food processor using the grating blade. Set aside. In a large pot, heat the oil over medium heat. Add the grated zucchini, scallion and corn kernels. Saute until corn is soft, 8-10 minutes. Add the chicken broth and heat through. Stir in the tomatoes and basil. Bring to simmer over high heat. Season with lemon pepper seasoning. Serve with tiny knaidlach or chicken knaidlach (See recipe below).

Quick Tip: may use one of the excellent matzo ball mixes with a little fresh chopped dill stirred in.

Approx. nutrients per serving: calories - 76 protein - 4g carbohydrates - 8g fat - 4g cholesterol - 3mg sodium - 155mg

TINY CHICKEN KNAIDLACH (MEAT)
Makes 20 - 22
This is the Italian Jewish variation of Ashkenzi knaidlach. It is also traditional for Jews from the Chechnyan city of Grozny where this recipe comes from.
1/2 pound ground chicken or turkey
1 egg
2 tablespoons chopped fresh dill
1/2 teaspoon salt
1/2 teaspoon white pepper
Pinch ground nutmeg
About 1/3 cup matzo meal boiling water
In a bowl, combine the ground chicken or turkey, egg, dill, salt and pepper, nutmeg and enough matzo meal to make a stiff workable mixture. With wet hands, form into small balls, about 1-inch in diameter. Gently slide into a pot of boiling water. Cover and return water to a boil. Reduce to simmer. Cook for 15 - 20 minutes or until almost dry in center. Drain and serve with chicken soup.

approx. nutrients per knaidlach: calories - 27 protein - 2g carbohydrates - 2g Fat - 1g cholesterol - 18mg sodium - 65mg
BRAISED STUFFED VEAL BREAST (MEAT)
Serves 8-10
1/4 pound lean ground veal or turkey
1/4 cup cooked rice
1 cup chopped parsley, packed
1 tablespoon chopped fresh sage or 1 teaspoon dried
1 teaspoon ground allspice
3/4 teaspoon salt
1/2 teaspoon ground pepper
4 - 5 pound veal breast, boned
1/4 cup vegetable oil
2 celery ribs, sliced
1 medium onion, thickly sliced
1 cup vegetable broth

In a bowl, mix the ground veal or turkey, rice, parsley, sage, allspice, salt and pepper. Lay veal, cut side up, on a flat surface. Spread the meat mixture over to within 1 1/2 inches of edges. Roll up as for a jelly roll. Tie neatly with string to secure.
Heat the oil in a large, ovenproof saucepan or casserole over medium high heat. Add the veal, turning until nicely browned on all sides, 8 to 10 minutes. Add the celery, onion, broth and 1/4 cup water. Cover tightly. Reduce heat to low. Simmer 2 hours or until juices run clear when veal is pierced. Add a little more broth or water during cooking if needed. Transfer to a cutting board and let stand 5 to 10 minutes. Remove string and carve into 1/2-inch thick slices. Pour some of the juices over and serve.

Approx. nutrients per serving: calories - 487 protein - 38g carbohydrates - 1g fat - 35g cholesterol - 154mg sodium - 341mg

MOROCCAN CARROT SALAD (PAREVE)
Serves 8-10
2 1/2 bags (10 ounce each) shredded carrots
1/4 cup chopped green olives
3 tablespoons dried currants
3 tablespoons extra virgin olive oil
2 tablespoons fresh lemon juice
2 teaspoons minced garlic
1 1/2 teaspoons cumin
1/2 teaspoon hot sauce (Tabasco) or to taste
Salt and fresh ground pepper to taste
1/4 cup chopped fresh Italian parsley
Place carrots in a microwave dish. Drizzle 2 tablespoons water over. Cover loosely with wax paper. Cook in microwave at High for 5 minutes, stirring after 2 1/2 minutes. Carrots should be tender but still brightly colored. Drain. Stir in the olives, currants, oil, lemon juice, garlic, cumin, hot sauce, salt and pepper to taste. Transfer to a serving dish.
Garnish with parsley. Serve at room temperature.

Approx. nutrients per serving: calories - 80 protein - 1g carbohydrates - 9g fat - 5g cholesterol - 0mg sodium - 79mg

SEVEN VEGETABLE KUGEL (PAREVE)
Makes 24 pieces
A delicious, year round, low calorie kugel.
2 whole wheat matzos, broken in 1/2-inch pieces
1/4 cup vegetable oil
1 cup coarsely chopped onion, fresh or frozen
8 ounces sliced mushrooms
2 medium yellow zucchini, coarsely grated
2 cups frozen or fresh mixed red, yellow and green pepper strips
1 (10 ounce package frozen baby peas
1 (10 ounce) package chopped spinach, thawed
1 (12 ounce) package frozen mashed turnips, thawed
4 eggs, lightly beaten
1/4 cup Italian dressing
1 cup coarsely chopped parsley
1/2 teaspoon Chinese Five Spice
Salt and fresh ground pepper to taste
Preheat oven to 350F. Spray an 11 x7 x 2- inch baking dish with non-stick cooking spray. Place matzo in a strainer and run warm water over until softened. Squeeze dry and set aside.
Heat the oil in a saucepan over medium high heat. Add the onion, mushrooms and zucchini. Saute until vegetables are soft, 8 to 10 minutes. Add the mixed peppers, peas, spinach and turnips. Heat through. Add the drained matzo. Cool slightly. Stir in the eggs, Italian dressing, parsley, Chinese Five Spice and salt and pepper to taste. Mix well. Transfer to prepared baking dish. Spray with olive oil non-stick cooking spray. Bake in preheated oven for 35 minutes or until edges are nicely brown and top is slightly firm to touch. Cut in squares and serve hot or at room temperature.

Approx. nutrients per piece: calories - 59 protein - 3g carbohydrates - 5g fat - 3g cholesterol - 35mg sodium - 36mg
ADI'S TZIMMES (PAREVE)
Serves 8-10
2 pounds sweet potatoes, peeled and cut in chunks
1 pound butternut squash, peeled and cut in chunks
1/2 cup dried cranberries
1/2 cup dried apricots, cut in half
1 large apple, peeled, cored and cut in wedges
About 1 1/4 cups fresh squeezed orange juice
1/4 cup honey, warmed or to taste
1 cinnamon stick
Preheat oven to 350f. Grease a large casserole dish. Cook sweet potatoes and pumpkin in lightly salted boiling water to cover, until just tender. Drain and save the cooking liquid. Transfer sweet potatoes and pumpkin to prepared dish. Add the dried fruits, apple, orange juice, and honey. Mix well. Place cinnamon stick in the center. Cover and place in preheated oven. Bake for 1 hour. Reduce heat to 200F. Remove cover and continue to bake for 30 minutes. Remove the cinnamon stick before end of baking. If tzimmes looks dry, add some of the reserved cooking liquid.
Approx. nutrients per serving: calories - 198 protein - 2g carbohydrates - 50g Fat - 0g cholesterol - 0mg sodium - 34mg

CHOCOLATE CHIP CARROT CAKE (PAREVE)
18-20 pieces
1 1/2 cups all-purpose flour
1/2 cup Splenda for Baking
1 teaspoon baking powder
1/2 teaspoon baking soda
1 1/2 teaspoons cinnamon
1 teaspoon pumpkin pie spice
3/4 cup vegetable oil
1 (6 ounce) jar junior baby food carrots
2 eggs, beaten
Scant 1/8 teaspoon orange extract
1/4 cup unsweetened flaked coconut
1/2 cup crushed pineapple, well drained
1 cup pareve miniature chocolate chips or coarsely chopped pareve chocolate
Preheat oven to 350F. Spray a 9-inch square baking pan with non-stick vegetable spray. In a large bowl, mix flour, Splenda for baking, baking powder, baking soda, cinnamon and pumpkin pie spice. Make a well in center. Add oil, carrots, eggs, orange extract, coconut, and pineapple. Mix well. Pour into prepared pan. Sprinkle chocolate over. Bake in preheated oven for 1 hour or until a toothpick inserted in center comes out clean. Cool completely before cutting into squares.
Approx. nutrients per serving: calories - 184 protein - 2g carbohydrates - 19g fat - 12g cholesterol - 21mg sodium - 68mg

KUMQUAT COMPOTE (PAREVE)
Serves 8 to 10
Kumquats, tiny oval shaped orange citrus fruits, are available in Fall. The edible rind is sweet and pungent. May be sliced thinly and used in salads or as a garnish.
2 teaspoons artificial sweetener or to taste
1/3 cup honey
1 1/2 cups apple juice
2 cups kumquats, halved
1 cup golden raisins
3/4 cup dried cranberries
2 ripe mangoes, peeled, seeded and diced
Seeds from half a pomegranate

Place artificial sweetener, honey and apple juice in a medium saucepan. Stir over low heat to dissolve. Add the kumquats, raisins and cranberries. Add a little water to just cover fruits. Bring to barely simmer. Cover and cook for 15 minutes. Let stand at room temperature 2-3 hours. Before serving, stir in diced mango and scatter pomegranate seeds over.
Approx. nutrients per serving: calories - 158 protein - 1g carbohydrates - 41g fat - 0g cholesterol - 0mg sodium - 7mg