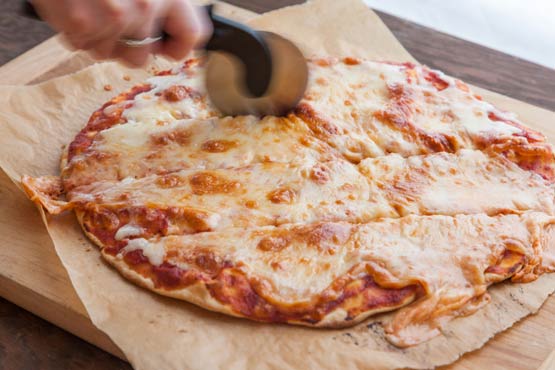 Sorry, Chicago, this story isn't about you. Or, to be more accurate, Chicago has a part to play, but not with its famous deep-dish pizza, characterized by a cornmeal-and-flour dough that resembles a pie crust, filled with layers of cheese, vegetables and meat, and topped with a thick layer of tomato sauce. Comedian Jon Stewart once ranted that Chicago's deep dish is "not pizza. This is tomato soup in a bread bowl."
In cities across the Midwest, there are people intensely loyal to their local pizza who might agree with Stewart. Deep dish is not necessarily king - but these Midwesterners would also say that New York's pizza isn't, either. In fact, although a traditional Neapolitan pizza might be the go-to recipe for homemade pies across the country on any given Friday night, it can be difficult to replicate its wood-fired thin crust in the home kitchen, while Chicago's deep dish requires more time to prep and bake. If you're looking for pizzas that are focused on flavor and highlight truly American ingredients, look to the industrialized cities of the Rust Belt, where pizza is not a tourist attraction: It's a meal.
Greg Mohr was not necessarily intimidated by Chicago's storied pizza when he and his business partner, Scott Weiner, decided to introduce a new pizza to the Windy City. "Deep dish is certainly the most popular tourist pizza but not the go-to pizza for most locals." When Mohr and Weiner opened Roots Handmade Pizza in 2011 in Chicago's Ukrainian Village neighborhood, their focus was on Quad Cities-style pizza, a pie made with a malt syrup-laced crust and spicy sauce that Mohr grew up eating in Rock Island, Ill., one of the places along the border of Iowa and Illinois known as the Quad Cities region.
"I grew up on a style of pizza that I didn't know was any different than other places until I moved away," says Mohr. "People in the QC don't call it Quad Cities style, they just call it pizza."
A few hours' drive away, in Detroit, Shawn Randazzo grew up with a similar experience but a completely different kind of pizza, now referred to as Detroit-style, resembling Chicago's version insofar as it's baked in a pan and topped off with tomato sauce. But the similarities end there.
Randazzo says that Midwestern pizza's time has come, whether it's from Detroit, St. Louis or the Quad Cities area. "They all represent a unique history and style," he says. "I think in the next few years there's going to be a huge awareness of these different pizzas and the stories they tell. There's more to pizza than just cheese and sauce."
When the former pizza delivery driver and his mother bought a local pizza franchise in a Detroit suburb in 1997, Randazzo decided he needed to learn more about the pizza business, attending industry events and eventually entering a competition at the North America Pizza & Ice Cream Show in Columbus, Ohio, in 2009. "I was really shocked that no one else was making the same kind of tray-style pizza that I was making, with the cheese spread all the way across the top and caramelized," he recalls. Other competitors made sarcastic remarks when he told them it was "Detroit-style" pizza, joking, "Does it have bullets in it?"
Randazzo ended up having the last laugh, winning first place out of 70 competitors, and then went on to be crowned World Champion Pizza Maker in 2012 at the International Pizza Expo in Las Vegas. "Winning those competitions added fuel to my fire," says Randazzo, who opened Detroit Style Pizza Co. in Saint Clair Shores in 2012. "I thought, 'this is a way to put Detroit in a positive light.' "
In St. Louis, the local pizza, made with a crispy yeast-free crust and a processed cheese called Provel, tends to spark nostalgia among the natives but can be puzzling to outsiders, who may be turned off by the idea of processed cheese on pizza. "The crust and Provel have to be together to make it a St. Louis pizza," says Miguel Carretero, owner of Guido's Pizzeria and Tapas in St. Louis. "Provel is a St. Louis institution. We even put it on salad."
Although Quad Cities and Detroit pizza ingredients can be sourced pretty easily here in the Washington area, a St. Louis expat craving a taste of home hasn't always had it so easy. Dating to the 1940s, Provel is made from white cheddar, provolone, Swiss cheese and a touch of "smoke flavor" and is difficult to find outside St. Louis. Now, however, through the magic of the Internet, Provel can be shipped right to your door.
That turn of events has been a game changer for Dawn Reeves, allowing her to finally make the pizza of her childhood, 800 miles from her hometown. Now living in Takoma Park, Md., Reeves grew up eating St. Louis's famous Provel-smothered pizza, a dish that brings back taste memories. "When I was a kid, we used to go to this pizza place that no longer exists called Luigi's. My parents went there a lot, and they also took my sister and I there with them," she says. "When I think of it, it just brings back a really good feeling. I can see its dark wood and turquoise curtains and almost taste the pizza, which my parents would always order with hamburger and onion, light on the tomato sauce."
Although pizza may be, in the general sense, just dough, cheese and tomato sauce, the truth is that there are pizzas being made in towns across the United States that reflect their origins, far beyond the well-known varieties from Chicago, New York and New Haven, Conn., evoking taste memories for locals that they take with them no matter where they settle as adults.
In St. Louis, a big part of the taste memory is that Provel cheese, forming a gooey blanket over a sweet tomato sauce on top of a thin crackerlike crust, the whole cut into small squares, known as "party-cut." A pared-down pizza, it's a first-rate foil for a local commodity - beer - perfectly matched with the crisp American lager being brewed at Anheuser-Busch, just down the street from places like Guido's. Even Reeves's husband, Jonathan, head brewer at Port City Brewing in Alexandria, Va., says there are things that call for a Bud, and St. Louis pizza is one of them.
"When Jonathan and I got married, we had our rehearsal dinner at a place called Cicero's and served St. Louis-style pizza," Dawn Reeves says. "I think I would have served pizza at the wedding if I could have gotten away with it."
At Loui's Pizza just outside Detroit, Chianti is the drink of choice to accompany Detroit-style pizza, with its thick, airy crust, similar to focaccia. The local pizza, based on a Sicilian version called sfinciuni, is especially characterized by its heavy baking pans, which can be traced to Detroit's auto industry. Gus Guerra, credited with inventing the Detroit style of pizza just after World War II, is said to have used an automotive parts tray (a square pan made of blue steel) that he got from a friend who worked in an auto plant. Randazzo has since worked with Lloyd Pans to develop a heavy anodized coated-aluminum version just for the pizzas, and for sale to home cooks. Investing in a specific baking pan to make authentic Detroit pizza at home seems a small price to pay once you consider that you'd need to install a coal-fired oven to get that light coating of soot on a New Haven-style pizza, or that a properly fired Neapolitan crust must be blasted at 900 degrees to create the perfect crunch.
"Other pans work," says Randazzo, "but the integrity of the pizza is better when it's baked in a heavier pan, giving the color, texture and crunch that give the Detroit-style pizza that caramelized exterior."
It's not only about the pan, however. Also crucial is the cheese, a blend of traditional mozzarella with Wisconsin brick, a washed-rind cheese created in the 1870s by a Swiss-born American cheesemaker. With a somewhat higher fat content than the American cheddar that inspired the original recipe, the brick cheese helps contribute to the buttery flavor often ascribed to Detroit-style pizza: The shredded cheese is spread from edge to edge across the dough, dripping down as it bakes to form a rich, caramelized crust. "People fight to get the corner pieces," says Randazzo, laughing.
Cold-fermenting the dough also helps to develop more flavor and texture, a process that Detroit-style pizza has in common with the Quad Cities version. Barley malt plays a role in both, as well, not necessarily a surprise in America's heartland, where barley is a major crop. Diastatic malt powder can be used in place of sugar in Detroit's pizza dough to help give the dough a better rise; a heavy dose of malt syrup gives the Quad Cities dough a decidedly rich flavor, forming the base for a pizza that also features tomato sauce and finely ground sausage, both distinctively spiced to form layers of flavor.
At first, Quad Cities native Mohr says, "I couldn't judge if I was being overly nostalgic or if the pizza was really that good." But when he introduced his business partner to his hometown pizza, Weiner's reaction was unequivocal, according to Mohr: "His exact words were, 'Oh, yeah, we're doing this,' after his first bite."
ST. LOUIS-STYLE PIZZA
16 SERVINGS (makes two 12-inch pies)
This pizza is all about the cheese, Provel is native to St. Louis. A processed cheese that combines cheddar, Swiss and provolone, it has a texture akin to that of American cheese and a flavor not unlike that of smoked Gouda - and, for pizza lovers outside St. Louis, it may be an acquired taste. Because Provel gets very gooey in the oven, parbaking the crust before adding the sauce and cheese helps the crackerlike crust crisp up nicely.
Ingredients
For the toppings
8 ounces (1 cup) no-salt-added tomato sauce

3 tablespoons tomato paste

2 tablespoons chopped fresh basil

1 tablespoon sugar

2 teaspoons dried oregano

11 1/2 ounces (2 1/2 cups) Provel (see headnote), shredded
For the crust
8 1/2 ounces (2 cups) flour, plus more for rolling

2 tablespoons cornstarch

2 teaspoons sugar

1 teaspoon baking powder

1 teaspoon salt

1/2 cup plus 2 tablespoons water

2 tablespoons olive oil
Steps
For the toppings: Whisk together the tomato sauce, tomato paste, basil, sugar and oregano in medium bowl.
For the crust: Place a pizza stone on the bottom rack of the oven; preheat to 475 degrees.
Combine the flour, cornstarch, sugar, baking powder and salt in a mixing bowl. Mix the water and oil in a liquid measuring cup, then stir it into the flour mixture until a dough starts to come together.
Lightly flour a work surface. Turn the dough out there, kneading it into a ball. Divide it in half; working with one portion at a time, shape each one into a small round, then use a rolling pin to stretch each one into a 12-inch round, dusting the bottom of the dough with flour as needed so it doesn't stick to the work surface. Place each dough round on a square of parchment paper. Transfer to the pizza stone (one at a time, on the paper); bake for 5 minutes, until the dough begins to puff up in spots, then remove it from the oven. Increase the oven temperature to 500 degrees.
Spread half of the sauce on each pizza crust, spreading it all the way to the edges, then divide the cheese between the pizzas, scattering it evenly over the sauce but leaving a 2-inch margin all around the edges.
Place one pie (with its paper) on the pizza stone in the oven. Bake for 5 to 8 minutes, until the cheese is bubbling and golden brown. Transfer the pizza to a wire cooling rack to rest while you assemble and bake the remaining pizza. Cut each pizza into 2-inch squares; serve warm.
Nutrition | Per serving: 160 calories, 6 g protein, 15 g carbohydrates, 8 g fat, 4 g saturated fat, 20 mg cholesterol, 490 mg sodium, 0 g dietary fiber, 2 g sugar
QUAD CITIES-STYLE PIZZA
16 SERVINGS (makes two 12-inch pies)
If you've ever thought pizza crust was one-size-fits-all, this pizza will alter your view forever. A generous amount of malt syrup gives a rich flavor to the Quad Cities-style crust, along with a blend of seasonings meant to complement the spicy sauce and fennel-laced crumbled vegan sausage.
Scott Weiner of Roots Handmade Pizza says any typical 1 or 2 percent mozzarella cheese will work, but they use one with a slightly higher milk fat content, at about 3 percent.
Malt syrup is available at natural foods stores.
MAKE AHEAD: The dough needs to rest in the refrigerator for 24 to 48 hours, then needs to sit at room temperature for 2 to 3 hours.
Adapted from a recipe by Roots Handmade Pizza in Chicago.
Ingredients
For the crust
4 ounces (1/2 cup) warm water

1/4 teaspoon instant yeast, preferably SAF brand

6 tablespoons (3 ounces) malt syrup (see headnote)

1 1/4 pounds (4 1/4 cups) bread flour

2 teaspoons kosher salt

2 teaspoons freshly ground black pepper

2 teaspoons dried oregano

2 teaspoons sweet paprika

2/3 cup (6 ounces) ice water
For the toppings
1 tablespoon fennel seed

2 cups cooked, finely crumbled Italian vegan sausage

2 teaspoons crushed red pepper flakes

1 1/4 cups no-salt-added tomato sauce

18 ounces (4 cups) shredded mozzarella cheese

Steps

For the crust: Combine the warm water and yeast in the bowl of a stand mixer fitted with a dough-hook attachment; let the mixture sit for 10 minutes, then add the malt syrup, bread flour, salt, pepper, dried oregano, sweet paprika and ice water. Beat on low speed for about 2 minutes, then increase the speed to medium and mix for another few minutes to form a dough that is smooth and elastic.

Divide the dough in half; wrap each portion in plastic wrap, then refrigerate for 24 to 48 hours. Before shaping the pizza, bring the dough to room temperature, 2 to 3 hours.

Place a pizza/baking stone on the lowest oven rack; preheat to 450 degrees. If you don't have a baking stone, invert a large baking sheet on the lower rack. Place each dough ball on top of its own 12-inch square of parchment paper. Use a rolling pin to stretch and roll each dough ball into a 12-inch round, folding the edges of the dough over about 1/2 inch and crimping with your thumb and forefinger, to form a lip.

For the toppings: Stir the fennel seed into the cooked and crumbled vegan sausage. Stir the crushed red pepper flakes into the tomato sauce. Spread half of the tomato sauce across the surface of each dough round. Sprinkle the seasoned sausage evenly over the sauce, then top with the shredded mozzarella cheese, being sure to spread it evenly over the sausage. Use a pizza peel to carefully transfer one pizza (with its parchment paper) to the pizza/baking stone; bake for up to 15 minutes, until the top is golden brown and bubbling.

Let the pizza sit for a few minutes before using kitchen shears to cut it crosswise into strips that are about 11/2 inches wide; then cut down the center (so the long strips are cut in half). Bake the remaining pie. Nutrition | Per serving: 300 calories, 17 g protein, 36 g carbohydrates, 11 g fat, 6 g saturated fat, 25 mg cholesterol, 570 mg sodium, 2 g dietary fiber, 8 g sugar

DETROIT-STYLE PIZZA

10 SERVINGS (makes one 10-by-14-inch pie)

The Motor City's pizza is often described as "buttery" but actually contains no butter at all and only a small amount of oil. The crust is particularly light and airy, and the combination of mozzarella and brick cheese helps give it that buttery flavor and crunchy caramelized crust.

You can use a traditional baking pan or order your very own Detroit-style baking pan online, crafted in heavyweight aluminum to mimic the original auto-parts pans that Detroit pizza makers in the 1940s appropriated from the local auto industry.

MAKE AHEAD: If you want to cold-ferment the dough, it needs to be refrigerated overnight. The dough needs 2 to 3 hours' rising time in the pan before baking. You'll have a little tomato sauce left over; it can be refrigerated for up to 3 days or frozen for up to 6 months.

Adapted from a recipe by Shawn Randazzo of Detroit Style Pizza Co.

Ingredients

For the crust

1 teaspoon diastatic malt powder or sugar (see headnote)

1 teaspoon instant yeast, preferably SAF brand

1 cup (8 ounces) warm water (90 degrees)

2 1/4 cups (a generous 10 ounces) bread flour

1 1/2 teaspoons salt

1 teaspoon olive oil

For the toppings

6 ounces shredded part-skim mozzarella cheese

6 ounces shredded Wisconsin brick cheese (see headnote)

One 15-ounce can no-salt-added crushed tomatoes and their juices

1/2 teaspoon dried Italian seasoning

1/2 teaspoon sugar

1/2 teaspoon salt

1/2 teaspoon freshly ground black pepper

Steps

For the crust: Place the malt powder or sugar and 1/2 teaspoon of the yeast into the warm water, mix well for 15 to 20 seconds, then let it sit for 10 to 15 minutes.

Stir the water mixture again and pour it into the bowl of a stand mixer fitted with a dough hook. Add 1 cup of the flour, the salt and the remaining yeast, mixing on low speed, then add the remaining flour until the dough begins to form a smooth but slightly sticky ball, about 4 minutes. Remove the dough ball from the bowl; rub 1/2 teaspoon of the oil onto your hands, then knead the dough lightly a few times.

If you want to cold-ferment the dough, put it in a bowl and cover with plastic wrap, then put it in the refrigerator for 24 hours. Bring the dough back to room temperature before continuing.

To bake the dough, use the remaining oil to brush all over the inside of a 10-by-14-inch metal baking pan, then press the dough into the pan until it's consistently even throughout the pan. If the dough keeps pulling back from the edges, cover it loosely with a kitchen towel and let it sit for 15 minutes, then go back and finish pressing the dough to the edges of the pan.

Cover the pan and let the dough proof at room temperature for about 2 or 3 hours, until the dough has roughly doubled in size and bubbles begin to form across its top.

Preheat the oven to 450 degrees.

For the toppings: Combine the two types of shredded cheese and spread them evenly across the dough, all the way to the edges.

Bake the pizza for 15 to 20 minutes (depending on number of toppings). The bottom crust should be golden brown, with caramelized cheese all along the edges.

Meanwhile, make the sauce: Combine the crushed tomatoes, dried Italian seasoning, sugar, salt and pepper in a medium saucepan over medium heat, stirring until well blended. Reduce the heat to low to keep it warm.

Once the pie is fully baked, use large spatulas to loosen the whole pizza from the pan and transfer it to a cutting board; let it rest for a minute, then cut it into squares and spoon the warm tomato sauce on top (a large spoonful or two per serving).

Nutrition | Per serving: 230 calories, 11 g protein, 25 g carbohydrates, 9 g fat, 5 g saturated fat, 25 mg cholesterol, 680 mg sodium, 2 g dietary fiber, 2 g sugar

Comment by clicking here.