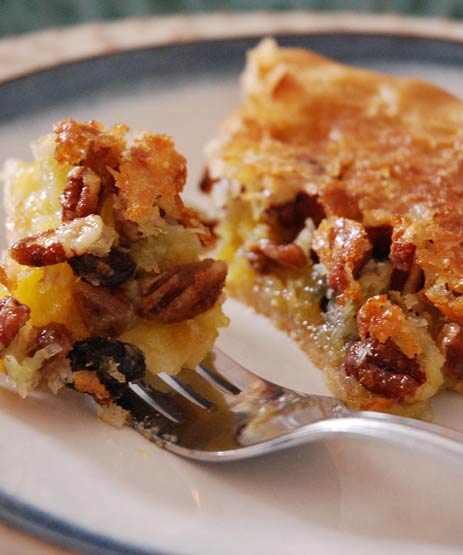 Today's recipe is for Japanese Fruit Pie, but it's name is a bit of a mystery. It's not as if one ingredient is particularly Japanese. But this pie has shown up at family reunions and monthly potlucks for what seems like forever. It's decidedly Southern and is a twist on a pecan pie with fruit thrown in.
Not that a pecan pie needs improving, but this is an interesting switch-up. In digging through my mom's and grandmother's recipe files, I found several copies of the same pie with few changes. But there is one variation that I love: Lemon juice and zest are substitutes for the distilled vinegar.
Fresh lemon and lemon zest always make things taste brighter and better. Suddenly this predictable pie is elevated to "favorite" status. Enjoy!

JAPANESE FRUIT PIE
PREP: Start to finish, about an hour
YIELDS: 8 servings
2 large eggs, beaten well

1 cup sugar

1 stick butter, melted and cooled

1/2 cup shredded coconut (see Cook's Note)

1/2 cup raisins

1/2 cup chopped pecans or walnuts

1 tablespoon fresh lemon juice

1 teaspoon fresh lemon zest

1 (9-inch) unbaked pie shell
Preheat oven to 350 degrees.
In a large bowl, stir together the eggs, sugar, butter, coconut, raisins, nuts, lemon juice and zest. Pour into the pie shell.
Bake for about 35 minutes or until golden brown on top and center is set. Cool on a wire rack for at least 15 minutes before slicing and serving.
(Cook's Note: Any type of coconut works. The recipe analysis is for a serving with shredded unsweetened coconut.)
Approximate values per serving: 319 calories, 20 g fat (10 g saturated), 77 mg cholesterol, 4 g protein, 35 g carbohydrates, 1 g dietary fiber, 118 mg sodium.
Comment by clicking here.
Alicia Ross is is the co-author of "Desperation Dinners!" (Workman, 1997), "Desperation Entertaining!" (Workman, 2002) and "Cheap. Fast. Good!" (Workman, 2006).