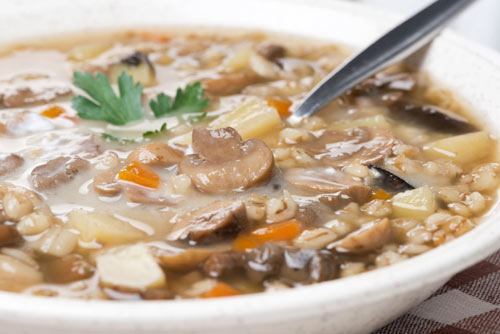 I love one-dish soup meals. Just add bread and a salad and you are ready to eat. Seriously Simple to cook and serve, this hearty version of a classic deli-style soup is replete with both pungent dried mushrooms and fresh earthy cremini mushrooms.
Feel free to select any combination of dried mushrooms you prefer for this soup to create your own personal stamp. I try to find packages that have a variety of mushrooms for a more complex flavor. Adding a touch of soy sauce at the end of cooking brings out the rustic, earthy flavors of the mushrooms. Even though this is a clear-based soup, the barley makes it more substantial.
This is the soup to make for a satisfying meal on a cold day. This basic vegetarian version can stand on its own or will be heartier with the suggested turkey or meat additions below. What makes this soup so intensely savory? Dried mushrooms pack a powerful punch of deep, rich flavor.
If you want an even more substantial soup, you can add a skinless turkey thigh or a pound of beef flanken to the soup as it simmers. Just before serving, shred the turkey meat or beef flanken and return to the pot. Pearl barley is barley that has the bran removed and is then steamed and polished. This helps it cook a little faster than regular unprocessed barley. This soup freezes well and also can prepared up to two days ahead of serving. Just make sure to adjust the seasonings when reheating it.

MUSHROOM BARLEY SOUP
SERVES: 6
1 ounce dried porcini or morel or other dried mushrooms, soaked in 2 cups of boiling water for 30 minutes
2 tablespoons olive oil
2 medium onions, finely chopped
1 leek, white and light green parts only, cleaned and coarsely chopped
2 stalks celery, coarsely chopped
3 medium carrots, peeled and coarsely chopped
1/2 pound fresh cremini mushrooms, sliced
1/4 pound fresh shiitake mushrooms, sliced
2 garlic cloves, minced
1/2 cup pearl barley
8 cups vegetable or chicken broth
2 teaspoons soy sauce
2 tablespoons finely chopped parsley
1. Drain the dried mushrooms, squeeze them dry and reserve the soaking liquid. Cut them into 1/4 inch cubes and set aside.
2. In a medium soup pot, heat the oil over medium heat. Saute the onions and leek until soft, about 3 minutes. Add the celery, carrots, shiitake and white mushrooms, and sauté 3-5 more minutes, or until slightly softened. Add the garlic and saute another minute. Add the barley and stock and bring to a boil. (This is where you may add the turkey or beef.) Cover and reduce the heat to medium-low.
3. Simmer the soup covered for about 1 1/2 hours, or until the barley is tender but not mushy. Strain the soaking liquid from the dried mushrooms to remove any grit, and add 1/2 cup of the liquid to the soup along with the dried mushrooms. Add the soy sauce and parsley and simmer for 5 more minutes. Taste for seasoning and serve.
Advance Preparation: May be prepared up to three days ahead through Step 3, covered and refrigerated. Reheat gently. This soup also freezes well. Adjust the seasonings when you reheat the frozen soup.
Comment by clicking here.
Diane Rossen Worthington is an authority on new American cooking. She is the author of 18 cookbooks, including "Seriously Simple Holidays," and also a James Beard award-winning radio show host.