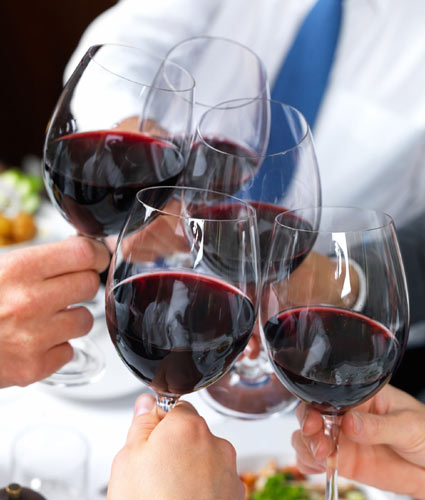 As Rosh Hashanah rolls around, I find myself thinking in two separate directions about choosing wines for our meals.
With menus and guests in mind, my first thought is to select wines from my cellar that are, or should be, drinking optimally now.
My second thought is invariably to see what might be new to the market with which I can surprise, delight, and further elevate the proceedings.
Thankfully, three new French releases from The Abarbanel wine company have just rolled out to the market. I am a big fan of Howard Abarbanel and his now small but solid portfolio of kosher wines.
For those not already familiar, Abarbanel retired back in 2010. Although he maintained the Abarbanel brand itself, it was being licensed and run by Admiral Imports right up until Admiral's bankruptcy and collapse. So Abarbanel decided to jump back into the driver's seat, and has been tirelessly rebuilding his brand, which is now imported and distributed by Faropian Spirits, ltd.
Since his return, Abarbanel has released one solid wine after another at the "well made, enjoyable and reasonably priced" segment of the kosher wine market. Part of his long-term mission has always been to help foster a culture of general wine appreciation and healthy wine consumption in the American kosher consumer world. As Howard once put it to me: "not every wine is meant to 'blow you away,' many wines are meant to enjoy with pizza or pasta on a Wednesday night or for an average Shabbat meal on a Friday or Saturday, not necessarily a special occasion." Now in its 34th year, The Abarbanel brand of kosher wines seems to be doing a very fine job of bringing to market enjoyable everyday kosher wines that are nonetheless distinctive enough to attract and hold interest.
These latest releases are the 2015 vintage of his single vineyard Pays d'Oc unoaked Chardonnay and Cabernet Sauvignon, and now also--finally!--a return of his Alsatian Gewurztraminer.
Though easy to forget now, Abarbanel was the first to import kosher Alsatian wines to the United States back in 1995. There are now, thankfully, a variety of kosher Alsatian wines available in the US, and from multiple producers. It was Abarbanel, however, who singlehandedly created the US market for kosher Alsatian wines with his Gewurztraminer, Cremant d'Alsace, and Riesling imports, all from the now sadly defunct La Cave de Sigolsheim cooperative.
This new Abarbanel Alsatian Gewurztraminer was hand-harvested from 40 year old-vines in the Haut-Rhin region of Alsace, in the low slopes of the Vosges Mountains. On the production side, the wine is being produced by the same team that had been running the kosher production of the Abarbanel wines at La Cave de Sigolsheim since the early 1990s: winemaker Guillaume Motzek, now Maître de Chai at La Cave du Vieil Armand, and Gaby Dzialoszynski, the kashrus supervisor with the Grand Rabbinat du Bas Rhin Beth Din de Strasbourg (the local Chareidi Badatz).
This latest Abarbanel Gewürzt comes with a new label--called "Lemminade"; a friendly appeal to the under 40 set--and is now vinified as semi-dry and non-mevushal. Without further ado:
Abarbanel, Lemminade, Gewurztraminer, Vin D'alsace, Old-Vine, 2015 ($23; non-mevushal): this is a beautiful, bright, vibrant, somewhat rounded yet refreshing and very slightly sweet Gewurtz with tingly acidity, and wonderful aromas and flavors of white peach, lychee, and wild flowers, with notes of ginger and cloves. Serve only slightly chilled with poultry, Asian cuisine, Cajun cooking, or even just on its own. Yummy and aromatic.
Abarbanel, Batch 30, Unoaked Chardonnay, Pas d'Oc, 2015 ($14; mevushal): an enjoyable, straightforward, chardonnay sourced from the Les Chemins de Favarelle single vineyard in the Aude River Valley of the Languedoc, with clean and inviting notes of citrus and pear, some lovely spice, nice balancing acidity, and an agreeably creamy mouth-feel. Refreshing!
Abarbanel, Batch 22, Cabernet Sauvignon, Pays d'Oc, 2015 ($14; mevushal): This is an inviting, food friendly light-to-medium bodied Cab, sourced from the Les Dolmens Rouges, a single vineyard near Ouveillan in the Aude River Valley (Languedoc); offering clean currant, dark berry and herbal notes, with slightly rustic tannins, this is a simple yet very engaging quaffer, and a solid choice for an everyday red.
L'Chaim!
Comment by clicking here.
JWR contributor Joshua E. London is a wine and spirits columnist who regularly speaks and leads tutored tastings on kosher wines, whisk(e)y, tequila, and other unique spirits.

Previously:
• A toast to the grillmaster: What to pair on a summer's eve with grilled beef, such as a juicy, gloriously fat-marbled, rib-eye steak
• July 4: Cheers Beyond Beers: On Independence Day consider these premium rye whiskies
• Tradition meets innovation meets delicious wine
• On Purim, with a religious duty to imbibe, do it right!
• Why not enjoy all of that holiday wine?
• Fungus among us produces a distinctive dessert wine
• A classic curative cocktail --- Hot toddy: A remedy for a, or the, cold
• The growing population -- and popularity -- of sweet reds + the World Whisky Of The Year
• This year, give the gift of booze
• What you should drink for Thanksgiving
• Some atypical wine blends --- and a whisky-tourism trip
• A wine bargain, and Johnnie Walker goes platinum!