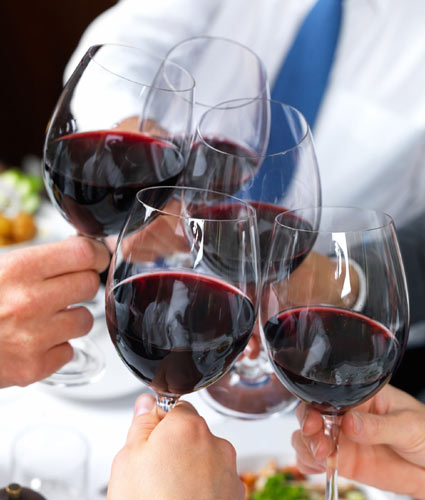 I'm a sucker for Beaujolais wines! Back around 1992, I had my first taste of Beaujolais --- it was an Abarbanel import (of the 1990 vintage), and it was fabulous and I quickly fell in love with Gamay Noir, the grape from which all Beaujolais wine is made.
Then in 1995 I had another "wow" Beaujolais moment with a bottle of 1994 kosher Beaujolais Villages from Georges Duboeuf's—the only French kosher vintage from Duboeuf exported to the U.S. that I am aware of. There have periodically been other kosher Beaujolais wines on the US market, including Beaujolais Nouveau, as well as wines from the Morgon, Brouilly, Julienas, Fleurie, Saint-Amour and Moulin-à-Vent areas in Beaujolais.
Most of the Beaujolais wine that have been available kosher in the US have been pretty good. Mostly lovely, in fact. A few were really outstanding, while some were simply worth the asking price. I put the Beaujolais Nouveau in another category as a great many of us self-proclaimed "serious wine folk"-types consider it a wine travesty, though economically valuable to the region, but simply a marketing gimmick. Even those who love that style maintain that it should be consumed within a few months, if not weeks, of bottling. It tends to be one of those love-it or hate-it kind of things. I'm actually in the "'love it' if memory serves" category, but as the availability of kosher Beaujolais Nouveau is so infrequent, it's a little hard to be definitive.
The longest and most consistent producer for kosher Beaujolais wines that were available in the US is undoubtedly Château de la Salle, located in Lantignié, next to Beaujeu. They've been making kosher wines for nearly every vintage since at least the early 1980s. At one stage the Herzog's Royal Wine Corp briefly imported them, but it was under the Abarbanel label that they found their thirstiest US kosher consumers. Alas, the last vintage of theirs to hit the US was the 2012, and it's all sold out. I recently cracked open one of my last bottles of the 2012, and oh how I miss it already…
Hopefully Abarbanel will bring some future vintages to the US, but until then, there is but one kosher Beaujolais available here in the US, imported by Victor Kosher Wines. Fortunately, it is charming:
Domaine La Ferrage, Côte de Brouilly (Beaujolais), 2012 (a Louis Blanc selection): this lovely, medium bodied 100% Gamay wine with soft tannins and medium acidity offers aromas of ripe raspberries, blackberries, boysenberries and dark plums with some lovely earthy notes and a slight whiff of smoke, followed on the palate by the same with additional notes of currants and some graphite, with stronger plum and blackberry notes. The medium length but satisfying finish offers a touch of mocha, and a bit more earthiness. Really lovely. Drink now through 2018.
Spirits-wise, a recent Shabbos (Sabbath) lunch by some friends spurred thoughts of another French gift to mankind: Calvados.
Calvados is basically apple brandy, or distilled hard apple cider, made in the Normandy region of northwest France. Think of it as the working Frenchman's cognac — though these days prices are keeping pace.
As with French wine, Calvados is governed by an "appellation controlee" system that defines the regions where calvados production is permitted, the varieties of apples allowed in the production, the type of pressing and fermentation, the distillation regimen, and the maturation. Each producer has their own recipes and traditions for making calvados, and Boulard Calvados—a longtime personal favorite of mine—is among the super-premium end of the quality spectrum, from the AOC Pays d'Auge.
Boulard Calvados has their own plantations of 35,000 apple trees growing 120 different apple varieties. To make a good base hard cider, Boulard uses 15 percent sweet apples, 30 percent bitter apples, 40 percent bittersweet apples, 10 percent that are high in acidity and they use 5 percent pears. About 20 percent of the apples come from their own orchards, the rest from some 500 local growers.
Note that there are some who consider all calvados to be kosher, while others only consider certain brands to be kosher; I am not aware of any brands with formal kosher certification at present. Boulard is officially considered kosher without certification by several kashrus agencies, including the Kashruth Authority of the London Beth Din (KLBD), the Grand Rabbinat du Bas Rhin Beth Din de Strasbourg, and by the Consistoire de Paris. All three are perfectly reliable in such matters in my book. As always, those concerned should consult their local or personal kosher food authority.
Without further ado, here are but two offerings to consider: Boulard Calvados VSOP NV (40 percent abv; $50): This unctuous, heady, yet balanced, blend of 4- and 10-year-old calvados, is bittersweet, with tart and bittersweet apple aromas and flavors, and hints of almonds, vanilla, allspice and ginger wrapped in a slightly woody box. Lovely. Boulard Calvados XO NV(40 percent abv; $90): Blended from 8- to 40-year-old calvados, this is a full-bodied, rich, velvety smooth, elegant spirit with aromas and flavors of apples, sweet vanilla, cinnamon, toasted nuts, raisins, allspice, toffee, and tart citrus fruits, with a lovely toasty, oily and spicy apple cider finish. A bit more spirity than appley, but oh so absorbing.
L'chaim!
Comment by clicking here.
JWR contributor Joshua E. London is a wine and spirits columnist who regularly speaks and leads tutored tastings on kosher wines, whisk(e)y, tequila, and other unique spirits.

Previously:
• A toast to the grillmaster: What to pair on a summer's eve with grilled beef, such as a juicy, gloriously fat-marbled, rib-eye steak
• July 4: Cheers Beyond Beers: On Independence Day consider these premium rye whiskies
• Tradition meets innovation meets delicious wine
• On Purim, with a religious duty to imbibe, do it right!
• Why not enjoy all of that holiday wine?
• Fungus among us produces a distinctive dessert wine
• A classic curative cocktail --- Hot toddy: A remedy for a, or the, cold
• The growing population -- and popularity -- of sweet reds + the World Whisky Of The Year
• This year, give the gift of booze
• What you should drink for Thanksgiving
• Some atypical wine blends --- and a whisky-tourism trip
• A wine bargain, and Johnnie Walker goes platinum!