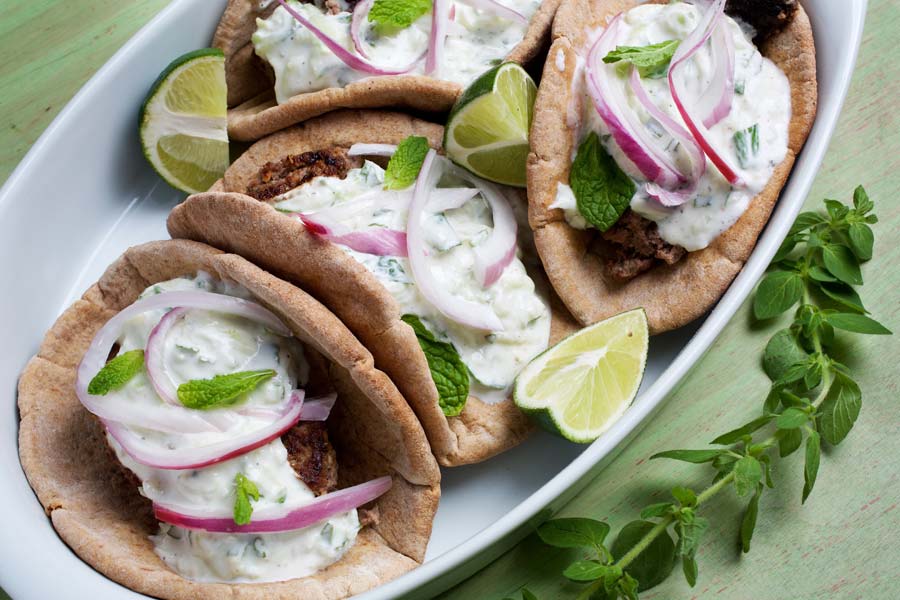 According to the folks at Cooking Light magazine, the classic Greek pita sandwich can cost you at least 510 calories and 1,120 milligrams of sodium. Their makeover version cuts those totals considerably while still delivering familiar flavors.

The original recipe recommends cooking the meat under the broiler; we found it stays more tender with a pan-sear/oven time approach. We also tested this with 12 ounces of ground dark-meat turkey plus 1 tablespoon of olive oil (instead of the ground lamb-beef combo) and liked the results.

Serve with oven-baked sweet potato fries.

WEEKNIGHT GYROS
MAKES: 4 servings
Adapted from "Amazing Recipe Makeovers," by the editors of Cooking Light
(Buy it at a 34% discount by clicking here or order in KINDLE edition at a 55% discount; just $9.99 by clicking here)
Ingredients
For the meat
3 cloves garlic

6 ounces ground lamb

6 ounces lean ground beef (90/10)

1 teaspoon onion powder

1/2 teaspoon granulated garlic (powder)

1/2 teaspoon dried oregano or za'atar (may substitute 1 tablespoon chopped fresh oregano leaves)

1/4 teaspoon kosher salt

1/4 lemon

1/8 teaspoon ground red pepper or ground sumac

For the gyros

Four 6-inch whole-wheat pitas, preferably pocketless

1/2 medium red onion

Leaves from 4 stems mint

1/2 English (seedless) cucumber

1/4 lemon

8 ounces plain nonfat yogurt (vegan)

1/2 teaspoon granulated garlic (powder)

1/8 teaspoon kosher salt

1/8 teaspoon freshly ground black pepper

2 limes or lemons, for serving (optional)


Steps

For the meat: Preheat the oven to 375 degrees. Heat a medium cast-iron skillet over medium heat.

Mince the garlic and place in a mixing bowl along with the ground lamb and beef, the onion and garlic powders, oregano or za'atar, salt and the juice of the lemon quarter. Use your clean hands to blend until well combined, then shape and compact the mixture into two firm loaves of equal size measuring 6 inches long and 3 inches wide. Sprinkle with the red pepper or sumac.

Use cooking oil spray to lightly grease the hot skillet. Place the loaves in the pan; cook for 2 minutes on each side, then transfer the skillet to the oven to cook for 5 minutes. Remove from the oven once the loaves are cooked through (with no trace of pink inside).

Meanwhile, start the gyro prep: Stack and wrap the pitas in aluminum foil; place them in the turned-off oven (to warm through).

Cut the red onion half into thin half-moons and place them in a bowl of water. Coarsely chop all but a small handful of the smallest mint leaves; you'll use the whole leaves as a garnish.

Shred the (unpeeled) cucumber against the large-holed sides of a box grater held over a medium bowl; discard the peel that's left. Squeeze in the juice from the lemon quarter, then add the yogurt, garlic powder, salt and black pepper and the chopped mint; stir until well incorporated.

When ready to serve, drain the red onion slices and pat dry. Cut the meat loaves crosswise into 1/2-inch slices, dividing them among the warm pitas. Spoon the yogurt sauce over each portion, then scatter the red onion slices and small whole mint leaves over each one.

Cut the limes or lemons into wedges, if using. Serve the gyros right away, with the wedges.

Nutrition | Per serving: 380 calories, 27 g protein, 36 g carbohydrates, 16 g fat, 6 g saturated fat, 60 mg cholesterol, 420 mg sodium, 5 g dietary fiber, 6 g sugar

JewishWorldReview.com regularly publishes delicious recipes, many healthy. Sign up for the daily JWR update. It's free. Just click here.

(COMMENT, BELOW)