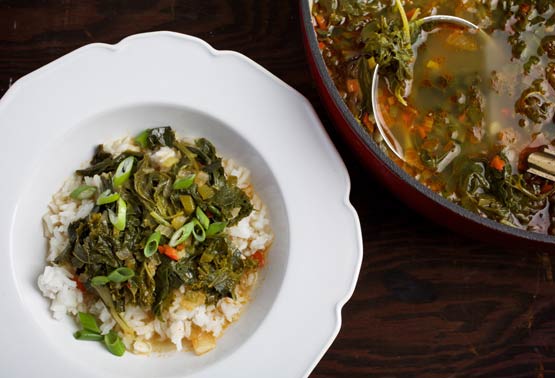 It was eight years ago, my first time at a big food conference. The Southern-cooking maven Nathalie Dupree had taken me under her wing and was introducing me to any -- and everyone -- she could see. We were in New Orleans, just a few years after Katrina, and at a big outdoor taste-around she hustled me over to a stand where a diminutive woman and her helpers were ladling out gumbo the likes of which I had never seen.
The woman was Leah Chase, the now-93-year-old icon behind the famous restaurant Dooky Chase's, and the ladles were full of her equally famous gumbo z'herbes.
As Chase explained, the concoction is a traditional meal that has one main operating philosophy: The more greens, the better. Not more as in quantity - although there is plenty of that - but more as in the number of different types of greens. Kale, collards, mustards, cresses, radish or beet tops, even leafy herbs such as parsley. One idea is, the number of greens corresponds to the number of new friends you'll make in the coming year.
I was so captivated by the story - and by the taste - that I found Chase's recipe and made the gumbo occasionally for several years. In keeping with some versions of the recipe, I added sausage for flavor. Once I embraced vegetarianism, I started leaning on one of my favorites, smoked paprika, to give some of the same depth of flavor.
Recently, when I looked at Thomas Head's lovely new "Greens: A Savor the South Cookbook" (University of North Carolina Press), it practically fell open onto his own version of Chase's gumbo z'herbes. I ended up combining some of my techniques with his.
Of course, you start with a roux, cooking this one to a light caramel color, not the deep chocolate brown of some gumbos, then add the "trinity" of onion, celery and green bell pepper (plus red for a little color, and the spices). I cooked the greens in vegetable broth, rather than water, and added them to the pot of aromatics. Without the meat, the cooking goes more quickly, but you'll want to taste and make sure you've dosed it all with enough salt before you ladle it over white rice.
Don't forget to count those greens before you start cooking. I went with five types, totaling three pounds. And I immediately started keeping an eye out for all those new friends surely coming my way.

GUMBO Z'HERBES
12 servings (makes about 13 cups)
MAKE AHEAD: The cooked greens and their broth can be refrigerated for up to 5 days before you make the gumbo. The finished gumbo can be refrigerated for up to 1 week or frozen for up to 3 months.
Ingredients
• 3 pounds greens (a combination of mustard greens, collards, turnip greens, beet greens, radish leaves, watercress, kale, parsley and/or others; see headnote), washed, tough stems removed, and chopped into 1-inch pieces (see headnote)
• 8 cups no-salt-added store-bought vegetable broth; water, as needed
• 1/2 cup vegetable oil
• 1/2 cup flour
• 1 large onion, finely chopped (2 cups)
• 1 medium green bell pepper, seeded and finely chopped (1 cup)
• 1 medium red bell pepper, seeded and finely chopped (1 cup)
• 3 ribs celery, finely chopped (1 cup)
• 6 cloves garlic, finely chopped
• 2 teaspoons ground cayenne pepper
• 2 teaspoons smoked Spanish paprika (pimenton)
• 2 teaspoons fine sea salt, plus more as needed
• 1 teaspoon freshly ground black pepper, plus more as needed
• 12 cups cooked white or brown rice
• Scallion tops, coarsely chopped, for garnish
Steps
Place the greens in a large pot; cover with the broth, adding enough water to cover. Bring to a boil over high heat, then reduce the heat to medium or medium-low so the liquid is barely bubbling. Cook the greens until very tender, about 40 minutes. Remove from the heat.
While the greens are cooking, make a roux: Heat the oil in a heavy pot over medium heat. Once the oil shimmers, whisk in the flour until smooth. Reduce the heat to medium-low; cook, stirring constantly, until the mixture turns a light brown color, 10 to 20 minutes.
Stir in the onion, green and red bell peppers, celery, garlic, cayenne pepper, smoked paprika, salt and pepper. Cover, and cook, stirring occasionally, until the vegetables are very tender, about 20 minutes.
Drain the cooked greens, reserving the liquid. Transfer the greens to the pot of vegetables.
Measure the reserved cooking liquid and add 8 cups of it to the pot. Increase the heat to bring it to a boil, then reduce the heat until the liquid is barely bubbling. Cook for 10 minutes, just to incorporate all the flavors. Taste, and add salt and pepper as needed.
Divide the rice among serving bowls, and ladle a cup of hot gumbo over each portion. Garnish with the scallions.
Nutrition | Per serving: 370 calories, 9 g protein, 62 g carbohydrates, 11 g fat, 2 g saturated fat, 0 mg cholesterol, 420 mg sodium, 6 g dietary fiber, 6 g sugar
Comment by clicking here.