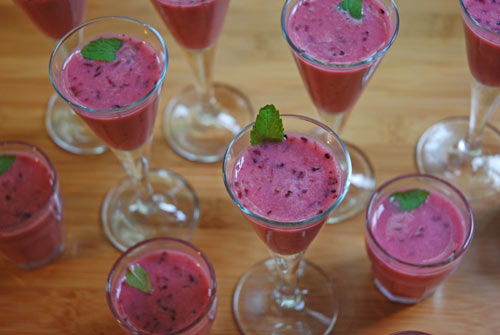 Early summer is my entertaining season. I love deck parties. When the days are nice and warm and the evenings can still cool off a bit, gathering on the deck for food and fellowship is the way to go.

Today's recipe is super-easy to prepare, doesn't heat up the kitchen and makes a splash at any adult gathering. Introducing Fruit Soup Shots: They're part-adult smoothie, part-cold soup course and part-cocktail.

These little gems are full of the season's best berries and are topped with a drizzle of triple sec for that unexpected pop of flavor. You can blend them and refrigerate up to 12 hours before serving. Just pour them in shot glasses when you're ready to party.

If deck and patio parties are not for you, this recipe makes the perfect brunch aperitif or cold soup course. The drink's bright berry color and tiny mint leaf make it simply as pretty as a picture. Enjoy!

FRUIT SOUP SHOTS
PREP: Start to finish, 30 minutes, plus at least 4 hours refrigeration time
YIELDS: 32 ounces
2 cups water

1/2 cup sugar

1/2 cup blueberries

1 cup sliced strawberries

1 teaspoon ground fresh ginger

4 teaspoons fresh lime juice

1/2 cup Greek yogurt (plain or any fruit flavor)

4 teaspoons triple sec (or more to taste), divided use

Fresh mint leaves for serving, if desired
In a medium saucepan, combine the water, sugar, blueberries, strawberries and ginger. Place over medium-high heat and bring to a boil. When mixture boils, stir well for about a minute to completely dissolve the sugar. Remove from heat and cool about 10 minutes.
Carefully pour mixture into a blender and add the lime juice and yogurt. Blend on high until completely mixed and berries are fully processed. Refrigerate for at least 4 hours, up to 12 hours.
Pour into 2-ounce glasses. Drizzle 1/4 teaspoon of triple sec to the top of each glass. Top with mint leaf, if desired, and serve immediately.
Approximate values per (2-ounce) serving: 36 calories, trace fat (0 g saturated), no cholesterol, 1 g protein, 8 g carbohydrates, 0 g dietary fiber, 101 mg sodium.
Comment by clicking here.
Alicia Ross is is the co-author of "Desperation Dinners!" (Workman, 1997), "Desperation Entertaining!" (Workman, 2002) and "Cheap. Fast. Good!" (Workman, 2006).