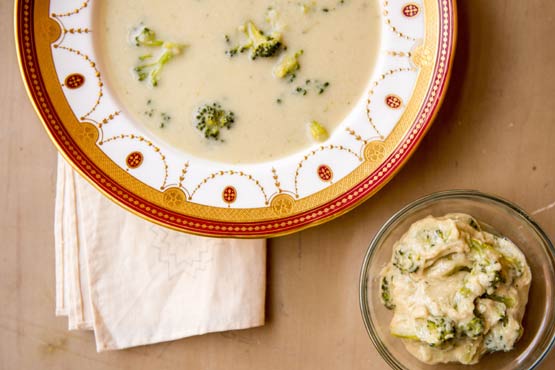 We all love shortcuts to a good soup - and by "good," I mostly mean one that has well-developed flavor, the kind that can sometimes take a little time. That's why we buy bouillon cubes, why we make our own stocks and broths and freeze them, why we sock soup away in the freezer to be eaten another day.
For years, I've been making my own soup bases: concentrated versions of soups that take up less space in the freezer than a finished batch and can be defrosted, thinned out and finessed in a few different directions. I got the idea from Italian cooking maven Lidia Bastianich, making one base that features roasted sweet potato and another that uses white beans.
Recently, another great idea for a soup base entered my kitchen, from Miyoko Schinner, the vegan author and "cheese" maker. In her book "The Homemade Vegan Pantry," she writes about a cream of broccoli soup concentrate that employs rice and cashews to give it that creamy mouth feel without any dairy products. And here's what I love about it most: It cooks in under a half-hour.
It's a one-pot affair: The rice and cashews go in with the water, broccoli stems and other ingredients and cook until the rice is done. Broccoli florets go on top of the pot and get steamed for another few minutes. You take the florets out, puree the rest of the ingredients, and fold the vegetable back in. The result has the consistency of - it's true! - good old Campbell's cream of whatever, and when you thin it out with a little water, you've got a pure bowl of comfort, with the silky-smooth texture of the soup offset by little bursts of crunch from the florets. I made it the day before I started to feel under the weather, and guess what I was so glad to have to eat for three meals in a row?
Schinner offers a bonus recipe, for a vegan bouillon that might just come in even handier. With a handful of pantry ingredients (admitting that my pantry might be better - or at least differently - stocked than yours, with white miso and nutritional yeast always around), I mashed together a cup of paste that looks a little like Mexican mole and packs just as much flavor. Two tablespoons of this went into that broccoli soup concentrate before it cooked, but I can imagine stirring it into all manner of broths, sauces, stews - even casseroles and the like.
For the next few weeks, though, it will probably power nothing but soupmaking.

CREAM OF BROCCOLI SOUP CONCENTRATE
MAKES 5 cups; enough for five 1 1/2-cup servings of soup
MAKE AHEAD: The soup concentrate can be portioned into airtight containers in 1-cup amounts and refrigerated for up to 1 week or frozen for up to 3 months.
Ingredients
• 1 tablespoon extra-virgin olive oil
• 1 medium onion, diced
• 2 ribs celery, diced
• 2 1/2 cups water, or more as needed
• 1/2 cup long-grain white rice
• 1/2 cup raw, unsalted cashews
• 2 tablespoons Vegan Bouillon (see recipe below; may substitute 3 vegetable bouillon cubes or 1 tablespoon powdered vegetable stock)
• 1 teaspoon sea salt
• 1 head broccoli (may substitute 11/2 pounds broccoli florets)
Steps
Heat a little water or oil in a medium saucepan over medium heat. Add the onion and celery; cook, stirring frequently, for 10 to 12 minutes or until tender.
Add the 2 1/2 cups of water, the rice, cashews, Vegan Bouillon and salt, stirring to incorporate; then, if you're using broccoli florets, add about half of them to the saucepan. If you're using the head of broccoli, use a vegetable peeler to peel the stems, then cut the stems into very thin slices and add them to the mix; cut the broccoli tops into small florets and reserve them. Cover and reduce the heat to low; cook for 15 to 20 minutes or until the rice is tender and there's not much more than 1/2 cup of water left in the pot.
Scatter the reserved broccoli florets or tops over the surface of what's in the saucepan; cover and let them steam for 5 minutes or until they are crisp-tender. (Alternatively, you can steam them in a separate pot.) Use a slotted spoon to transfer the florets to a bowl.
At this point, there should be very little liquid left in the saucepan. Remove from the heat and uncover to let the mixture cool a bit, then transfer it to a blender, working in batches as needed. Remove the center knob in the lid so steam can escape, and cover the opening with a paper towel to avoid splash-ups; puree until smooth, silky and creamy. If the mixture is too thick to blend evenly, add 1/4 cup or so of water, but keep in mind that the concentrate should be thick.
Return the mixture to the saucepan, then stir in the cooked broccoli florets. The concentrate is ready for use or for storing.
To reconstitute and heat the soup, use 1/2 cup of water for every 1 cup of the concentrate, adding more as desired.
Nutrition | Per serving: 230 calories, 9 g protein, 30 g carbohydrates, 10 g fat, 1 g saturated fat, 0 mg cholesterol, 660 mg sodium, 1 g dietary fiber, 2 g sugar
VEGAN BOUILLON
MAKES 1 cup; enough for sixteen 1-cup servings of broth
MAKE AHEAD: The bouillon paste can be stored in an airtight container at room temperature for 4 to 6 weeks or refrigerated for 3 to 4 months. Ingredients
• 1/2 cup nutritional yeast
• 1/4 cup porcini mushroom powder (may substitute 6 tablespoons shiitake mushroom powder; see NOTE)
• 1/4 cup white miso
• 1/4 cup canola or other neutrally flavored oil
• 3 tablespoons low-sodium soy sauce
• 1 tablespoon onion powder
• 1 tablespoon granulated garlic (powder)
• 1 tablespoon celery seed
• 2 teaspoons sea salt
Steps
Combine the nutritional yeast, mushroom powder, white miso, oil, soy sauce, onion and garlic powders, celery seed and sea salt in a food processor; process to form a thick, smooth paste.
Use right away, or transfer to an airtight container.
NOTE: Make your own mushroom powder by crumbling dried mushrooms in a blender, food processor or a clean electric coffee grinder and processing until finely ground.
Nutrition | Per 1-tablespoon serving: 50 calories, 1 g protein, 3 g carbohydrates, 4 g fat, 0 g saturated fat, 0 mg cholesterol, 460 mg sodium, 1 g dietary fiber, 0 g sugar
Comment by clicking here.