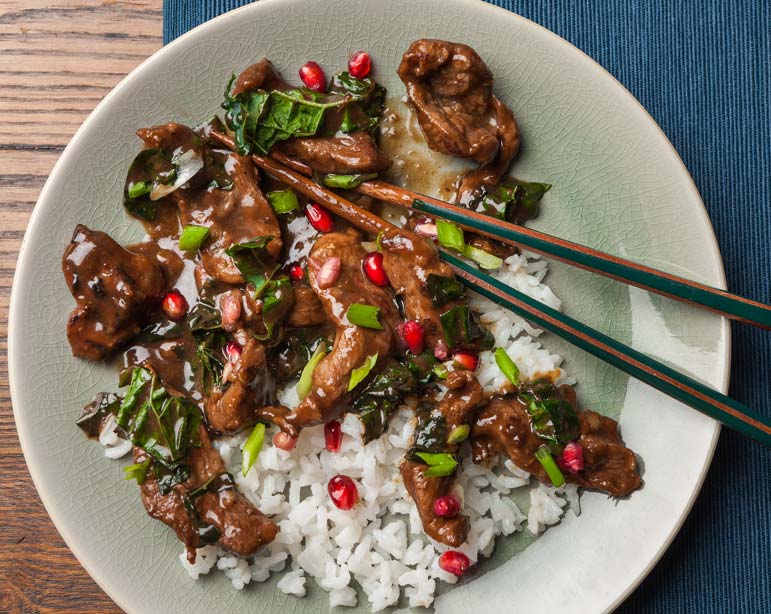 Want to expand your culinary horizons in 2018 without adding a belt notch? You could start by picking up a package of duck breast fillets. More stores are carrying them fresh, but you can typically find them frozen. Americans eat precious little duck; the 2016 per person average is something like 5 pounds, vs. a whopping 92 pounds for chicken. Yet duck breasts are less expensive than several different cuts of steak.

In this recipe, the skin and fat are removed from the duck breast fillets - feel free to render the latter for sauteing something heavenly or create cracklings for a friend who isn't on a January diet - leaving meat that is as lean as chicken but much more interesting. It has a satisfying chew, yet it's tender.

Cornstarch, rice wine and pomegranate juice help form the glossy, not overly sweet sauce, and strips of dark kale leaves have the oomph to stand up to it. Those jewels of the fruit world, pomegranate seeds, bedeck the plate and add texture.

HOISIN STIR-FRIED DUCK WITH POMEGRANATE
SERVINGS: 4
If you can't find duck, you can substitute skirt steak.
Adapted from "Stir Crazy: 100 Deliciously Healthy Stir-Fry Recipes," by Ching-He Huang (Kyle, 2017).
(Buy by clicking here)
Ingredients
For the marinade and duck

About 12 ounces duck breast fillets (from about 1 pound skin-on, duck breast fillet (see headnote)
1/2 teaspoon Chinese five-spice powder
1 teaspoon toasted sesame oil
1/2 teaspoon dark soy sauce (may substitute 1/4 teaspoon low-sodium soy sauce plus 1/4 teaspoon molasses)
For the stir-fry

One 2-inch piece fresh ginger root 2 cloves garlic
4 leaves Tuscan or lacinato kale
2 scallions
2 tablespoons cornstarch
1 tablespoon peanut oil or grapeseed oil
1 tablespoon Shaoxing rice wine (may substitute mirin or dry sherry)
1/2 cup low-sodium vegetable broth or chicken broth
2 tablespoons hoisin sauce
1 tablespoon low-sodium soy sauce
1/4 cup pomegranate juice
1/3 cup fresh pomegranate seeds, for garnish (arils; optional)
Steps
For the marinade and duck: Use a sharp knife to remove the cap of skin and fat from the duck breast fillet(s), leaving as much meat intact as possible, then cut crosswise into 1/4-inch thick slices.
Stir together the Chinese five-spice powder, toasted sesame oil and dark soy sauce in a mixing bowl or shallow baking dish. Add the duck slices and toss to coat. Let sit for 10 minutes.
Meanwhile, prep the stir-fry ingredients: Peel the ginger and grate (to yield 1 tablespoon). Mince the garlic. Rinse the kale leaves. Cut away and discard the stems, then cut the leaves crosswise into 1/2-inch-thick strips. Trim the scallions, then cut on the diagonal into thin slices.
Sprinkle 1 tablespoon of the cornstarch evenly over the marinated duck slices and toss gently. Heat a wok over high heat. Once it's quite hot, swirl in the oil and reduce the heat to medium-high; add the ginger and garlic. Stir-fry for a few seconds, then add the duck slices and cook, undisturbed for about 10 seconds on the first side, then use tongs to turn them over. Add the rice wine or sherry, then half the kale; stir-fry for 10 seconds or just until the kale strips start to wilt.
Whisk together the broth, hoisin sauce, pomegranate juice and the remaining tablespoon of cornstarch in a liquid measuring cup, then pour into the wok. Cook for a minute or two, just until the mixture thickens and becomes a glossy sauce for the duck. Remove from the heat, then stir in the remaining kale.
Divide among individual plates. Garnish each portion with the scallions and pomegranate seeds, if using. Serve right away.
Nutrition | Per serving: 210 calories, 18 g protein, 17 g carbohydrates, 8 g fat, 2 g saturated fat, 65 mg cholesterol, 430 mg sodium, 0 g dietary fiber, 8 g sugar