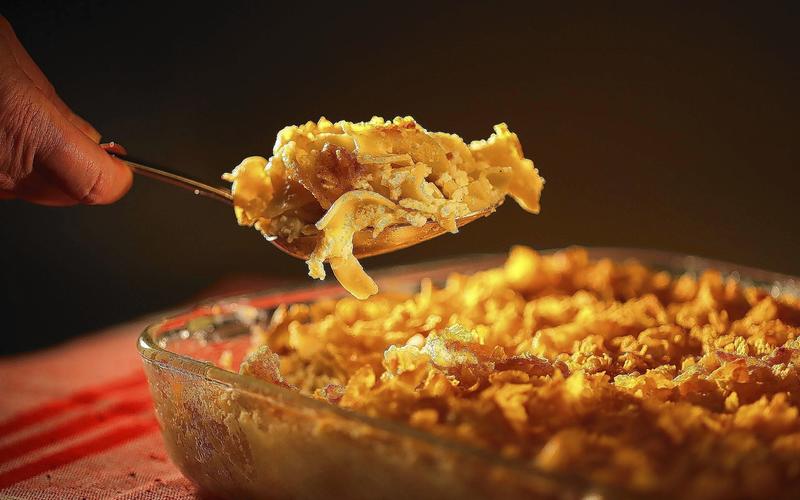 This kugel, definitely sweet and with no shortage of cottage cheese, is a perfect choice when you're craving something both homey and comforting. Brent's Deli, a kosher-style enterprise in Northridge, California, was happy to share it's take on this classic.

BRENT'S DELI'S KUGEL
Total time: 45 minutes
Servings: 8 to 12
INGRIEDIENTS
1/2 cup (1 stick) butter, melted, divided
1 pound fine egg noodles
4 eggs, separated
1 cup sugar
2 quarts cottage cheese
1/4 cup sour cream
1 cup milk
1 teaspoon vanilla extract
Salt and white pepper, to taste
1 cup crumbled cornflakes
Cinnamon sugar for sprinkling (2 tablespoons sugar and 1/4 teaspoon cinnamon, combined)
Direction:
1. Heat the oven to 350 degrees. Lightly butter a 15-by-11-inch baking dish with a little of the melted butter and set aside.
2. Bring a large pot of lightly salted water to a boil and add the noodles. Cook the noodles according to the package directions, then drain and set aside.
3. In the bowl of a stand mixer, or in a large bowl using a hand mixer, beat the egg whites to stiff peaks. Set aside.
4. In a separate large bowl, beat the egg yolks together with the sugar, cottage cheese, sour cream, milk, vanilla, the rest of the melted butter and 11/2 teaspoons of salt and one-half teaspoon of pepper, or to taste.
5. Fold the noodles into the egg yolk mixture, then gently fold in the egg whites, one-third at a time.
6. Spoon the mixture into the prepared baking dish and cover with the crumbled cornflakes. Sprinkle over the cinnamon sugar.
7. Place the baking dish in the oven and bake until the custard is set, 35 to 45 minutes.
EACH OF 12 SERVINGS
Calories 478
Protein 23 grams
Carbohydrates 54 grams
Fiber 1 gram
Fat 19 grams
Saturated fat 9 grams
Cholesterol 137 mg
Sugar 25 grams
Sodium 889 mg