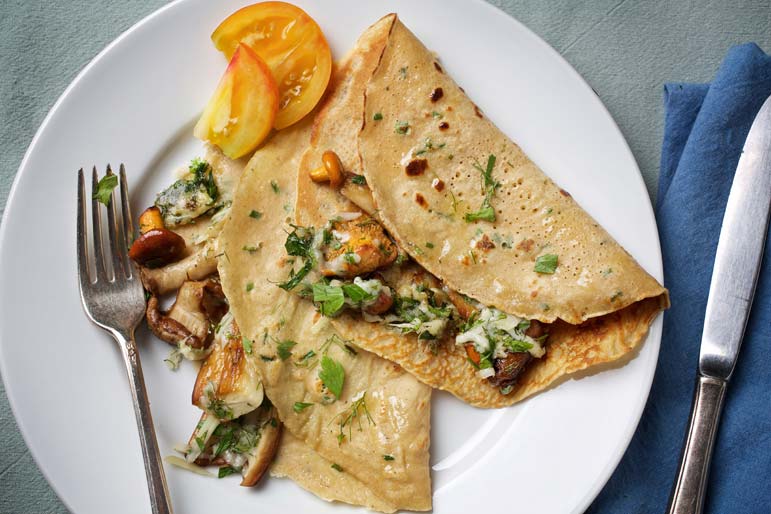 When you're cooking for two and neither of you are particularly picky eaters, you have the luxury of stretching the repertoire every now and then. I recommend these crepes, which are quite doable on a weeknight. The batter, made with white whole-wheat flour, needs only a 15-minute rest.

The filling is no more than interesting mushrooms browned in a pan and topped with a sprinkling of grated Swiss and lots of fresh herbs. Here, we sliced meaty king trumpet mushrooms lengthwise into thin planks, and used some lovely chanterelles from the farmers market.

If you don't make crepes or pancakes that often, you might not be familiar with the "first one" phenomenon: Chances are quite good that the initial crepe will be too thick or rubbery, or be of lesser quality than all that follow. I usually keep that one on the bottom of the pile, or snack on it while I am cooking - in the interest of checking the seasoning level of the batter, of course.

The only demand this meal makes is that it be consumed soon after it hits the plate, which shouldn't be a problem once your dining partner gets a glorious whiff.

HERBY MUSHROOM AND SWISS CREPES
SERVINGS: 2 to 3; Healthy
Serve with sliced tomatoes
Ingredients
• 1 cup flour
• Kosher salt
• Freshly ground black pepper
• 1 large egg
• 1 cup low-fat milk
• 8 ounces king trumpet or chanterelle mushrooms, or a combination of both
• Handful fresh herbs, plus more for garnish
• One 2-ounce block Emmenthaler cheese
• 2 tablespoons grapeseed or olive oil
• 1 teaspoon unsalted butter, or more as needed
• Sour cream or creme fraiche, for garnish (optional)
Steps
Place the flour in a mixing bowl, then add a good pinch each of salt and pepper. Make a well at the center, then crack in the egg and pour in half the milk. Use a whisk to gradually incorporate the seasoned flour, slowly adding the remaining milk to form a thin, lump-free batter. Let it sit at room temperature for 15 minutes. The yield is about 2 cups.
Meanwhile, wipe off or rinse/dry the mushrooms and trim as needed. Cut the large ones into thin slices. Coarsely chop the herbs and transfer to a medium bowl, reserving a small bit for garnish, then use the large-holed sides of a box grater to grate the cheese into the same bowl.
Heat a large skillet over medium-high heat. Once it's quite hot, add the oil and swirl to coat. Add the mushrooms and cook, without disturbing them, for 5 minutes. Turn over and cook for 3 minutes; at this point, the mushrooms should be sizzling and have picked up some color. Season lightly with salt and pepper, then toss in the herb-cheese mixture. As soon as the cheese begins to melt, turn off the heat.
Heat an 8-inch crepe pan or medium nonstick skillet over medium-high heat. Add 1/2 teaspoon of the butter. Once it has melted, ladle in about 1/3 cup of the batter and quickly swirl to coat the bottom of the pan. Cook for about 1 minute, or until the crepe looks dry on the edges. Turn it over and cook for 1 to 2 minutes, then transfer to a plate and cover loosely with aluminum foil. (The first crepe is typically the thickest/worst one you'll make.) Repeat with the butter, as needed - you may not need to add it more than once - and batter to form 4 or 5 more crepes, stacking them on the same plate and keeping them covered as you go.
Place a crepe on each plate. Spoon some of the mushroom-cheese mixture in the middle of each one and fold over. Repeat with the remaining crepes and filling.
Garnish with the remaining chopped herbs and a dollop of the sour cream or creme fraƮche, if using. Serve warm.
Nutrition | Per serving (based on 3): 390 calories, 18 g protein, 39 g carbohydrates, 19 g fat, 5 g saturated fat, 80 mg cholesterol, 220 mg sodium, 2 g dietary fiber, 6 g sugar