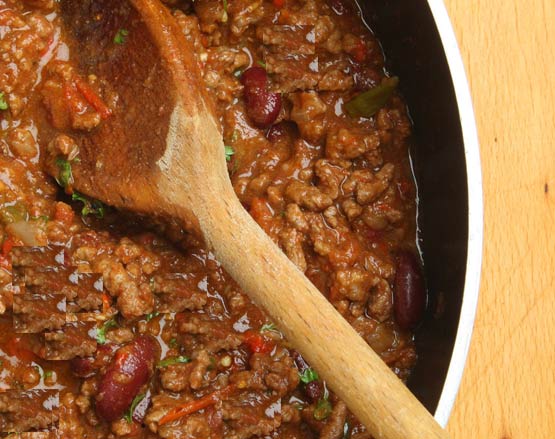 There are probably as many versions of chili as there are chili cooks. Some like it hot and fiery, while plenty of chefs prefer a milder taste of peppers. Vegetarians turn out meatless creations, while others opt for chicken or turkey as the primary ingredient. For most, however, nothing surpasses a bowl of perfectly seasoned, rich beef chili like the one featured here.
Although it has the salient features of quintessential American beef chili, a few variations distinguish this one from more routine renditions. Cubed stew meat replaces ground beef. Chipotle chili powder paired with traditional chili powder provides the heat, but the former also adds a smoky accent. This chili is cooked slow and low until the meat is fork-tender and the flavors are delectably melded. Then this deep rust-hued soup is ladled over mounds of cumin-scented rice, and garnished with lime and cilantro.
Since this all-in-one dish improves in flavor when cooked a day or two ahead, it's ideal for entertaining. Serve it for a casual supper with cornbread and a salad of romaine and avocado. Finish with your favorite brownies for a winning menu.

SMOKY BEEF AND BLACK BEAN CHILI WITH LIME
SERVES: 6
.
4 tablespoons olive oil

2 pounds beef stew meat (preferably chuck), trimmed of fat and cut into 1-inch cubes

2 cups chopped onion

1 tablespoon minced garlic

1/4 cup flour

1 1/2 tablespoons chili powder

1 tablespoon ground cumin

2 teaspoons oregano

1 1/2 teaspoons chipotle chili powder

Kosher salt

4 cups beef stock, plus 1/2 to 1 cup extra if needed

1 (28-ounce) can Italian style tomatoes, strained and coarsely chopped

Two 15.5-ounce cans black beans, rinsed and strained

1 large yellow bell pepper, seeds and membranes removed and cut into 1/4-inch pieces
Garnishes:
3 cups cooked rice tossed with 1 1/2 teaspoons ground cumin

2 tablespoons chopped cilantro

1/2 cup vegan sour cream or yogurt

1 large lime cut into wedges
Heat the oil in a large, deep-sided pot (with a lid) set over medium-high heat, until hot. Add enough beef to make a single layer, and saute until browned on all sides, about 5 minutes. Remove to drain on paper towels. Repeat with remaining meat. Add onions and saute and stir, adding more oil if needed, until lightly browned, 3 to 4 minutes. Stir in garlic and cook 1 minute more. Return beef to the pan.
Combine flour, chili powder, cumin, oregano, chipotle chili powder, and 1 teaspoon salt in a small bowl. Sprinkle this mixture over the beef and onions, and cook, stirring, for 1 minute. Add stock and tomatoes; bring mixture to a low boil. Lower heat to a simmer, cover pan, and cook until meat is fork-tender and mixture has thickened slightly, about 2 hours. If liquids start to cook down too quickly, add extra stock.
Add beans and yellow pepper, and cook 15 minutes. Season with salt. (Chili can be prepared 2 days ahead. Cool, cover and refrigerate. Reheat, uncovered, over medium heat.)
Place a scoop of rice in each of 6 bowls and top with chili. Garnish each serving with a dollop of vegan sour cream, a sprinkle of cilantro, and a lime wedge. Squeeze the lime over the chili before eating. .
Comment by clicking here.
Betty Rosbottom is a food writer, cookbook author and former culinary school director.