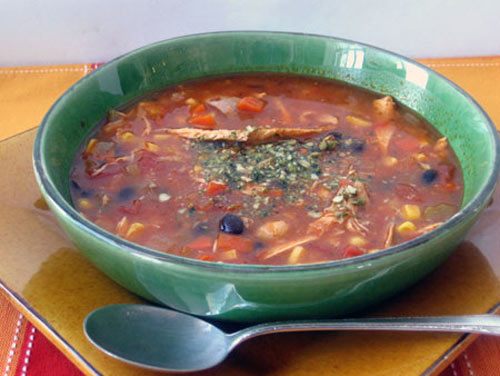 This is a soup made by simmering sauteed onions, carrots and celery in a chicken and tomato broth along with seasonings of smoked paprika, cumin and oregano. Shredded chicken (from a purchased rotisserie bird), black beans and corn round out this potage's ingredients, each serving of this soup is topped with an unusual garnish of toasted pumpkin seeds known as pepitas and cilantro that are minced together in a food processor (like a pesto but without any oil).
The recipe calls for many convenience products, but the results are a delicious, beautifully seasoned soup that bursts with flavor.
To round out the meal, there will be a salad of greens tossed in a lime and olive oil dressing, crusty bread, and a platter of homemade cookies for dessert.
Although I think this is an ideal recipe to serve when entertaining weekend company, I am also counting on using it in other ways. The soup could anchor a light meal or star as the main course.

CHICKEN SOUP WITH BLACK BEANS AND PEPITAS
SERVES 6.
2 tablespoons olive oil

1 cup chopped onion

2/3 cup diced celery, cut into 1/4-inch cubes

1/2 cup diced carrots, cut into 1/4-inch cubes

2 large cloves garlic, minced 6 cups chicken stock

A 28-ounce can diced tomatoes and their juices

A 4 to 4-1/2 ounce can chopped mild green chilis and any liquid

1 1/2 teaspoons dried oregano

1 teaspoon ground cumin

1 teaspoon smoked paprika (mild not hot) 4 cups shredded cooked chicken (see note)

A 15-ounce can black beans, drained and rinsed

2 cups frozen corn kernels, defrosted and patted dry

Kosher salt and freshly ground black pepper

1/2 cup roasted pepitas (pumpkin seeds; see note)

1/3 cup packed cilantro leaves

.
Heat the oil in a large, heavy pot over medium-high heat until hot. Add onions, celery, carrots and garlic, and saute until vegetables are slightly softened, about 4 minutes. Add chicken stock, tomatoes, chilis, oregano, cumin and smoked paprika. Bring to a simmer, reduce heat, and cook at a simmer for 15 minutes. Add the chicken, black beans and corn, and simmer 5 minutes more. Taste the soup and season with salt and pepper as needed. (The soup can be prepared 2 days ahead; cool, cover, and refrigerate.)
Place pepitas and cilantro in a food processor, and pulse until finely minced, scraping the bowl as needed.
To serve, ladle the soup into serving bowls and top with a generous spoonful or more of the pepita mixture.
Note: Use a good quality rotisserie chicken from your local supermarket. A 1 3/4 to 2 pound chicken will yield 4 cups white and dark meat. Pull meat off bones and shred or cut into thin strips.
Note: Pepitas (pumpkin seeds) are available in some supermarkets and in health food stores. If you can't find roasted pepitas, place seeds in a skillet set over medium heat, and cook and stir until lightly browned, 4 to 5 minutes. Seeds might pop while they are cooking. Watch carefully so they do not burn.
Comment by clicking here.
Betty Rosbottom is a food writer, cookbook author and former culinary school director.