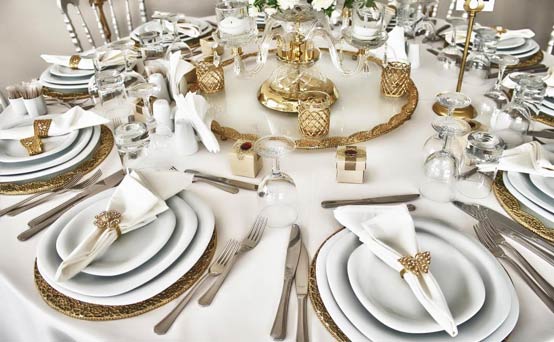 In Jewish homes all over the world, when the Chanukah menorah is lit, families sit down to a meal in which foods fried in oil are served. It is the continuation of centuries of meaningful tradition - a happy celebration of light and freedom.
In the United States, potato latkes and applesauce accompany a main dish of chicken or brisket. But in many countries, Chanukah is celebrated with dishes prepared with local ingredients according to their culinary techniques. On the last day of Chanukah, some Sephardic Jews come together with family and friends for "merenda," kind of like a pot-luck supper where everyone brings a dish. It may include " Enjarada," a spicy lentil and rice concoction. Blini, thin buckwheat pancakes, topped with sour cream and caviar are a favorite of Russian Jews. For Ashkenazi Jews from Eastern Europe, it was customary to serve goose, specially fattened for the winter holiday. Some of the schmaltz (rendered fat) was used for frying crisp latkes but most of it was saved for Passover. And for British Jews, a steamed fruit pudding similar to Christmas "plum" pudding has become a standard Chanukah dessert. This pudding was first described in "The Jewish Manual, edited by a lady" and published in England in 1846, 15 years before Mrs Beeton's classic.
The menu below is a satisfying "comfort food" Shabbes or weeknight Chanukah supper incorporating dishes cooked in oils as well as dishes which have become international favorites. Let children help. The youngest can arrange Shammas Salad by dipping pomegranate wedges in a little sugar to sweeten and you'll be creating delicious Chanukah memories. Braised brisket, a popular holiday main dish, is flavored and tenderised with canned seasoned tomatoes and a robust dry wine. Chickpeas and baby onions add texture and leftovers taste even better the next day. Update traditional applesauce with fragrant ripe winter pears for a refreshing dimension to your favorite latkes. And for a quick, easy side dish, saute ready washed spinach leaves in a bag, in olive oil and garlic, then scatter roasted almonds over. Ready to serve in less than 10 minutes.
Any combination of canned and fresh fruits may be used for Brandy-Baked Compote. Substitute apple juice for brandy if desired. A slice of English Chanukah Pudding makes a tasty dessert to round out a light meal. May be made ahead on an evening and refrigerated. When needed, wrap loosely in paper towels and heat for a minute or two in the microwave. For a spectacular finish, pour 3 tablespoons warm brandy over and light with a taper. When flames die down, slice and enjoy with a spoonful of crushed fresh raspberries or strawberries on the side. Recipes for starred items only.


SHAMMAS CANDLE SALAD (PAREVE)
1 pomegranate
6 -8 cups baby lettuces or shredded lettuce
6 pineapple spears, about 4-inches by 1-inch wide
pomegranate vinaigrette (below)
Cut the pomegranate in half. Set one half aside. Cut the remaining half into six wedges. wedges. Set aside. Divide lettuce between six salad plates. On each plate, arrange a pineapple spear. Place a pomegranate wedge at the top end to resemble the flame on a candle. Serve with pomegranate vinaigrette.
Pomegranate Vinaigrette: squeeze the juice from remaining pomegranate half. Whisk in 1/2 cup olive oil, 3 tablespoons lemon juice, 1 teaspoon lemon pepper seasoning and 1/4 teaspoon ground cumin. Drizzle lightly over the salad before serving. Makes about 3/4 cup.
TOMATO-HERB BRAISED BRISKET (MEAT)

MAKES 4 SERVINGS
1 tablespoon all-purpose flour
3-4 pound brisket, trimmed of fat
1 (16 ounce) bag frozen baby onions
3 medium cloves garlic, split in half
5-6 parsley stems and sprigs
1 1/2 teaspoons Italian seasoning
1 (14 -1/2 ounce) can seasoned diced tomatoes
1 (8-ounce) can chickpeas, rinsed and drained
1 1/2 cups dry red wine
Preheat oven to 325F. Dust the inside of a large oven baking bag with the flour according to package directions. Place the brisket in the bag and set in a large roasting pan. Scatter the onions, garlic, parsley and Italian seasoning over. In a small bowl mix the tomatoes, chickpeas and wine and pour over the brisket. Tie bag with a nylon tie (enclosed in package with baking bag). Cut three one-inch slits on top for steam to escape. Bake for 3-3 1/2 hours or until meat is tender. A fork should come out easily when inserted. Let stand for 15 minutes. Slice across the grain. Remove the parsley from the gravy and discard. Spoon the gravy and vegetables over the meat. Pass remaining gravy and vegetables in a sauce boat. Serves 10-12
PEAR-APPLESAUCE (PAREVE)
1/2 cup water
1/4 cup sugar or to taste
4 large Mcintosh apples (about 1 1/2 pounds), peeled, cored and cut in
1-inch chunks
2 ripe pears, peeled, cored and cut in 1-inch chunks
1 tablespoon lime juice
In a large saucepan, stir the water and sugar over medium heat until sugar is dissolved. Add the apples, pears and lime juice. Cover and bring to simmer. Cook for 30 minutes or until apples and pears are soft and broken down. Remove from heat and mash with a fork. If desired, add more sugar to taste. Serve at room temperature. Makes about 4 cups.
WILTED SPINACH WITH ROASTED ALMONDS(PAREVE)
4 tablespoons virgin olive oil, divided
1/4 cup slivered almonds
1 1/4 pounds spinach
1 tablespoon minced garlic
salt and fresh ground pepper to taste
Heat 1 tablespoon olive oil in a small skillet over medium-high heat. Add the almonds and stir fry until golden brown, 1-2 minutes. Set aside Remove tough stem ends from spinach and discard. Wash well and dry in a salad spinner.
Set aside. Heat remaining 3 tablespoons olive oil in a large skillet over medium-high heat. Add the spinach and minced garlic. Stir, cover and cook until spinach is just beginning to wilt, 2-3 minutes. Remove from heat and stir several times. Add salt and fresh ground pepper to taste. Transfer to a warm dish and scatter roasted almonds over. Serve immediately. Serves 4-6
ENGLISH CHANUKAH PUDDING (PAREVE)
1/2 cup vegetable margarine, softened
1/2 cup dark brown sugar, packed
1 1/4 cups soft brown breadcrumbs
1 cup all-purpose flour
1 teaspoon each ginger and nutmeg
2 eggs, lightly beaten
2 tablespoons thawed frozen orange juice concentrate
1/4 cup brandy
3 cups mixed dried fruits (currants, golden raisins, apricots)
1/2 cup chopped walnuts
Spray a 6 cup heatproof bowl with non-stick vegetable spray. Set aside. Cream the margarine and sugar until light and fluffy. Add the breadcrumbs, flour, spices, eggs, orange juice concentrate and brandy. Mix well. Stir in the dried fruits and walnuts. Spoon into prepared bowl and cover tightly with a double layer of aluminum foil tucked around the top of the bowl. Place on a rack in a large, deep saucepan or Dutch oven. Pour in boiling water to come half-way up the sides of the bowl. Cover and bring to gentle boil over low heat. Steam for 3 hours or until toothpick inserted in center comes out clean. Check during cooking adding more boiling water as needed. Serves 8-10
BRANDY-BAKED COMPOTE (PAREVE)
1 (16-ounce) can mandarin orange sections
1/4 cup orange marmalade
1/4 teaspoon ground ginger
1/4 cup brandy
12 dried pear halves, sliced thinly
12 dried apricots, halved
12 pitted prunes
1/2 cantaloupe , cut in 3/4 inch cubes
1 tablespoon toasted sesame seeds
Preheat oven to 325F. Drain the juice from the oranges into a 4 cup measuring cup. Add the marmalade and ginger. Heat in microwave for 1 minute or until marmalade is beginning to melt. Add the brandy and mix well. In a medium baking dish, place the orange sections, dried pears, apricots, prunes and cantaloupe. Pour the marmalade mixture over and stir to combine. Cover loosely with foil. Bake in preheated oven for 45 minutes or until fruits are softened and mixture is bubbling at edges. Sprinkle with toasted sesame seeds. Serve warm or at room temperature. Serves 6-8
JWR contributor Ethel G. Hofman is the former president of the International Association of Culinary Professionals, whose members include the likes of Julia Child. She is the author, most recently, of "Everyday Cooking for the Jewish Home: More Than 350 Delectable Recipes". (Click HERE to purchase. Sales help fund JWR.)
To comment, please click here.