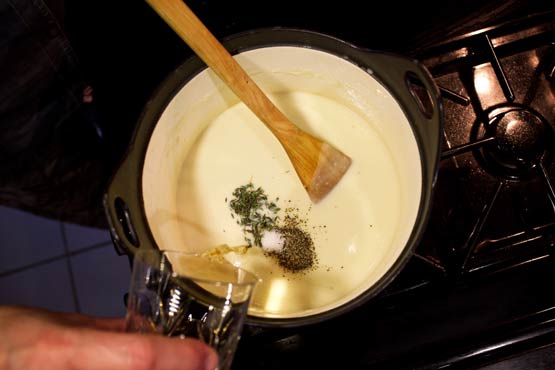 A date, a time, a number of people, a menu: For a savvy caterer, the sum total should add up to precisely the food that's needed. But leftovers of a sort still factor into the equation, says Anna Saint John.
She has been a full-service caterer in the Washington area for 15 years, specializing in parties of 40 to 120 with heavy hors d'oeuvres or a buffet dinner. "What I'm good at is quantity cooking," Saint John says, "making something in a large volume that's tasty and pretty." In other words, she creates her own leftovers, each with a clear purpose.
When she makes vinaigrettes by the blenderful, or base sauces or stocks in quarts, she knows just how far they'll go. That's why the Food section challenged her to scale down three techniques that can help home cooks make the most of their cooked vegetables, meats, onion halves and half-empty condiment jars that might otherwise get tossed.
Waste is something Saint John cannot abide. "I go into people's homes, and I see what they are not doing," she says. "When people ask, 'What do you want for dinner?' the question ought to be, 'What should we eat for dinner?' The answer's most likely in their refrigerator."
Her take on a veloute - the classic, roux-thickened French sauce - becomes the basis of soul-satisfying potpies. She adds fresh or dried herbs and a touch of sherry, which lift it beyond a bland bechamel. Keeping a batch of it in the freezer simplifies the usual multi-step potpie process: making the sauce and pastry, chopping and sauteing the vegetables and protein of choice.
Saint John's production features a few tricks that apply to a casserole-size rendition as well as individual portions. She likes a two-crust potpie but makes it a literal top-and-bottom affair. No dough up the sides. ("Nobody misses it," she says.) She parbakes the bottom crust while she forms and freezes disks for the top crust: "You want the top really cold so it holds its shape when it goes on top of a warm filling."
The defrosted veloute can be reconstituted with a little extra margarine in a saucepan over medium-low heat, while leftover vegetables and poached or shredded rotisserie chicken (or chopped ingredients from a grocery store salad bar) are quickly sauteed in a separate pan.
Saint John's catering repertoire includes pan-Asian dishes, perhaps because Chinese cuisine was the first she set out to master. Now she makes her own "Srirachacha" - a blend of fresno, habanero and red and yellow cayenne peppers, with garlic, salt, rice wine vinegar and a touch of sugar - recently adding it to a meal at home of stir-fried leftover fried rice and duck breast.
"At some point, it hit me," she says. "I've learned that stir-frying needn't be limited to Asian ingredients."
The chef makes a quick pan sauce using broth, fresh tarragon, lemon zest and juice, seasoning it just so before chopped vegetables and/or meat goes in. A small cornstarch slurry thickens the sauce just enough so it clings to the stir-fry components. The entree is light and bright-tasting, on its own or served over noodles. "And the flavors can swing Italian or Mexican, depending on your leftover ingredients," Saint John says.
The sauce inspiration comes from the 1973 "The Flavor-Principle Cookbook," by Elisabeth Rozin. Saint John remembers a demo she attended in the 1990s featuring the author and pots of plain chicken stock. "Adding garlic, ginger and sesame made it Chinese," she says. "Garlic, oregano and tomato made it Italian. Cumin gave it a Mexican feel. I was totally fascinated. Looking back, it seemed way ahead of its time."
Her enchiladas, the last of her technique trio, don't shortchange flavor. "They don't have to contain strictly Latin ingredients, either," she says. A modest-size can of fire-roasted tomatoes, pureed and doctored with a tablespoon of chipotle adobo, becomes the easy pantry sauce she spreads in the bottom of a baking dish and atop the filled enchiladas - no need to even heat up the combined filling ingredients, which, on a day last week, were cooked black beans, collard greens, roasted red peppers, a bit of leftover red onion and a cup of shredded brisket. Saint John softens the stack of paper-towel-wrapped corn tortillas in the microwave so they're flexible and soak in some sauce.
A sprinkling of cheese and 20 minutes in the oven, and dinner for two is done even on a busy weeknight.
"Sometimes I think we're unfocused on how much we have," Saint John says. "You can find ways to use that half a bunch of celery. It doesn't take a lot of creativity."

ANNA'S VELOUTE SAUCE
SERVINGS: 4 cups; enough for a 9-by-13 casserole or potpie
With this flexible base sauce on hand, a potpie or casserole of leftovers becomes a cinch to assemble. The consistency produced in this recipe is slightly thinner than some veloutes.
Feel free to customize with your own favorite fresh herbs.
MAKE AHEAD: The sauce can be frozen for up to 3 months. When you're ready to use it, let it defrost overnight in the refrigerator, then whisk it in a saucepan over medium-low heat with a little extra butter until it comes together again.
From Washington area caterer Anna Saint John.
Ingredients
• 8 tablespoons (1 stick) Earth Balance vegan butter
• 1/2 cup flour 3 cups homemade or no-salt-added chicken broth
• 1/4 cup dry sherry
• 2 stems fresh thyme (may substitute herb of your choice)
• Kosher salt
• Freshly ground black pepper
Steps
Melt the vegan butter in a deep saucepan over medium heat. Whisk in the flour to form a roux; cook for 5 to 8 minutes, whisking constantly, or until the mixture picks up a little color.
Gradually add the broth, whisking constantly; cook for about 10 minutes, until smooth and thickened just enough to coat (nap) the back of a spoon. Stir in the sherry and drop in 1 stem of thyme. Season lightly with salt and pepper; remove from the heat and cool to room temperature.
Discard the thyme stem. Strip the leaves from the remaining stem of thyme and stir them into the veloute sauce.
Nutrition | Per 1/4 cup: 80 calories, 1 g protein, 4 g carbohydrates, 7 g fat, 4 g saturated fat, 20 mg cholesterol, 25 mg sodium, 0 g dietary fiber, 1 g sugar
MELANGE OF REFRIGERATOR ENCHILADAS
SERVINGS: 2
Leftovers can make some mighty good fillings for enchiladas; you just need to know how to bring them together. You can embellish the meat or beans in this easy recipe by mixing them with a tablespoon or two of chipotle en adobo or gojuchang (Korean chili paste) before they are combined with other filling ingredients.
No special sauce is needed; here, just puree canned tomatoes.
Serve with your favorite salsa.
From Washingon area caterer Anna Saint John.
Ingredients
• 1 cup canned, fire-roasted (whole or diced) tomatoes and their juices, preferably no-salt-added
•1 1/2 jarred roasted red peppers, chopped
• 1/2 cup cooked/grilled eggplant, chopped
• 1/2 cup cooked collards or other greens
• 1/2 cup chopped red onion (cooked or raw)
• 1/2 cup cooked shredded/chopped beef or cooked black beans (if using canned beans, drain and rinse them; may use 1/4 cup of each)
• Four 6-inch corn tortillas
• 1/3 cup shredded Monterey Jack cheese/sharp cheddar cheese blend
Steps
Preheat the oven to 375 degrees. Have a baking dish or ovenproof skillet at hand that's just large enough to hold 4 enchiladas.
Pour the tomatoes and their juices into a bowl; use an immersion (stick) blender to puree until smooth. Spread 1/4 cup over the bottom of the skillet or baking dish.
Combine the roasted red peppers, eggplant, collards or other greens, red onion and the beef or black beans in a separate mixing bowl, tossing to incorporate.
Lay a tortilla across the surface of the sauce in the bowl, turning it to briefly coat both sides. Transfer to a clean work surface or plate. Spoon one-quarter of the mixture down the center of the tortilla and roll to enclose, so the seam is on the underside, placing it in the baking dish.
Repeat with the remaining tortillas and filling.
Spoon the remaining tomato puree evenly over the tortillas, then top with the cheese. Bake for 15 to 20 minutes, or until the cheese is bubbling and the filling has warmed through.
Nutrition | Per serving (using black beans): 290 calories, 13 g protein, 47 g carbohydrates, 7 g fat, 4 g saturated fat, 20 mg cholesterol, 420 mg sodium, 9 g dietary fiber, 9 g sugar
MELANGE OF REFRIGERATOR STIR-FRY
SERVINGS: 4
Here, a quick stir-fry sauce - no Asian ingredients required - brings leftover meat and/or vegetables together in an almost elegant way. When she doesn't have homemade broth on hand, Silver Spring, Md. caterer Anna Saint John likes to use the No Chicken Base (vegetarian) made by Better Than Bouillon.
No leftovers to start with? The meats and vegetables are all available on most supermarket salad bars.
Serve on its own, or over rice, noodles or cooked quinoa.
From Washington area caterer Anna Saint John.
Ingredients
• 1 1/2 cups vegetable broth (may substitute chicken broth; see headnote)
• Finely grated zest and juice of 1 lemon
• Leaves from 6 stems fresh tarragon, chopped, or more as needed
• 1 fresh bay leaf
• 1 teaspoon honey, or more as needed
• 1 generous teaspoon Dijon-style mustard, or more as needed
• Kosher salt
• Freshly ground black pepper
• 1/4 cup diced onion (optional)
• 1/4 cup diced celery (optional)
• Meat from 2 cooked boneless, skinless chicken breasts, chopped (may substitute cooked turkey breast; about 3 1/2 cups total)
• 2 roasted red peppers, chopped
• 1 1/2 to 2 cups cooked green beans, cut into 2-inch lengths (may substitute frozen peas or cooked broccoli florets)
• 1 tablespoon cornstarch
• 2 tablespoons water
Steps
Combine the broth, lemon zest and juice, tarragon, bay leaf, honey and mustard in a wide saute pan over medium-high heat. Cook, stirring, until the mixture is just below a boil. Season lightly with salt and pepper. Taste; you're looking for a good balance of flavors, so adjust the seasoning, herbs, honey and/or mustard as needed.
Add the diced onion and celery, if using, the chicken, roasted red peppers and green beans, tossing to coat evenly.
Whisk together the cornstarch and water in small a cup to form a smooth slurry, then whisk it into the saute pan mixture. Cook for a few minutes; the mixture needs to come to a boil so it can thicken. Taste and add salt and/or pepper as needed. Discard the bay leaf before serving.
Nutrition | Per serving (using chicken): 250 calories, 39 g protein, 13 g carbohydrates, 5 g fat, 2 g saturated fat, 105 mg cholesterol, 510 mg sodium, 2 g dietary fiber, 4 g sugar
Comment by clicking here.