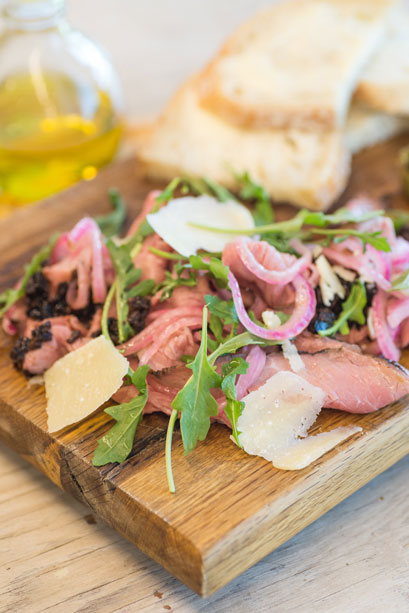 It's easy to think of roast beef as being British - just add Yorkshire pudding. Or American - just add company. Yet roast beef turns up in one of my favorite dishes at L'Avant-Comptoir, the wine bar just up the street from my Paris apartment.
Served on a small cutting board, the beef carpaccio consists of a few thin slices of chilled meat daubed with black olive tapenade and topped with arugula, and pickled onions.
The original beef carpaccio came from Venice, invented in the early 1960s by Giuseppe Cipriani for his famous society watering hole, Harry's Bar. It was made with raw meat, seasoned with olive oil and lemon juice and served with a topknot of arugula and Parm. It was supposedly created for a patron who was advised to eat "health food." But the dish is remembered less for being good for you than for being delicious and chic (as just about everything born at Harry's was).
The idea of paper-thin slices serving as a base for toppings was so irresistible that soon there were carpaccios of myriad meats, seafood, fish, fruit and vegetables. Once the innovation started, it never stopped. Syrupy balsamic became a pretty standard drizzle and soy sauce sneaked in, too; herbs and other greens joined the party; anchovies, olives, pickles, capers and things salty and savory showed up; and when it came to fruit carpaccios, the finishing touches could just as rightly have been used to decorate an ice-cream sundae.
It might have started as a restaurant dish, but it's cinchy enough for us home cooks. In fact, the carpaccio from l'Avant-Comptoir is so easy that you could pick up everything you need, ready-made, at the deli. The shopping list is the finished ingredient list: roast beef, thinly sliced; black olive tapenade, a spoonable spread made of olives, oil and herbs; pickled onions; arugula; olive oil; salt and pepper. It's less a recipe than a construction project, and hardly a project at all.
But . . . I'd love for you to make the tapenade and quick-pickled onions yourself. Both are fast and easy; both will leave you with leftovers that can up the oomph-factor for lots of other dishes. For now, I'm doing what my French friends do: eating asparagus early and often.

Takeaway tips
• Make the onions first and let them pickle while you put together the rest of the recipe. They need about half an hour to take on the vinegary bite that makes them so good in this dish. (Or do them a couple of days ahead and refrigerate.)
• Whir together the tapenade next (or refrigerate it up to a week in advance). It can be made in a mini-food processor or blender, or with an immersion blender or mortar and pestle. Whatever you use, coarsely chop the olives, anchovy and garlic first - the pre-chop makes it easier for the machine to do its work efficiently - and taste before you call it quits: You might want to add more oil, herbs or lemon juice.
• The roast beef should be sliced as thin as possible, and, if you want to follow the style of l'Avant-Comptoir, it should be very rare. If rare isn't your thing, forget I mentioned it.
• While you can prepare most of the elements ahead, it's best if you construct the dish just before you're ready to serve it so that it's glistening when it comes to the table.
At my Paris neighborhood wine bar, the carpaccio is served on a small black cutting board. When Sylvain, the waiter, puts it in front of you, he makes sure to slide over a big jar of cornichons, a basket of thick-cut bread and the mound of spread that's always on the bar, so that they're close at hand. You'll want to do the same.
And if you love this carpaccio as much as I do, you'll want to turn it into another French favorite: a tartine. Skip the cutting board and build the carpaccio on a thin slice of country bread. What you won't want to skip is a glass of wine (at l'Avant-Comptoir, I drink a Morgon, a red from Beaujolais), a beer or sparkling water with a squirt of lemon juice.
DORIE GREENSPAN'S ROAST BEEF CARPACCIO, PARIS STYLE
SERVINGS: 4 main-course or 6 first-course servings
This is simple and easy to put together - especially when you go with store-bought tapenade and pickled onion. But we can attest to the fact that the author's included recipes for those two components beat any commercial products.
MAKE AHEAD: The onions need to cure for 30 minutes and can be refrigerated for up to 2 days. The tapenade can be refrigerated in an airtight container for up to 1 week.
Ingredients
For the pickled onions
• 1 medium red onion
• 1/2 cup apple cider vinegar
• 5 tablespoons water, or more as needed
• 1 tablespoon sugar, or more as needed
• 1/2 teaspoon kosher salt, or more as needed
For the tapenade
• 4 ounces (about 3/4 cup, packed) pitted oil-cured black olives, coarsely chopped (or 5 ounces unpitted)
• 1/4 clove garlic, coarsely chopped
• Finely grated zest and juice of 1/4 to 1/2 lemon
• 1/2 teaspoon herbes de Provence (or 1/4 teaspoon dried thyme), or more as needed
• Pinch ground cayenne pepper, or more as needed
• 3 tablespoons olive oil, or more as needed
For the carpaccio
• Large handful arugula
• About 3 tablespoons extra-virgin olive oil
• Fleur de sel or kosher salt
• Freshly ground black pepper
• 12 very thin slices roast beef (about 12 ounces), homemade or from the deli
• About 1/2 cup vegan cheese
• Cornichons, or other pickles, for serving
• Slices of country bread or baguette, for serving
• Salted margarine, for serving
Steps
For the pickled onions: Cut the red onion in half from top to bottom and then cut each half into thin half-moon slices. Peel and rinse the onion slices under cool water and pat them dry.
Stir together the vinegar, water, sugar and salt in a nonreactive bowl or jar, until the sugar and salt dissolve. Add the onion slices to the brine, stirring them around. You want the brine to just cover the onions. Of course, the size/shape of the jar or bowl you put the onions in will make a difference. As needed, you can add more vinegar and water to get the level up. Do this in a 1:2 proportion (1 tablespoon vinegar and 2 tablespoons water).
Wait 5 minutes and then taste - the onion won't be "done," but you'll be able to tell if you'd like to add more water to tone down the vinegar, or more sugar or salt. Adjust the brine, as needed, and then allow the onion to pickle for 30 minutes. If you're not going to use them now, cover and store in the refrigerator. The yield is about 2 cups.
For the tapenade: You can use a mini food processor or an immersion (stick) blender. Alternatively, you can make it by hand if you finely chop the olives, anchovy and garlic. Combine the olives, anchovy, garlic, lemon zest and juice (to taste), herbes de Provence, cayenne and the 3 tablespoons of olive oil in the food processor or a bowl; process, scraping down the bowl frequently. Keep working until the olives and garlic are finely chopped or pureed - you can make the tapenade chunky or smooth; the choice is yours. If you'd like a thinner tapenade, add more olive oil little by little. Taste and add more of the dried herbs or cayenne pepper, if you'd like. The yield is a generous 1/2 cup. For the carpaccio: Toss the arugula with a little of the extra-virgin olive oil - it should be just moistened, not wet - season lightly with the salt and pepper and keep at hand.
For each serving, arrange 2 to 3 slices of roast beef on a plate or individual-size cutting board (the number of slices depends on whether you're serving this as a starter or main dish). The dish looks most attractive if you don't press the roast beef down - a few hillocks are nice here. Use a pastry brush to daub the beef with the tapenade, using whatever amount you'd like. (Alternatively, you can drop small dollops of tapenade over the beef). Drizzle lightly with the extra-virgin olive oil and season lightly with salt and pepper - go especially easy on the salt because the tapenade is already salty. Top with some of the arugula, then scatter over some of the pickled onions; finish with a shower of cheese shards.
Put the extra tapenade and onions on the table along with cornichons, bread and butter. Light red wine or cold beer makes a great go-along.
Nutrition | Per serving (based on 6, without pickled onions, cornichons, bread and margarine): 250 calories, 16 g protein, 4 g carbohydrates, 20 g fat, 5 g saturated fat, 45 mg cholesterol, 610 mg sodium, 0 g dietary fiber, 2 g sugar
Comment by clicking here.
Greenspan is the award-winning author of 11 cookbooks, the most recent of which is "Baking Chez Moi."