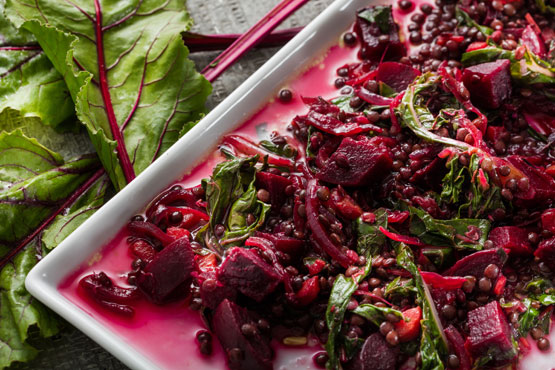 This earthy vegan salad, stained an alluring wine-red, is hearty enough to be a meal centerpiece, served on a bed of salad greens and accompanied by a chewy roll or piece of crusty bread.
Author Anna Thomas suggests that when you're serving it to a crowd that includes vegetarians, add slivers of ricotta salata or aged Jack or chunks of gorgonzola.
For omnivores, top it with smoked fish or sliced smoked duck leg as a garnish.

ROASTED BEET AND LENTIL SALAD
SERVINGS 8
For the salad Ingredients
• 2 pounds small to medium beet roots with at least 1/2 pound greens (see below)
• 2 1/2 teaspoons sea salt, plus more as needed
• 1 1/4 cups Beluga or other black lentils (may substitute brown or green lentils)
• 3 medium carrots, scrubbed and finely diced
• 3 cloves garlic
• 1 dried arbol chili pepper (may substitute another dried chili of your choice)
• 2 tablespoons extra-virgin olive oil
• 1 large red onion, quartered and thinly sliced
• 1 1/2 tablespoons balsamic vinegar
For the vinaigrette
• 5 tablespoons fresh lemon juice
• 3 tablespoons extra-virgin olive oil
• 2 tablespoons agave nectar
• 1 teaspoon fine sea salt
Steps
For the salad: Preheat the oven to 400 degrees.
Scrub the beets and trim off the greens, leaving an inch of the stalks. Wrap the damp beets in heavy-duty aluminum foil and roast them until they can be easily pierced with a fork, 45 minutes to 1 1/2 hours, depending on their size. Let them cool until you can easily handle them, then slip off their skins, trim off the stalks and cut them into 1/2-inch dice. (You should have about 3 1/2 cups.)
While the beets are roasting, bring 8 cups water to a boil in a medium saucepan over medium-high heats. Add 2 teaspoons of the salt, plus the lentils, carrots, garlic cloves and arbol chili pepper. Reduce the heat to medium-low so the liquid is gently bubbling, and cook the lentils until they are just tender but still firm, 25 to 30 minutes. Drain the lentils. (Keep the broth for soup if you'd like.) Discard the chili pepper and garlic. Spread the lentils and carrots on a baking sheet to cool.
Wash the beet greens, trim off only the thick lower stalks, cut the leaves in half lengthwise if they are large, then stack and cut them into 1/4-inch strips.
Heat 1 tablespoon of the oil in a large skillet over medium-high heat. Once the oil shimmers, add the onion and 1/4 teaspoon of the salt, tossing frequently until the onion is softened, blistered and shows brown spots, 6 to 7 minutes. Turn off the heat, add the vinegar and stir quickly as the vinegar sizzles away.
Combine the onion and diced beets in a large mixing bowl.
In the same skillet, heat the remaining tablespoon of oil over medium-high heat. Add the damp beet greens and the remaining 1/4 teaspoon salt, and toss them until they are just wilted, 3 to 4 minutes. Add the greens to the beet mixture.
For the vinaigrette: Whisk together the lemon juice, oil, agave and salt in a medium bowl, or shake them together in a jar fitted with a lid. (You should have about 2/3 cup.)
Add the lentils and carrots to the beet mixture, along with 1/4 cup of the dressing, and gently toss to combine. Right before serving, taste, and add salt or more of the dressing as needed. Divide among plates and serve.
Comment by clicking here.