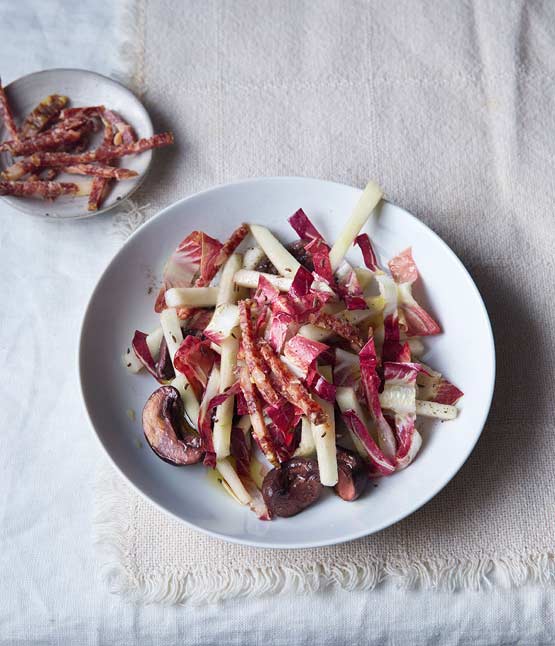 I love a salad with sweet, crunchy apples, such as ginger golds, especially when paired with salami and wine-marinated mushrooms. The apples sourced for testing this recipe found in my latest cookbook, "America -- Farm to Table" (Grand Central Life & Style, $35), came from Bardenhagen Farms in Suttons Bay, Mich., because, well, Michigan apples just taste better (with the exception of New York locals and my home state of Washington's finest !).
The earthy addition of mushrooms in the vinaigrette really takes this apple salad to a different field of flavor. When prepping the mushrooms, you don't want them to soak in water because they absorb liquid like sponges and subsequently won't brown nicely when full of water. These marinated mushrooms will store well in the refrigerator for up to one week. If you want to can them for longer storage, see the USDA website for canning instructions.
You can substitute any cured meat for the salami.

APPLE SALAD WITH SALAMI AND WINE-MARINATED MUSHROOMS
SERVES 4
For the Marinated Mushrooms:
1/2 pound shiitake mushrooms
1/2 pound cremini mushrooms
1 cup dry red wine
1/4 cup red wine vinegar
2 tablespoons whole black peppercorns
2 tablespoons kosher salt
1 sprig fresh rosemary
Pinch of red pepper flakes
For the Apple Salad:
1 Ginger Gold apple, peeled and cored, (may sub any tart, crunchy apple like Granny Smith or Honey Crisp)
1 small head radicchio
1/4 teaspoon caraway seeds
1/4 cup red wine vinegar
1 teaspoon kosher salt
Freshly ground black pepper
1/4 pound firm salami, cut into julienne
1/4 cup extra-virgin olive oil
Clean any dirt from the mushrooms with a brush; do not wash them. Halve the creminis and remove the tough stems from the shiitakes. Break or cut the shiitakes into 1-inch pieces.
Pour the wine and vinegar into an 8-quart saucepan and add 6 cups water, the peppercorns and the salt. Bring to a boil.
Add the rosemary sprig to the pot. Then, add the mushrooms all at once (leave any loose bits on the cutting board). Add the red pepper flakes and stir. Return the mixture to a boil, then reduce the heat to maintain a simmer, cover, and cook for 20 minutes.
Ladle the mushrooms into storage containers, top off with the cooking liquid, and let cool.
When you are ready to assemble the salad, drain 1 1/2 cups of the marinated mushrooms and place them in a salad bowl.
Cut the apple into 1/8-inch julienne and toss it in with the mushrooms.
Add the radicchio, caraway, vinegar, salt and pepper to taste. Add the salami pieces and olive oil, toss well to mix, and serve.
Comment by clicking here.
Mario Batali is the award-winning chef behind twenty-four restaurants including Eataly, DelPosto, and his flagship Greenwich Village enoteca, Babbo.