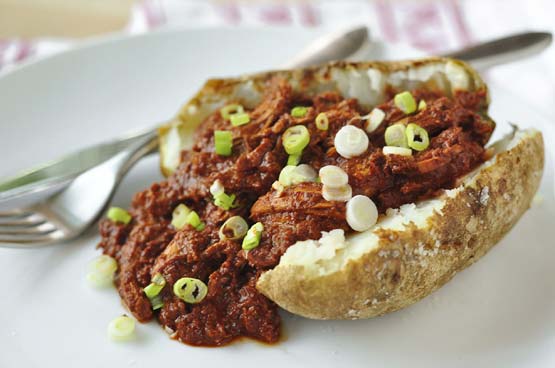 A baked potato is hardly the most glamorous of dinners. In fact, it's downright humble. That is, until you look beyond the potato's Plain Jane appearance and instead consider it as a vehicle for greatness. And by greatness, I mean some of the most delicious sauces.
Take mole, that Mexican sauce of unsurpassed savory depth. It's a rich blend of chilies, spices and nuts with a surprising hit of bitter chocolate. Traditionally, this sauce is poured over chicken and served with rice. Why not pair it with baked potatoes?
Indian curries offer another option for our baked potato upgrade. Many curries already include soft bites of potato simmered in their spicy sauces, so let's just reverse the proportions.
A baked potato may never be the most dazzling dish on your dinner table. But pair it with the right sauce, and it doesn't have to be.

CHEATER'S ONE-HOUR MOLE FOR BAKED POTATOES
Recipes for mole famously include long ingredient lists and even longer cooking times. The payoff is well worth it, but it's also possible to make a simplified sauce in much less time. Be sure to find unsweetened chocolate; other chocolates make the sauce too sweet.
SERVES: 4-6
1 to 1 1/2 lbs boneless skinless chicken breast

Bay leaf

Salt

4 dried ancho chilies (2 ounces)

1/3 cup (1 1/2 ounces) raisins

1 teaspoon cooking oil

1 onion, diced

4 cloves garlic, minced

1/2 teaspoon cumin

1/2 teaspoon oregano

1/2 teaspoon cinnamon

2 tablespoons (1 ounce) tomato paste

1/3 cup (2 ounces) almonds

1 ounce unsweetened chocolate, chopped

Baked Potatoes (recipe follows)

Green onions, sliced thinly

Place the chicken, bay leaf, and one teaspoon of salt in a large saucepan and cover with an inch of water. Bring to a simmer over medium-high heat and continue simmering gently for 15 minutes until cooked through. Remove the chicken breasts and set aside. Discard the cooking liquid and wipe the saucepan clean.
Split the chilies down the middle, shake out the seeds, and remove the stems. Place the chilies and raisins in a bowl and cover with very hot water. Soak for 20 minutes.
In the saucepan used for the chicken, heat oil and cook the onions until soft and golden, five minutes. Add the garlic and spices. Cook until fragrant, 30 seconds. Stir in the tomato paste.
Set a strainer over a measuring cup and strain the chilies and raisins. You should have about 2 1/2 cups of soaking liquid; add extra water if needed. Combine the drained chilies, raisins, cooked onions, almonds, and 1/2 teaspoon of salt in a food processor or blender. Blend to form a thick paste. Scrape down the sides. With the blender running, stream in 1 1/2 cups of the soaking liquid to form a sauce. Add more liquid if a thinner sauce is desired.
Return the sauce to the saucepan and set over medium-low heat. Stir in the chocolate. Pull the chicken into pieces and add these to the sauce. Continue simmering until all the chocolate has melted. Salt to taste.
Serve over baked potatoes and garnish with green onions. Leftover sauce can be refrigerated for one week or frozen for up to three months.
CHEESEY BAKED POTATOES
SERVES 4-6
2 teaspoons cooking oil, divided

12 ounces farmer's cheese, queso blanco or firm tofu

1 onion, thinly sliced

1/2 inch ginger, peeled and grated

4 cloves garlic, minced

1 teaspoon cumin

1 teaspoon coriander

1/2 teaspoon cinnamon

10 ounces baby spinach

1 cup (8 ounces) whole milk yogurt

Salt

Baked Potatoes (recipe follows)
Warm a teaspoon of oil in a large skillet over medium-high heat. Add the cheese or tofu and cook without stirring for three minutes to sear the underside. Stir and cook another three minutes. Continue until your choice is uniformly golden on all sides. Transfer to a bowl.
Warm another teaspoon of oil and cook the onions until they soften and turn golden, five minutes. Add the ginger, garlic and spices. Cook until fragrant, 30 seconds. Add the spinach. Stir gently until the spinach wilts.
Stir in the yogurt. Simmer until the sauce has thickened slightly. Stir the paneer back into the sauce.
Serve over baked potatoes. Leftover sauce can be refrigerated for one week or frozen for up to three months.
BAKED POTATOES
1 Russet potato per person

Olive oil

Salt

Pepper
Pre-heat the oven to 425 F. Scrub the potatoes and prick them all over with a fork. Rub the potatoes with olive oil and sprinkle them generously with salt and pepper. When the oven has heated, place the potatoes on a parchment-lined baking sheet and bake for 45-60 minutes until they feel soft all the way through when pierced with a fork.
Comment by clicking here.