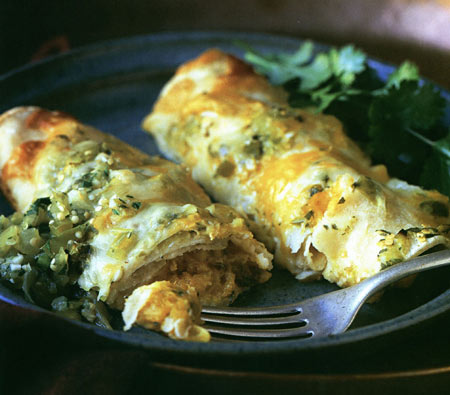 These enchiladas are not your typical cheese, shredded beef, chicken or pork variety. Savory yet slightly sweet, these squash-stuffed tortillas are just unusual enough to brighten up any meal. Every time I serve this I get phone calls the next day begging me for the recipe.
If you don't have time to make Salsa Verde, buy a store-bought variety. You can now find peeled and precut butternut squash in supermarkets, and that will save you even more time. These shortcuts help cut out lots of steps.
You will have to do a few things in advance to put these awesome enchiladas together. To roast the garlic, wrap 15 peeled garlic cloves in foil and bake for about 45 minutes at 375, or until soft. Cool the garlic cloves and mash them to a paste. The roasted garlic puree adds a complex flavor layer to the squash. Make up the Chipotle Cream by adding a few dashes of chipotle Tabasco sauce to sour cream. I have included a Salsa Verde recipe below.
Once all of the preparation is done, you can have fun putting these together with friends, almost like an assembly line. I have doubled the recipe successfully for larger parties and have often doubled it so I can freeze a recipe for a future meal. You can prepare these a day ahead, cover and refrigerate. Bring to room temperature before baking. If they are frozen, defrost and reheat.
Serve this as vegetarian main course along with a simple green salad with toasted pumpkin seeds, or serve it as a side dish with roast chicken or grilled shrimp. Chilled Mexican beer, Sauvignon Blanc or a spicy Zinfandel would be a nice accompaniment.

WINTER SQUASH AND CORN ENCHILADAS WITH SALSA VERDE AND CHIPOTLE CREAM
SERVES: 6
1 large butternut or other winter squash, about 2 1/2 pounds, halved or 2 pounds precut peeled and seeded squash
2 tablespoons olive oil
6 scallions, light green and white part only, thinly sliced
1 tablespoon roasted garlic
1 cup corn kernels (about 2 ears, shucked) or frozen and defrosted
Salt and freshly ground black pepper
2 tablespoons finely chopped cilantro
12 (6) inch corn tortillas
1 1/2 cups shredded Monterey jack cheese
11/2 cups shredded mozzarella cheese
1 recipe Salsa Verde (see below)
1/2 cup Chipotle cream
2 tablespoons finely chopped cilantro

1. Carefully cut the peel from the squash and cut the flesh into 1-inch slices, removing the seeds. (Or use the pre-cut and peeled squash.) In a large steamer put 2 inches of water on the bottom and bring to a boil. Using tongs, carefully place the squash slices in the steamer, cover and steam on medium heat for 15 to 20 minutes, or until fork tender. (Or place the squash in a glass bowl, cover loosely with plastic, and microwave on high for 5 minutes or until fork tender.) Reserve.
2. In a large skillet heat the oil on medium-high heat. Add the scallions and saute for 3 to 4 minutes or until very soft and lightly browned. Add the cooked squash and roasted garlic and continue sauteing for 2 to 3 more minutes or until the squash is soft and mashed. (Use a potato masher to mash it up.). Add the corn and cook another minute. Add the salt, pepper and cilantro and mix to combine.
3. Preheat the oven to 350F. Grease a 9- by 13-inch baking pan.
4. Combine the jack and mozzarella cheese in a bowl. Mix them around so they are evenly blended. Place the bowls of squash, cheese and salsa on a counter with individual serving spoons.
5. Place each tortilla over the flame of the burner or in a non-stick skillet for about 10 seconds to soften it. Place on a plate.
6. Place each tortilla on the counter and fill with 1 big tablespoon of the squash filling down the middle of the tortilla. Sprinkle two tablespoons of the cheese on top and then roll it up. Place the enchilada seam side down in the baking pan. Repeat with the remaining tortillas.
7. Pour over the Salsa Verde evenly. Sprinkle the remaining cheese over the enchiladas. Bake for about 20 to 25 minutes or until the enchiladas are bubbling and the cheese has melted.
8. To serve: Place 2 enchiladas on a plate and put a dollop of the Chipotle Cream on top. Garnish with cilantro and serve immediately.
SALSA VERDE
The tomatillo resembles a small green tomato. A relative of the Cape Gooseberry family, tomatillos have a slightly lemony, herbal flavor. If fresh tomatillos are unavailable, substitute a drained 12-ounce can of tomatillos.
Makes about: 1 3/4 cups
. 1 3/4 cups chicken stock
3/4 pound tomatillos, husked, rinsed and diced
4 scallions, light green and white part, sliced thinly
2 medium cloves garlic, minced
1/ 4 teaspoon ground cumin
2 jalapeno chilies, finely chopped (or to taste)
2 teaspoons limejuice
2 tablespoons chopped cilantro
1/2 teaspoon salt

Combine the stock, tomatillos, scallions, garlic, cumin and 1 chopped chili in a pan on medium-high heat and bring to boil. Reduce heat, partially cover and simmer for about 15 minutes or until slightly thickened. Cool slightly. With a hand blender puree the mixture leaving some texture. Add the remaining chili, limejuice, cilantro and salt. Taste for seasoning. Cover and refrigerate. This may be kept up to 3 days in the refrigerator. Remove from refrigerator 1/2 hour before serving.
Comment by clicking here.
Diane Rossen Worthington is an authority on new American cooking. She is the author of 18 cookbooks, including "Seriously Simple Holidays," and also a James Beard award-winning radio show host.