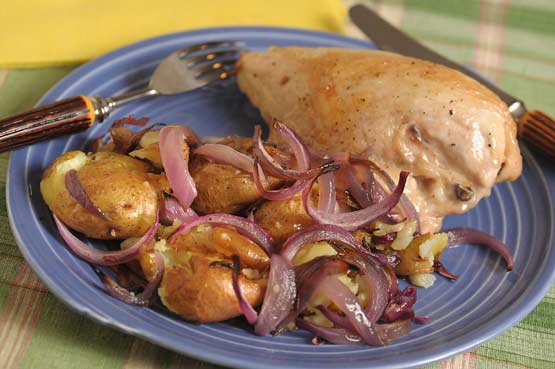 Does your dinner ritual include a cocktail?
Perhaps you and your partner sip a rumtini -- rum, blue Curacao and Grand Marnier -- while you're planning your menu, or maybe you prefer a classic Manhattan while you're stirring beef stew.
Whatever your preference, you can add lively flavors to your dinner if you add a dash of spirits to the pot as well as to your cocktail glass.
The more flavor there is in the alcohol, the more flavorful your dish. Culinary choices include rum, brandy, bourbon, gin and Scotch. Cooking smoothes the sharp taste of liquor, imbuing the food with mellow smoky and herbal flavors. (Keep in mind that some but not all of the alcohol will cook off.).
When adding liquor to food, use a small amount, about a tablespoon or two. The effect shouldn't be a second round of drinks in your entree.
In the following roast chicken dish, bourbon pairs with maple syrup and vegan butter for a rich basting sauce. Although the ingredient list calls for the Wild Turkey brand -- for the sake of a good recipe title -- use whatever bourbon you have on hand.
With such tasty gravy, potatoes are the must-have accompaniment. Roast the combination of potatoes, garlic and shallots at the same time the chicken is cooking.

WILD TURKEY CHICKEN
Serves: 2
Preparation time: 5 minutes
Cooking time: 40 minutes
2 chicken breast halves
1 teaspoon canola oil
1 tablespoon maple syrup
1 teaspoon vegan butter, melted
1 1/2 tablespoons bourbon whiskey
1/8 teaspoon salt
1/8 teaspoon pepper
1/16 teaspoon crushed red pepper flakes
Place chicken in an ovenproof ceramic or glass baking dish. Brush with canola oil. Roast in preheated 375 F oven for 25 minutes. Combine maple syrup, butter, whiskey, salt, pepper and crushed red pepper flakes in a cup. Generously baste chicken. Return to oven for 10 to 15 minutes or until golden brown and cooked through. Serve with pan juices.
Each serving has: 295 calories; 11 grams total fat; 29 grams protein; 9.5 grams carbohydrates; 87 milligrams cholesterol and 184.5 milligrams sodium.
SMASHED POTATOES WITH GARLIC
Serves: 2
Preparation time: 5 minutes
Cooking time: 40 minutes
6 small new red potatoes, unpeeled
1 garlic clove, unpeeled
2 large shallots, peeled, cut into thin wedges
1 tablespoon olive oil
/8 teaspoon salt or to taste
1/8 teaspoon pepper or to taste
Combine potatoes, garlic and shallots in small roasting pan or glass baking dish. Drizzle on oil, salt and pepper. Stir to combine. Roast in preheated 375-degree oven for 40 minutes or until potatoes are fork tender. Remove from oven.
Pinch garlic skin to remove garlic pulp. Combine with potatoes and shallot. Smash vegetables with a large fork until mixture is chunky.
Each serving has: 300 calories; 4 grams total fat; 7 grams protein; 58 grams carbohydrates; 149 milligrams sodium and 5.5 grams dietary fiber.
Comment by clicking here.
Bev Bennett is the author of, among others, "30 Minute Meals for Dummies."