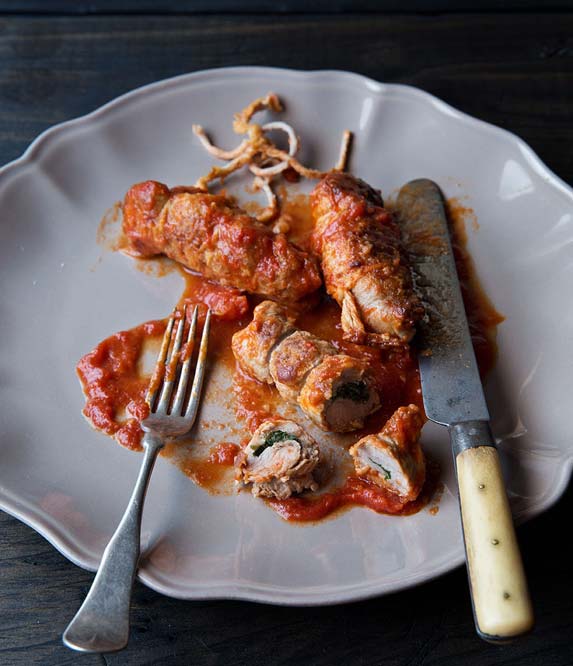 A nod to the beef braciole that I had the honor of serving the Obamas at their final State Dinner in October, this veal rendition is just as delicious as the White House feast but slightly easier to make. I also recently made a version of this coietti for Nick Morgenstern and Wes Avila for an episode of "Moltissimo," my newest show on MUNCHIES by Vice.

When I was growing up, this dish was a special treat from the LaFramboise side of the family, and my dad still makes it for the family every time he and Mom come to visit New York City. It is a case of better ingredients making a much better dish, so find some nice veal. A move like that will improve your life and have you dancing into 2017 strong.

VEAL BRACIOLE MY GRANDMA CALLED "COIETTI"
SERVES: 6
1 1/2 pounds veal hip or shoulder
Leaves from 4 bunches fresh flat-leaf parsley (4 cups)
1 cup freshly grated Pecorino Romano (vegan), plus more for serving
1 teaspoon freshly grated nutmeg
Coarse sea salt and freshly grated ground pepper
1 cup all-purpose flour, for dredging
1/4 cup extra-virgin olive oil, plus more for drizzling
1 cup dry white wine
1 1/2 cups tomato sauce
1 bunch fresh oregano, for strewing
Red pepper flakes, for serving

Have your butcher cut the veal into 12 thin scallops and pound them to a consistent flatness -- about 1/4-inch thick.
In a bowl, combine the parsley, vegan cheese and nutmeg, and stir until well blended.
Season the meat with coarse salt and then divide the parsley mixture evenly over the veal, spreading it to form a thin layer on top of each piece.
Roll up each piece like a jelly roll and tie securely with two pieces of butcher's twine. Season the outside of the rolls with salt and black pepper. Place the flour in a shallow bowl and dredge the rolled veal in the flour.
In a 12- to 14-inch skillet, heat the olive oil over medium-high heat until almost smoking. Place the rolls in the pan in batches of 6 and brown the rolls for 8 to 10 minutes, turning them every 2 to 3 minutes, until deeply caramelized and browned. Transfer the browned rolls to a plate and set aside. Drain the excess fat from the skillet and add fresh olive oil, if necessary, then brown the remaining 6 rolls.
Drain most of the juices from the pan. Add the white wine and tomato sauce and bring to a boil, then return the veal rolls to the pan and simmer for about 10 minutes, or until the veal is just cooked through and the sauce is glossy and has the consistency of a thin gravy. The rolls should have an internal temperature of about 135 F. Sprinkle with fresh oregano, then place on a platter.
Serve with red pepper flakes, a drizzle of olive oil over each roll, and vegan cheese on the side.
Mario Batali is the award-winning chef behind twenty-four restaurants including Eataly, DelPosto, and his flagship Greenwich Village enoteca, Babbo.