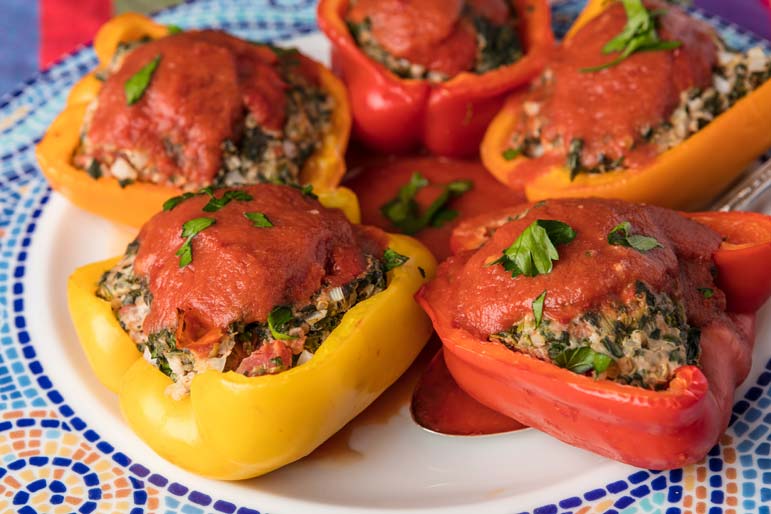 These stuffed peppers have a homey, old-world appeal but with a healthful update that makes them an even better fit on today's table.

They are built on the same tried-and-true foundation of sweet bell peppers stuffed with a mixture of seasoned meat and grains, baked in a tomato-y sauce. But they have more color, nutrition and fresher flavor because brightly hued (more vitamin C-rich) red, yellow and/or orange peppers are used instead of green, and generous helpings of chopped spinach and fresh herbs enliven the stuffing.

Also, rather than ground beef and white rice, like my grandma used, these stuffed peppers are made with leaner ground turkey and more-nutrient-packed quinoa. To get the peppers to the right relaxed softness without overcooking the filling, you give them a head start in the baking dish and then let them cool as you prepare the rest of the ingredients. The result is a complete family-friendly meal that my grandma would definitely approve of.

TURKEY-AND-QUINOA-STUFFED PEPPERS
4 to 6 servings
It's helpful to have an instant-read thermometer.
MAKE AHEAD: Assembled, unbaked peppers can be covered and refrigerated up to 2 days in advance.
Ingredients
• 4 medium bell peppers (red, yellow, orange or a mix) (about 6 ounces each)
• One 14.5-ounce can diced, no-salt-added tomatoes, strained, juices reserved
• One 10-ounce package frozen chopped spinach, defrosted, with excess moisture squeezed out
• 1/2 cup minced onion (from 1/2 medium onion)
• 3/4 cup cooked quinoa (from 1/4 cup uncooked)
• 1 large egg, lightly beaten
• 2 tablespoons chopped flat-leaf parsley leaves, plus more for garnish
• 2 teaspoons chopped fresh thyme leaves (may substitute 3/4 teaspoon dried thyme)
• 3/4 teaspoon sea salt
• 1/2 teaspoon freshly ground black pepper
• 1 pound ground turkey (92 or 93 percent lean)
• One 15-ounce can no-salt-added tomato sauce
Steps
Preheat the oven to 350 degrees.
Cut the peppers in half lengthwise and remove their cores and ribs. Place them cut side up into a 9-by-13-inch baking dish. Cover the dish with aluminum foil; bake for 20 minutes, until the peppers are slightly softened, then remove from the oven, uncover and let cool slightly.
Meanwhile, combine the tomatoes, spinach, onion, quinoa, egg, the 2 tablespoons of parsley, the thyme, 1/2 teaspoon of the salt and 1/4 teaspoon of the pepper in a mixing bowl until incorporated. Add the turkey and mix with your hands until just combined.
Stir together the reserved juice from the tomatoes, the tomato sauce, the remaining 1/4 teaspoon of salt and the remaining 1/4 teaspoon of pepper in a medium bowl to form a thick sauce.
Fill the pepper halves with the turkey-quinoa mixture, then spoon some of the tomato sauce mixture over the peppers; pour the rest on the bottom of the dish. Cover tightly with aluminum foil and bake for 30 minutes, then uncover and bake for 25 to 35 minutes, until the filling reaches an internal temperature of 165 degrees on an instant-read thermometer.
Serve with some of the sauce (from the baking dish) spooned on top. Garnish with a little extra parsley.
Nutrition | Per serving (based on 6, using 93 percent lean turkey): 240 calories, 20 g protein, 24 g carbohydrates, 8 g fat, 2 g saturated fat, 85 mg cholesterol, 450 mg sodium, 6 g dietary fiber, 9 g sugar