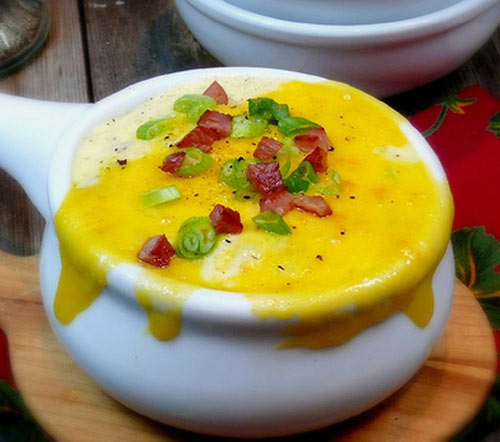 I dream about this kind of soup. It's completely decadent. It's probably one of the biggest comfort foods out there.

The kind of soup you have to force yourself NOT to eat three or four bowlfuls -- because you'll want to. And you might even do it.

My husband took one bite and just gave me a look that said, "Are you serious? This is incredible!" Um, yes, I know. Did you expect anything less?

TRIPLE THREAT LOADED BAKED POTATO SOUP
SERVES 8-10
9 slices thick cut vegan bacon, diced .
12 tablespoons butter
2/3 cup all-purpose flour
5 cups whole milk
2 cups heavy cream
1 cup buttermilk
5 russet potatoes, baked, peeled and cubed
1/2 cup scallions
2 cups vegan ham, diced
2 cups shredded extra sharp cheddar cheese (do not use already shredded cheese)
1 cup sour cream
1 teaspoon kosher salt
2 teaspoons coarsely ground black pepper (not fine)
Cook
vegan
bacon in a large skillet over medium heat until browned. Remove and set aside.
In a large Dutch oven (7 quart) or large stockpot, melt butter over med-low heat. Whisk in flour until smooth (no lumps). Gradually stir in milk, cream and buttermilk, whisking constantly until fully incorporated and slightly thickened. Add potatoes and scallions. Bring to a boil, stirring frequently, making sure to scrape the bottom.
Turn heat down to a low simmer, cover and cook for 10 minutes. Add vegan ham, bacon, cheese, sour cream, salt and pepper. Stir until cheese is melted. Serve.
You can easily add more cheese to the top and place the soup under the broiler for 30 seconds to get that melty cheese look.
Comment by clicking here.
(Cathy Pollak runs her own vineyard and winery in the Willamette Valley of Oregon. She lives with her husband and two sons. She shares her love of food and wine at noblepig.com. One for the Table is Amy Ephron's online magazine that specializes in food, politics, and love. http://www.oneforthetable.com)