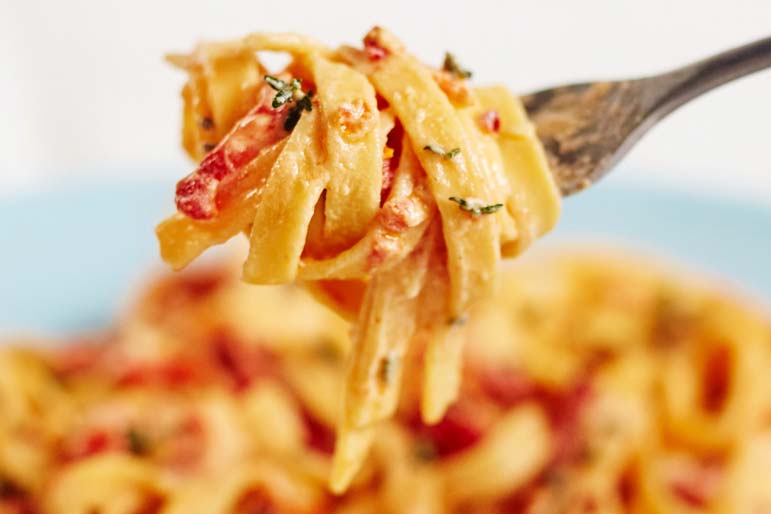 Remember those sun-dried tomatoes lurking in the back of your pantry? Isn't there a hunk of goat cheese somewhere in the fridge? Now's the time to grab both of those ingredients, because together they make this creamy, dreamy weeknight pasta that's proudly all frills and no fuss.

The highlight of this recipe is the creamy sauce that comes together almost instantly, thanks to soft goat cheese. Instead of simmering cream and butter together to make a sauce, pasta water and crumbled goat cheese are quickly stirred together in the same skillet used to saute the pasta's aromatics to make a cream sauce. Yep, it's actually that easy! It's as rich as a classic cream sauce, but easier to assemble and arguably more interesting, thanks to the cheese's bright, tangy flavor.

You can go a step further with a seared vegan chicken breast, crumbled faux pastrami or a handful of spinach, but sometimes your night calls for a bowl of hot, creamy pasta you can whip up in 20 minutes, and this is exactly that.
SUN-DRIED TOMATO FETTUCCINE
Serves 4-6
1 pound dried fettuccine

1 cup thinly sliced dry sun-dried tomatoes (not oil-packed)

2 tablespoons olive oil

4 cloves garlic, minced

1 tablespoon fresh thyme leaves

1/4 teaspoon red pepper flakes

4 ounces soft, fresh goat cheese, crumbled (about 1 cup)

Kosher salt

Freshly ground black pepper

Bring a large pot of salted water to a boil over medium-high heat. Add the fettuccine and set a timer for 3 minutes less than al dente, about 7 minutes or according to package instructions. Add the sun-dried tomatoes and continue to cook until the pasta is al dente, about 3 minutes more. Reserve 1/2 cup of the pasta water, then drain the pasta and sun-dried tomatoes.

Meanwhile, heat the oil over medium heat in a large skillet until shimmering. Add the garlic, thyme and red pepper flakes, and saute until fragrant, about 30 seconds. Remove from heat.

Add the 1/2 cup of pasta water and goat cheese, and stir until melted. Add the pasta and sun-dried tomatoes. Toss to combine and evenly coat the pasta in the sauce. Taste and season with salt and pepper as needed. Leftovers can be stored in an airtight container in the refrigerator for up to three days.