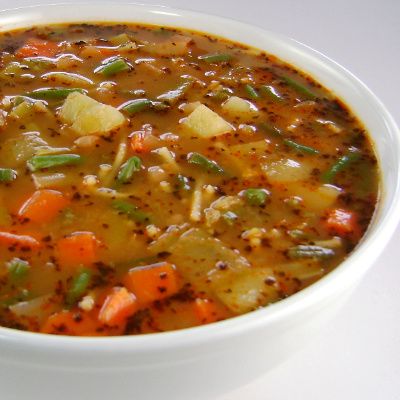 There's more to French soups than "oignon." There is, for example, pistou.
"Soupe au pistou" is a vegetable soup from Provence. It is a hearty, flavor-intensive bowl of vegetables with an incredibly tasty basil and garlic topping. Like bouillabaisse -- the famous Provencal fish soup -- it is served not as a starter but as the main event.
In Provence, where apparently all vegetables ripen early, soupe au pistou is a spring specialty, according to Nancy Harmon Jenkins, author of "Virgin Territory," a new book on olive oil.
Fortunately for those of us who don't live in the south of France, the ingredients are readily available in the supermarket for a late winter day.
"Pistou" ("peas-TOO") is the name for a sauce made with basil, olive oil, garlic and cheese. Sound familiar? Yup, it's pesto without the pine nuts. Food historians tell us that Italians from nearby Liguria brought the sauce to Provence, where they served it on pasta, spread it on bread and dolloped it on this soup. It is a kind of preparation that defines Provencal cuisine. A bowl of bouillabaisse, a taste of soupe au pistou, and visitors will be forgiven for forgetting anything else they ate on their trip. But even in your own kitchen, it can create memories.
Jenkins advises that home cooks should feel free to add other vegetables, like fresh peas or fava beans, or other greens. You can omit the carrots and tomatoes, and you will have a pretty green-and-white soup. Leave out the pastami and use vegetable stock instead of chicken, and you've got a vegetarian feast. Omit the cheese from the pistou, and you'll please the vegans. But if you find yourself mopping up every drop with some good crusty bread, rest assured you're channeling the French.

SOUPE AU PISTOU
YIELD: 6 main-course servings
For the pistou:
4 garlic cloves, chopped

2 cups packed fresh basil leaves

Pinch of sea salt

1/3 cup olive oil, preferably Provencal or Ligurian

3 tablespoons freshly grated Parmigiano Reggiano cheese (or vegan equivalent), plus more for serving

.
For the soup:
1/2 cup dried cannellini or borlotti beans, soaked overnight

1 or 2 bay leaves

6 cups chicken stock, vegetable broth or plain water

1/4 cup finely minced pastrami

2 garlic cloves, minced

1/4 cup chopped flat-leaf parsley

1/4 cup chopped white or yellow onion

1/4 cup olive oil, preferably Provencal or Ligurian

2 leeks, diced

2 medium carrots, diced

2 small zucchini, diced

1 large russet potato, peeled and diced

1/2 pound fresh green beans, sliced about 1 inch long

1/2 pound ripe tomatoes, peeled and chopped, or 6 canned whole tomatoes, drained and chopped

Sea salt and freshly ground black pepper, to taste

1 cup pasta, either small shapes or vermicelli broken into 1-inch lengths; or 1/2 cup long-grain rice

1/4 of a small green or Savoy cabbage, slivered

3 or 4 large leaves chard (red or green), slivered
Make the pistou: Combine the garlic, basil and salt in the food processor, and, with the motor running, pour in the olive oil. Scrape into a bowl and stir in the cheese. Set aside until the soup is done.
Make the soup: Drain the soaked beans and add them to a saucepan with the bay leaves and 2 cups of the stock. Cover and simmer over medium-low heat until the beans are tender but not falling apart, 40 minutes to 1 hour. When done, set aside in their liquid.
In the bottom of a heavy soup pot, combine the pastrami, garlic, parsley and onion with the oil. (If you are not using pastrami, you may wish to add another tablespoon or two of oil to the mixture.) Set over medium- low heat and cook gently, stirring, until the vegetables are tender. Do not let them brown.
Once the vegetables are soft, add the leeks, carrots, zucchini, potato, green beans and tomatoes. Stir in the remaining 4 cups stock (or water) and bring to a simmer. Cook gently, covered, for about 20 minutes, or until the carrots and potatoes are tender.
Stir in the beans with their cooking liquid, and add salt and plenty of freshly ground black pepper. Let the soup simmer for another 5 minutes, then stir in the pasta or rice and continue cooking just until the pasta is al dente or the rice is tender. Add the slivered cabbage and chard, mix well, and remove from the heat. The greens will cook in the residual heat of the soup.
Stir in a big spoonful of the basil sauce right before serving, tasting once more and adjusting the seasoning. Serve more of the sauce and more grated cheese at the table.
(Excerpted from "Virgin Territory: Exploring the World of Olive Oil" (copyright) 2015 by Nancy Harmon Jenkins. Reproduced by permission of Houghton Mifflin Harcourt. All rights reserved.)
Comment by clicking here.