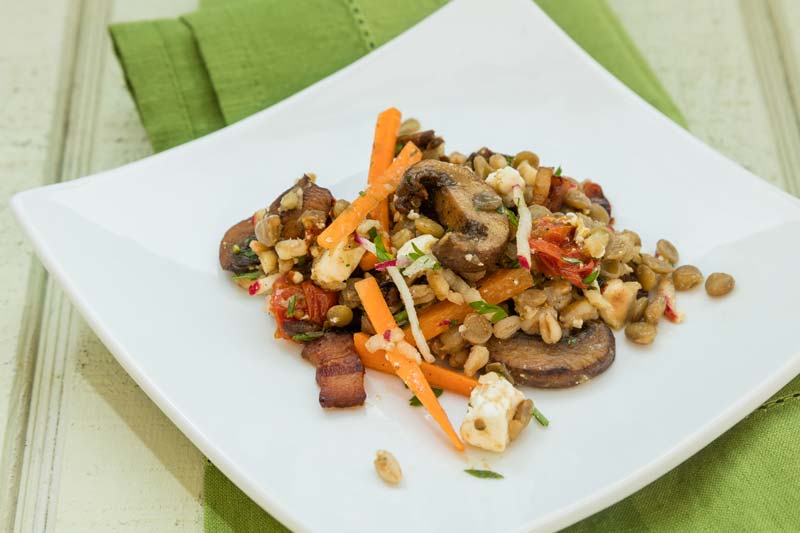 With its crisp, cool and colorful promise, autumn is made for the open road. It takes only the slightest encouragement for us to head out for a glimpse of the glorious golds, oranges and reds - and a picnic.

The best picnic recipes are built to travel well. A good lunch en plein air is appetizing and well balanced, according to "The Motorist's Luncheon Book" by May E. Southworth, a charming 1923 guide I picked up at Omnivore Books in San Francisco. I turn to it for inspiration, but I have yet to make any of its recipes. (Although I am fascinated with its recommendation for cooking sausages in a popcorn popper!) Even in the earliest days of motoring, it appears, roadside menus were robust and hearty.

Just as I do for potlucks, when I plan a trip to the country I gravitate to recipes that can be deconstructed and customized. When you're trying to satisfy different dietary needs, there's nothing like a build-your-own-bowl approach. Hearty salads fit the bill with a base of grains and legumes that can quiet a rumbling tummy, especially when topped with any number of tasty components.

I like to start with a chewy grain. Farro is a shape-shifter in that it absorbs the flavors surrounding it, the way bits of crusty bread can sop up a sharp vinaigrette. When it is toasted before you cook it, it becomes nutty and nuanced. When you cook farro in broth, it gets an extra boost of heartiness. The grain's sturdy texture holds up in just about any salad.

Adding lentils to the farro creates a complete protein. Nutritionists can applaud this healthful choice, while the rest of us thrill to the combination of the pulse's sweet earthiness and the grain's toothy firmness.

The rest of the salad can be as you like it. Think seasonal vegetables, crumbled cheese, toasted nuts and a centerpiece of umami-rich, deeply browned mushrooms. You can achieve autumnal flavors with Spanish smoked paprika in the mushroom saute and in the salad dressing; serve the crisped pastrami on the side, as a garnish.

I pack the accompanying salad recipe for travel by layering the elements in a jar, composing one jar for each picnicker. I wait to add the dressing until just before serving, pouring some into each portion, sealing and shaking until everything inside is coated. Alternatively, pack each element in a separate jar so diners can make up their own salad.

"The Motorist's Luncheon Book" is dedicated to the amateur gypsy, "to the enviable many who are bound to yield to the lure of the gypsy trail and feel the wild tingle of a hunger that simply must be appeased."

But there is no need to limit the consumption of this delightful salad to roadside picnics. Make it over the weekend for lunches through the week. Or serve it for supper, combined in a serving bowl, dished out over arugula or other greens, even topped with a soft-cooked egg. The possibilities are as enticing as a casual meal on a blanket, with a view of the Blue Ridge Mountains.

SMOKY LENTIL FARRO SALAD
MAKES: 8 servings
This portable meal fits in a lunchbox or picnic basket, and much of it can be prepped in advance. To make the salad vegetarian, omit the pastrami; the smoked Spanish paprika will ensure some smokiness.

Change the carrot-radish mixture with the seasons, substituting leftover roasted root vegetables or bright spring peas and asparagus.

If you're going portable, you'll need nine 8-ounce canning jars. Layer the ingredients in 8 of the jars, and pack the vinaigrette separately, pouring some into each portion at the last minute; then seal and shake.

Serve as is with crusty bread or on a bed of arugula.

MAKE AHEAD: The lentils, farro and smoky mushrooms can be cooked and refrigerated (separately) up to 5 days in advance; the vinaigrette can be refrigerated that long, too. The carrot- radish mixture can be done 2 days in advance. The tomatoes can be roasted a few hours in advance.
Ingredients
For the vinaigrette

1 medium shallot, minced
1/4 teaspoon kosher salt
3 to 4 tablespoons sherry vinegar
2 teaspoons honey
Juice of 1/2 lemon
1/2 teaspoon Spanish smoked paprika (pimenton)
A few grinds fresh black pepper
1/2 cup olive oil
For the salad

4 ounces thick-cut smoked pastrami, cut into 1/2-inch pieces
1 cup dried green lentils
4 cups no-salt-added vegetable or chicken broth
1 cup water
1 cup semi-pearled farro
1 medium shallot, minced
2 sprigs fresh thyme
1 1/2 teaspoons kosher salt, or more as needed
1 pint grape tomatoes, cut in half lengthwise
2 tablespoons olive oil
2 tablespoons grapeseed or canola oil (may substitute pastrami fat)
10 ounces cremini mushrooms, cleaned, stemmed and thinly sliced
1 teaspoon Spanish smoked paprika (pimenton)
1/2 teaspoon dried oregano
4 medium carrots, scrubbed well, then cut into matchsticks (julienne; about 2 cups)
6 medium radishes (trimmed), julienned (about 1 cup)
1/4 cup chopped flat-leaf parsley
4 ounces (vegan) feta cheese, crumbled
Freshly ground black pepper
1/3 cup chopped, skinned, toasted hazelnuts, for garnish (see NOTES)
Steps
For the vinaigrette: Combine the shallot, salt, vinegar (to taste), honey, lemon juice, smoked paprika, black pepper and olive oil in a jar or container with a tight-fitting lid; seal and shake until emulsified.
For the salad: Line a plate with paper towels.
Place the pastrami pieces in a large skillet over medium heat; cook until browned and crisped. Use a slotted spoon to transfer them to the plate to drain; reserve 2 tablespoons of the rendered fat in the skillet, if you like, for cooking the mushrooms.
Combine the lentils, 2 cups of the broth and all the water in a medium saucepan over medium-high heat; bring to a boil, then reduce the heat and cook uncovered for 20 minutes. Remove from the heat and cover.
Heat a (separate) medium skillet over medium heat. Add the farro and toast it for about 3 minutes, stirring often, until quite fragrant.
Meanwhile, combine the remaining 2 cups of broth, the shallot, thyme sprigs and 1 teaspoon of the salt in a medium saucepan and bring to a boil over medium-high heat. Stir in the just-toasted farro; once the mixture returns to a boil, reduce the heat to medium low, cover and cook for about 30 minutes or until the farro is tender and most of the liquid has been absorbed. Remove from the heat, uncover to fluff with a fork and let cool. Discard the thyme sprigs.
Preheat the oven to 425 degrees.
Crowd the halved cherry tomatoes in a glass pie pan or baking dish. Drizzle with the olive oil and scatter 1/4 teaspoon of the salt over them; roast for about 25 minutes, stirring once or twice, until the tomatoes' edges are caramelizing and beginning to brown. Let cool.
Either heat the reserved pastrami fat in its skillet, or heat the grapeseed or canola oil in that same skillet after wiping it clean, over medium heat; once the fat or oil shimmers, stir in the mushrooms, spreading them in a single layer to avoid overcrowding. Season with the smoked paprika, the oregano and the remaining 1/4 teaspoon of salt. Cook undisturbed until the mushrooms have browned on one side, then turn them over and cook until browned on the second side. Remove from the heat; stir in the pastrami and let cool.
Toss together the carrots, radishes and parsley in a medium bowl until well combined. (This mixture constitutes a single layer if using the canning jars.)
For serving, all the elements should be at room temperature. Combine the lentils, the farro mixture, the roasted tomatoes, the mushroom-pastrami mixture, the carrot-parsley mixture and the (vegan) feta in a large serving bowl. Add half the vinaigrette (shake to re-emulsify first, as needed), then toss to coat. Taste, and add salt and/or pepper and/or vinaigrette, as needed.
Scatter the hazelnuts on top, and serve.
NOTES: To skin hazelnuts, bring a few inches of water to a boil in a small saucepan over medium-high heat. Add about 1 teaspoon of baking soda and then the hazelnuts. Boil for several minutes, until the water turns dark brown and the skins begin to easily peel off the nuts. (You can test one by removing it from the pot, running it under cool water and seeing how well the skin slips off.) Drain the nuts, let them cool until you can handle them, and then use your fingers to remove the skins.
Toast the nuts on a baking sheet in a 350-degree oven for 8 to 10 minutes, until they are golden and fragrant, shaking the pan about halfway through. Cool completely before using.
Nutrition | Per serving (using vegetable broth, grapeseed oil and half the vinaigrette) : 390 calories, 14 g protein, 42 g carbohydrates, 19 g fat, 5 g saturated fat, 15 mg cholesterol, 490 mg sodium, 7 g dietary fiber, 8 g sugar