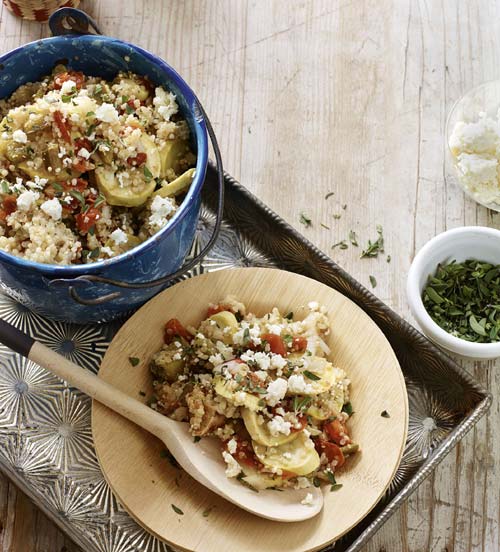 As this layered slow-cooker squash casserole recipe cooks, the liquid from the tangy tomatillo salsa and summer squash is absorbed by the quinoa, adding tons of flavor to the final dish.
SLOW-COOKER QUINOA-SUMMER SQUASH CASSEROLE
Serves: 10
Active Time: 30 minutes
Total Time: 4 hours
Equipment: 5- to 6-quart slow cooker
12 ounces tomatillos, husked, rinsed and chopped
1 pint cherry tomatoes, chopped
1 poblano or bell pepper, chopped
1/2 cup finely chopped white onion
1 tablespoon lime juice
1 teaspoon salt
1 cup quinoa
1 cup crumbled cotija or feta cheese, divided
2 pounds small yellow summer squash, cut into 1/4-inch slices
2 tablespoons chopped fresh oregano
Recipe Steps:
Combine tomatillos, tomatoes, pepper, onion, lime juice and salt in a medium bowl.
Coat a 5- to 6-quart slow cooker with cooking spray. Layer quinoa, 1/3 cup cheese and all of the squash in the slow cooker. Top with another 1/3 cup cheese. Spread the tomatillo mixture on top; but don't stir the ingredients together. (Refrigerate the remaining cheese to use for the topping.)
Cover and cook on Low for four hours. Serve sprinkled with oregano and the remaining 1/3 cup cheese.
Recipe nutrition: Per serving: 111 calories; 3 g fat (1 g sat, 0 g mono); 3 mg cholesterol; 18 g carbohydrate; 0 g added sugars; 6 g total sugars; 5 g protein; 3 g fiber; 286 mg sodium; 526 mg potassium.
Nutrition bonus: Vitamin C (52 percent daily value), Folate (17 percent dv), Potassium & Magnesium (15 percent dv)
1 Carbohydrate Serving(s)
Exchanges: 1 starch, 1 1/2 vegetable
Comment by clicking here.