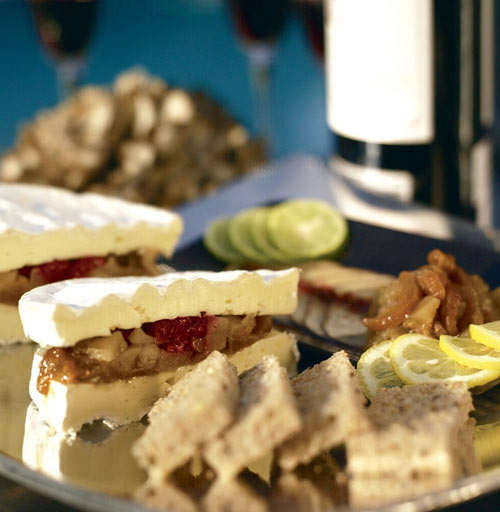 Your morning java may give you that quick jolt to get you on your way, but if you want that get-up-and-go feeling to last throughout the day, there's only one reliable way to get it: take the time to have breakfast.

The morning meal is the one most often skipped, and that's a shame. By the time we wake up in the morning, our glucose stores are low, meaning we have no energy. We need food.

A donut will not suffice. What our bodies need in the morning is a meal that includes each of the three macronutrients: protein, good fats and complex carbohydrates.

Protein's role is to provide sustainable energy. It takes longer to digest than carbohydrates, so it will hold you over until lunchtime. Choose lean, low-fat and nutritious foods such as eggs (or egg whites for those watching their fat and cholesterol intake), peanut or almond butter, and low-fat or fat-free dairy.

Fats are equally important, as long as you stick to good fats and avoid not-so-good ones. Look for mono- and polyunsaturated fats; shun saturated or, worse, trans fats. Sprinkle chopped almonds or walnuts over low-fat yogurt or oatmeal. Use olive or canola oil in the pan when making eggs. Opt for low-fat milk and cheese.
WE FEED YOUR SOUL, INTELLECT --- AND STOMACH



Every weekday JewishWorldReview.com publishes what many in the media and Washington consider "must-reading". HUNDREDS of columnists and cartoonists regularly appear. Sign up for the daily update. It's free. Just click here.

Complex carbohydrates provide glucose, our body's main source of energy. Here's a useful nutrition fact: Glucose is the brain's sole source of energy. That's where you get your sharp attitude and quick wit. Also, our muscles lean on glucose for sustained energy. Good sources of complex carbs are whole-grain bread or waffles and high fiber cereals.

Here are five powerhouse breakfast suggestions that include all macronutrients. They take less than 10 minutes to prepare (so lack of time is no excuse) and are calorie controlled.

1. Whole-wheat toast (or any high fiber grain bread) with a thin layer of peanut butter (its got fat, so watch the heavy hand) and a fruit.

2. Breakfast burrito made of two scrambled eggs (one whole, and one just the white) with two vegetables of your choice and 1 ounce of cheese, rolled up in a whole-wheat tortilla. Drizzle low sodium (or better yet homemade) salsa over the top.

3. Whole-grain crackers, with a thin layer of light cream cheese and smoked salmon. Top it off with a small bowl of mixed fruit or one whole fruit.

4. Whole-wheat Kashi waffles with fresh fruit.

5. Greek yogurt (which has a fraction of the sugar found in most other yogurts), with berries, chopped almonds and a high fiber cereal of your choice.

Rise, shine and dine! That should be the motto. Give your body and brain the benefit of breakfast; it's the first chance you have to refuel and your one shot to ensure a productive day.

HUEVOS RANCHEROS
Serves 4
4 whole-wheat tortillas (6 inches in diameter)
1 tablespoon extra virgin olive oil
1 medium onion, finely chopped
1-2 jalapeno or Serrano chili peppers, seeded and finely chopped (or 1 small green pepper)
1 tomato, seeded and finely chopped
1/4 cup chopped fresh cilantro
1 cup liquid egg substitute or 8 egg whites (or 4 whole eggs)
Salt and ground pepper
1 cup ranch style tomato sauce

1. Preheat the oven to 350 degrees.
2. Heat the oil in a large nonstick skillet over medium heat. Add the onions. Cook for 2 minutes. Add the peppers. Cook for 2 minutes, or until the onions are soft but not brown. Add the tomatoes and cilantro. Cook for 2 more minutes.
3.If using egg substitute or egg whites, add them to the skillet and cook, stirring, for 3 minutes, or until the eggs are scrambled but still moist. Season with salt and black pepper. (See note.)
4. Place 1 whole tortilla in the center of each plate. Divide the egg mixture among the tortillas. Ladle the salsa around the egg mixture and serve.
NOTE: If you prefer to use whole eggs, they can be scrambled as described above. If you prefer to fry them, after Step 2 above, mound the sauteed vegetables on the tortillas and ladle on the salsa. In the skillet, fry the eggs, adding oil if necessary, and then add one egg to each tortilla. Season with salt and pepper and serve.
Nutrition information (using egg whites): 200 calories per serving, 3.7 grams fat, 0.5 grams saturated fat, 0 mg cholesterol
Comment by clicking here.
Betsy Berthin is a registered dietician based in Miami.