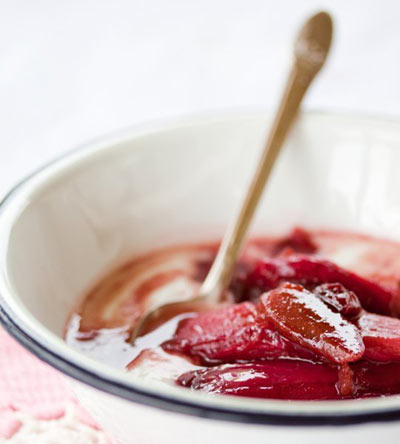 Rhubarb is a favorite seasonal ingredient. During its short window, I use it in as many desserts as possible, as well as ladling up a few jars of jam for my winter toast consumption. Its simultaneously tart and sweet flavor is addictive! As a kid, I ate sour candies like it was my job, so it's no surprise that I crave this distinct taste. Thankfully, rhubarb provides that tickle to the palate naturally.
Here's one easy recipe to transform the odd vegetable into a silky compote. I dare you not to put a blob of this delightful mess all over everything! My mouth is still puckered from eating so much of this glorious dish.
This easy rhubarb compote gets its surname from the addition of my favorite liqueur, Creme de Cassis. It makes perhaps its most famous appearance in the iconic French wine cocktail, the Kir Royale. This lovely liqueur, flavored with black currant, is a wonderful item to have around when preparing cooked fruit (or in this case, vegetable) desserts. Its bright, rich flavor and alcoholic properties make a nuanced addition to any poaching liquid. Its deep red color gives fruits like strawberries and blackberries wonderful darkness and a terrific layer of flavor. No one can quite put their finger on the taste, but they know something fancy is going on in your dessert!
The rest of the ingredients -- dates, cherry jam and rhubarb -- are not hard to find and make for a naturally sweetened, sublime rhubarb dish. It's great for breakfast, mixed into a bowl of plain yogurt and for dessert atop a scoop of vanilla ice cream. It may even be a nice complement for a main dish, although I haven't tried that. I've eaten it straight from the roasting pan, and I can attest to it being utterly perfect in it's purest form!

POACHED RHUBARB ROYALE
Serves 4-6
1 pound rhubarb, cut into 1/2 inch slices, about 3 inches long
1/4 cup cherry jam
1/4 cup Creme de Cassis
1 tablespoon sugar
2 dates, pitted and chopped into thin slivers
1 tablespoon margarine, chopped into small pieces
Sprinkle of salt p)
Preheat oven to 400 F. In a large bowl, whisk together jam, Creme de Cassis, sugar and dates. Toss mixture with rhubarb, evenly coating each piece as best you can.
Pour the rhubarb into a 9-by-13 casserole dish, dot with margarine, sprinkle with a dash of salt. Cover with tin foil and bake for 20-25 minutes, testing for doneness.
The rhubarb will create a lot of liquid, which is lovely served with the compote. Any extras you can reduce in a saucepan and create a syrup, delicious for cocktails or pancakes.
Comment by clicking here.
Leela Cyd Ross is a writer for TheKitchn.com, a nationally known blog for people who love food and home cooking. Submit any comments or questions to kitchn@apartmenttherapy.com