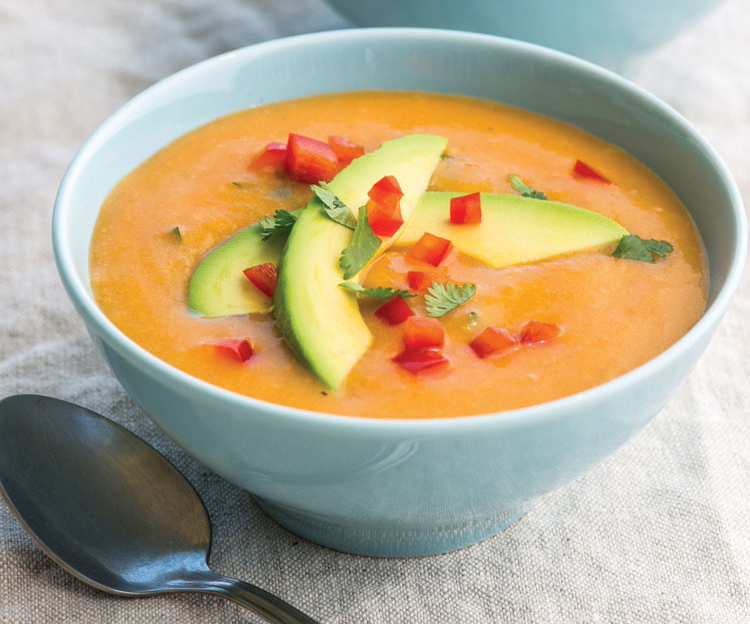 I'm not sure when that renowned Spanish refresher, tomato and cucumber gazpacho, turned into other dishes. I have seen it as a sauce for fish, pureed into a cream and reinterpreted with different fruits as a starter and as dessert. Here are two colorful and unusual fruit gazpacho recipes, one as a starter and one as a dessert.
In "The Perfect Peach," a new book by Marcy Masumoto, Nikiko Masumoto and David Mas Masumoto (Ten Speed Press, 2013), the authors celebrate the myriad flavors and ways to serve a peach. I love this peach gazpacho because it is both savory and sweet. The vinegar, garlic and cucumber all help add a piquant layer of flavor. A pretty garnish and tasty topping of avocado and red pepper add another flavor and textural dimension. Serve well chilled in pretty shallow soup bowls. For a bigger group, serve this sunny fruit soup in shooter glasses as your guests arrive for a festive taste of summer.
Sitting on the terrace of a beach hotel, I was served the elegant, refreshing dessert gazpacho below. The chef there prepared a fresh basil sorbet to accompany the chilled soup, but any high-quality fruit sorbet works here. Decorate the soup with the fruit, the sorbet and mint leaves. If you prefer a pure red soup, cook the mint leaves in the sugar syrup and strain them out before continuing.
When the heat is on, I hope you'll try both of these chilled fruit gazpachos. And don't hesitate to change up the fruit. Instead of peaches, try nectarines. If you are in a hurry, use cut up seedless grapes and the mango as garnish for the dessert gazpacho.

PEACH GAZPACHO: A SAVORY-SWEET BEGINNING
SERVES: 6 to 8
6 soft to gushy peaches (about 21/2 pounds), peeled, pitted and quartered
1/2 cucumber, peeled, seeded, and cut into chunks
1 small clove garlic, minced
1 tablespoon champagne or golden balsamic vinegar
2 tablespoons extra-virgin olive oil, plus more for drizzling
1/2 teaspoon coarse salt
1/4 teaspoon freshly ground pepper
1/2 to 3/4 cup water
2 tablespoons coarsely chopped fresh cilantro or flat-leaf parsley
Red bell pepper slices and avocado slices, for garnish (optional)

1. In a food processor, combine the peaches, cucumber, garlic, vinegar, oil, salt, pepper, and 1/2 cup water and pulse until coarsely pureed. Thin with the remaining 1/4 cup water if needed for a good consistency. Transfer to a bowl, cover, and refrigerate for at least 2 hours to chill thoroughly.
2. Just before serving, taste and adjust the seasoning with more vinegar, salt, and pepper if needed. Stir in the cilantro. Ladle into bowls, drizzle each serving with a little oil, and garnish with the bell pepper and avocado. Serve at once.
Advance Preparation: Can be prepared through step 1 up to 8 hours ahead and refrigerated
MIXED EXOTIC FRUIT GAZPACHO: A REFRESHING SWEET SUMMER DESSERT
SERVES 6
1 1/2 cups water
3/4 cup sugar
2 pints strawberries, hulled
1 pint raspberries
Juice of 1 lemon
2 tablespoons finely chopped fresh mint
1 mango, peeled and cut into small balls with a small melon baller
1 papaya, peeled, seeded, and finely diced
1 kiwi, peeled and julienned

Garnish:
1 pint fruit sorbet (raspberry or strawberry works well)
Fresh mint leaves

1. In a medium saucepan over medium heat, combine the water and sugar and simmer until the sugar is completely dissolved. Set the syrup aside.
2. Reserve 1/2 pint of the smaller strawberries for garnish and combine the rest with the raspberries and lemon juice in a blender or food processor fitted with the metal blade. Process until puréed. Strain the berry purée through a fine-mesh strainer into a large, nonaluminum bowl and add the sugar syrup and chopped mint. Mix well, cover, and refrigerate until well chilled, at least 2 hours.
3. To serve, cut the reserved strawberries into julienne. Divide the berry purée among 6 shallow soup bowls, and then arrange the fruits on top in a whimsical pattern. Place a small scoop of sorbet in the center of each bowl and garnish with the mint leaves. Serve immediately.
Advance Preparation:
Can be prepared through step 2 up to 1 day ahead and refrigerated
Comment by clicking here.
Diane Rossen Worthington is an authority on new American cooking. She is the author of 18 cookbooks, including "Seriously Simple Holidays," and also a James Beard award-winning radio show host.